This Meyer Lemon Whiskey Sour recipe gives a classic cocktail a fun, seasonal twist with the addition of Meyer lemons. It's a delicious batch cocktail for fall and holiday parties!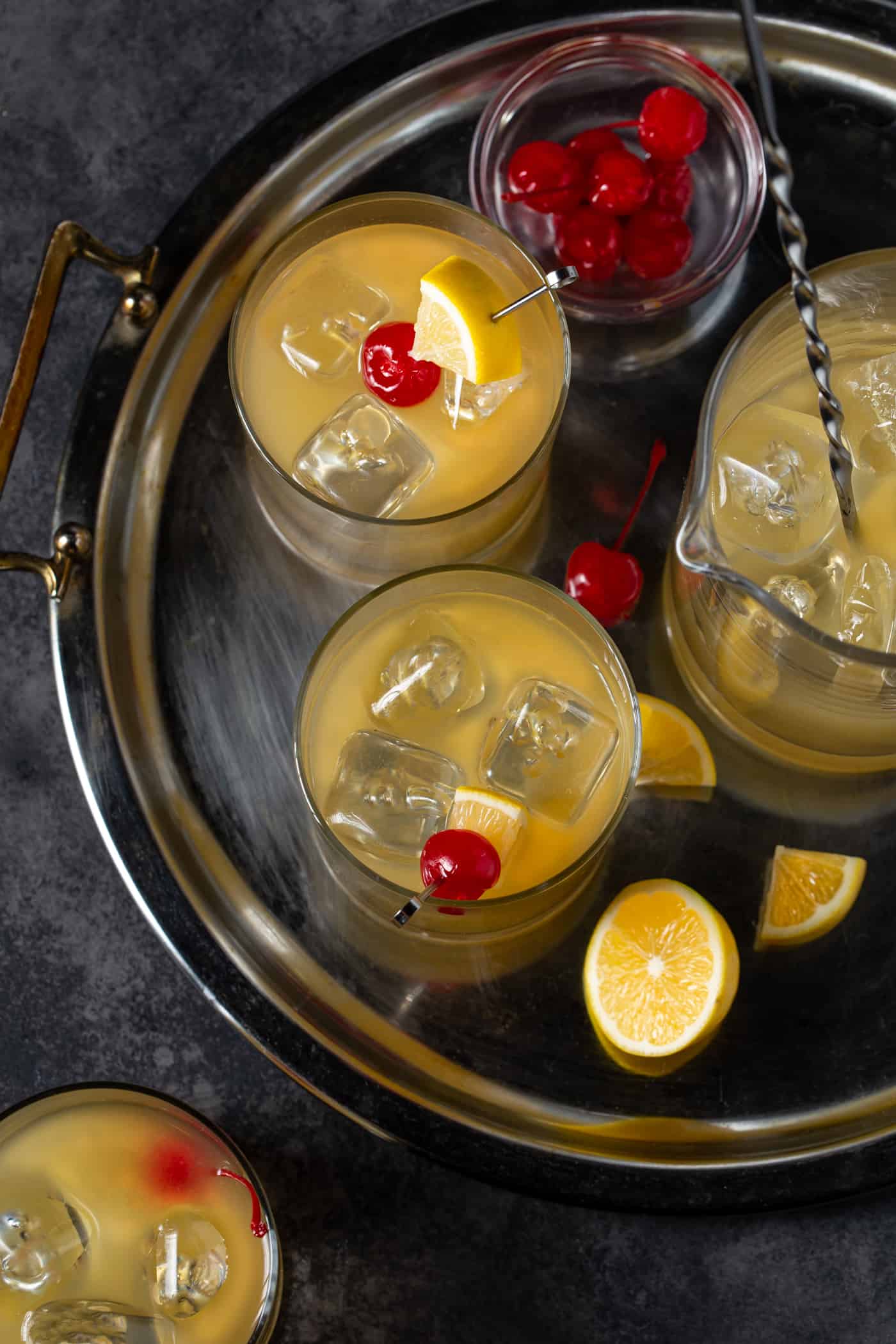 Batch cocktails are key to stress-free entertaining. Not only can you make them in advance, they also free up your time during the party so you don't have to be stuck playing bartender for everyone.
When most people think of batch cocktails, recipes for margaritas, sangria and punch come to mind. But have you ever considered serving a pitcher of whiskey sours? To me, they are the perfect cool weather cocktail.
These make-ahead Meyer Lemon Whiskey Sours are simple, seasonal and totally refreshing.
Sounds like 5-star party libation to me!

What's in this homemade Whiskey Sour recipe?
If you trace the origins of the whiskey sour, you'll find they were made with 3 ingredients: whiskey, fresh lemon juice and sugar. This homemade Meyer Lemon version has four ingredients:
Whiskey
Fresh meyer lemon juice
Fresh lime juice
Simple syrup
What is a meyer lemon?
For those of you who've never enjoyed a meyer lemon, they are a cross between a mandarin orange and a regular lemon.
They have a darker color and are smaller and rounder than regular lemons with a smoother, thinner skin like a mandarin. Generally available in grocery stores from November through May, you'll most often find meyer lemons sold by the bag rather than individually.
The rumor mill claims you can eat meyer lemons like regular fruit as they are sweeter than your average lemon. I'm not sold on that idea (still too much pucker for my taste), but the combination of fresh meyer lemon and lime juices gives the "made from scratch" sour its unique flavor in this cocktail recipe.

How to make simple syrup at home
I like to use simple syrup instead of sugar in most of my cocktail recipes because then I don't have to worry about making sure the sugar is completely dissolved in the drink before serving it.
Never made your own simple syrup before? It's super easy and inexpensive to make. The only two ingredients you need are sugar and water.
After making it once, you might kick yourself for not doing it sooner!
Step 1: Place equal amounts of sugar and water in a saucepan.
Step 2: Bring the mixture to a low boil over medium heat and cook until sugar is completely dissolved.
Step 3: Remove the pan from heat and allow syrup to cool before placing in an airtight container in the refrigerator for up to one month.
What whiskey is best for this Whiskey Sour recipe?
Since this cocktail is a blend of fruit juices, simple syrup and whiskey, definitely don't break the bank on your whiskey purchase. Save that bottle of 20- or 30-year whiskey for sipping on the rocks.
That said, don't buy the cheapest whiskey out there, either, as it is still the predominant flavor in this drink. It's the same school of thought where you only cook with wine you would also drink.
Go for a mid-priced brand that you'll use in other cocktails (I highly recommend these Bourbon Elderflower Cocktails to start). Need more cocktail inspiration? We've got loads of delicious whiskey and bourbon cocktails HERE.

I can't find meyer lemons near me. Can I substitute regular lemons for this Meyer Lemon Whiskey Sour Recipe?
Yes, you can! If you have super tart lemons, you may have to add just a touch more simple syrup to keep the drink from being too tart. Try the recipe as written and then adjust if needed.
How to make a Meyer Lemon Whiskey Sour
These Meyer Lemon Whiskey Sours are super simple to make and great for parties.
Step one: Squeeze juices from your lemons and limes. I love to use this handheld juicer to get every last drop from my citrus fruit. Easy to clean and store, too.
I also like to strain my juices through a sieve before adding it to my cocktails. Keeps me and my guests from walking around all night with pulp in our teeth! (Never a good look.)
Note: You can squeeze your lemons and limes up to two days in advance before the flavor of the juice starts to slowly degrade.
Step two: Stir together whiskey, juices and simple syrup in a large pitcher. Refrigerate until ready to serve (up to 4 hours).
Step three: Pour whiskey sours into ice-filled old fashioned glasses and garnish with maraschino cherries and meyer lemon chunks on cocktail picks.
Tip: This recipe is written as a batch cocktail because if you're going through all the effort of juicing those lemons and limes, why not make a pitcher-full and invite friends over? That said, if you're flying solo and craving a whiskey sour, simply scale down the recipe to get the number of drinks you need.

A Whiskey Sour recipe without egg
If you go to a bar and ask for a classic whiskey sour cocktail, you'll likely receive a glass filled with whiskey, lemon juice and sugar shaken with some egg white for creaminess and an attractive foamy head.
Bartenders have added egg whites to cocktails for nearly 100 years. There is some controversy surrounding the topic. Some people claim the egg white adds texture and silkiness to the drink. Others claim it hides inferior ingredients.
Then there is the whole salmonella debate, which you can avoid if you use pasteurized eggs. Egg whites have never been part of my whiskey sour recipes. In my opinion, they are just as tasty without them.
If you're dead set on a cocktail with a foamy head, give your arm a workout and shake the heck out of it in the cocktail shaker. Or feel free to whip up this Meyer Lemon Whiskey Sour with egg white if that floats your boat.
This Meyer Lemon Whiskey Sour recipe is a delicious and easy batch cocktail for groups.
Make this whiskey sour recipe in advance to save your sanity before guests arrive. Juice your lemons and limes the morning of your party and combine with simple syrup in a pitcher.
Before your guests arrive, either add the whiskey to the pitcher or set out the bottle for folks to add to their own cocktails. Waaay low maintenance for you and fun for your guests.
Sounds like a winning party to me.

Love whiskey cocktails? We do, too! Here are some of our favorite whiskey cocktail recipes:
Cranberry Whiskey Sours - a seasonal twist on a whiskey sour made with cranberries and oranges.
Ginger Whiskey Cocktail - This simple, 3-ingredient whiskey cocktail is always a hit. Super easy and super refreshing.
Bourbon Apple Cider Cocktails - Love hot toddies? You need to try this cool-weather cocktail made with fresh apple cider.
Bourbon Aperol Cocktails - Never tried Aperol before? This smooth cocktail is the perfect place to start. Makes a great Thanksgiving signature cocktail, too, because of its striking color.
Spiced Apple Cider Whiskey Sour - Another cocktail that is tailor-made for fall.
Gold Rush Cocktail with Bourbon and Ginger Liqueur - If you need me, I'll be sipping one of these tangy cocktails by the fire.
Perfect Manhattan Cocktail - Everyone needs to know how to make this classic cocktail. Our recipe makes it easy to impress your guests with a mixologist-worthy drink.
Hot Ginger Cider Cocktails - This quick and easy batch cocktail should be your go-to for every group event from tailgating to Christmas tree trimming.
Find all of our cocktail recipes HERE!
Yield: Makes 6 cocktails
Meyer Lemon Whiskey Sour recipe
This Meyer Lemon Whiskey Sour recipe gives a classic cocktail a fun, seasonal twist with the addition of Meyer lemons. It's a delicious batch cocktail for any party!
Ingredients
1 cup fresh meyer lemon juice
1 cup fresh lime juice
1 1/3 cups simple syrup
1 2/3 cups whiskey
Ice cubes
Maraschino cherries
Meyer lemon slices
Instructions
Combine juices, simple syrup and whiskey in a small pitcher. Stir gently. Fill low ball glasses with ice and divide cocktail evenly among glasses. Garnish with maraschino cherries and meyer lemon slices.
Notes
This recipe can be easily doubled or tripled. Feel free to tweak the amount of whiskey, too, based on your personal preference.
You can purchase simple syrup or make your own by combining equal amounts of water and sugar in a small pan and heating until the sugar is melted. Cool the syrup before using. It will last for several weeks in the fridge.
Recipe adapted from Ina Garten
Nutrition Information:
Yield:
6
Serving Size:
1
Amount Per Serving:
Calories:

259
Total Fat:

0g
Saturated Fat:

0g
Trans Fat:

0g
Unsaturated Fat:

0g
Cholesterol:

0mg
Sodium:

12mg
Carbohydrates:

39g
Fiber:

1g
Sugar:

35g
Protein:

0g
This make-ahead Meyer Lemon Whiskey Sour recipe makes a pitcher of delicious cocktails that always disappear at happy hour. Perfect signature drink for parties and the holidays!