Consider this Meat and Cheese Stromboli the way I happily justify feeding pizza to my family twice in one week.
It's true that stromboli is merely pizza in rolled up form, but somehow I feel better calling it by another name if we've already reached our takeout pizza quotient for the week. (No, I didn't miss the irony of this statement given the fact that I blog about food for a living, but you gotta keep it real.) Some weeks are just crazy busy, and there are times when I just need something quick and easy that everyone will actually eat. This Meat and Cheese Stromboli fits the bill perfectly. You control everything, from the fillings to the sauces, and everyone walks away from the table with full bellies and satisfied smiles. #Winning
This stromboli is pretty straightforward – ham, Genoa salami, Provolone and mozzarella – but the beauty of stromboli is you can stuff whatever you want inside that pizza dough. Love your veggies? Pack 'em in. More meat? There's always room. Cheese forever? No problem. It all works once you get the basic assembly technique down.
And this is where I put in my pitch for pinching and sealing the seams of the dough very tightly. I've had more than my share of stromboli where the meat and cheese busts out the side of the dough because I didn't crimp the edges together tightly enough. (Of course we still ate it even though it looked like it an inside out piece of pizza, but it definitely wouldn't grace any magazine covers anytime soon.)
My only other suggestion is to keep an eye on the water content of the ingredients you choose. Don't stuff anything too wet or that will release a lot of moisture into the dough while it bakes or the center may not cook through before the outside is done. We actually prefer dipping our stromboli in sauce for this very reason rather than slathering it inside the stromboli. I advise a thin layer of sauce if you choose to layer it along with the stromboli fillings.
This Meat and Cheese Stromboli is not only ideal for quick family dinners, it's also a wildly popular finger food when entertaining. Slice up a few stromboli, set out some sauce and let your dip-happy friends go to town.
I think your menu for the Super Bowl – or simply dinner next week – just wrote itself.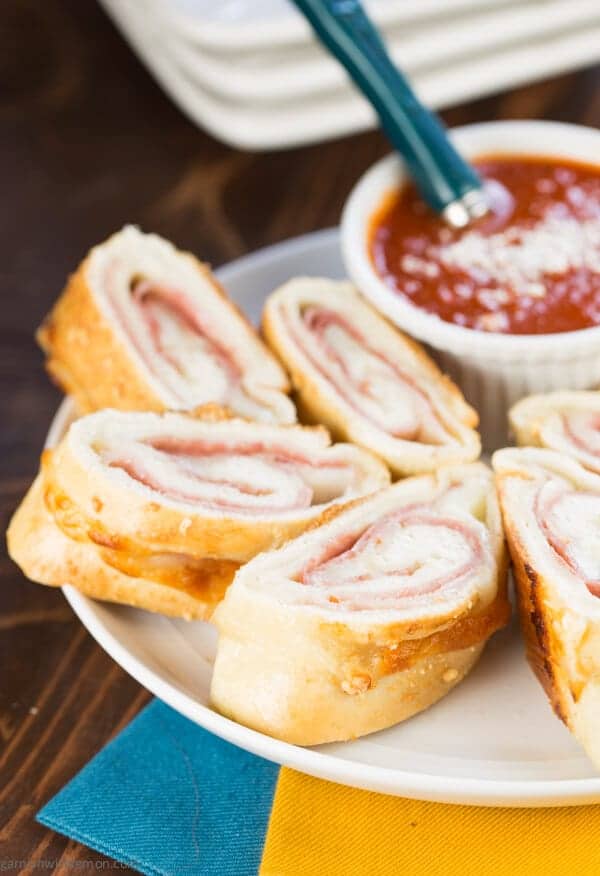 Yield: 3-4
Meat and Cheese Stromboli
Prep Time 10 minutes

Cook Time 30 minutes

Total Time 40 minutes
Ingredients
1/2 pound pizza dough
6 large slices Genoa salami
3 large slices Provolone cheese
1/2 cup shredded mozzarella cheese
3 large slices deli ham
1 egg, beaten with 1 teaspoon water
Grated Pecorino Romano cheese
Marinara sauce
Instructions
Preheat oven to 400 degrees. Line a baking sheet with parchment paper. Set aside.
Roll out pizza dough to a roughly 8" x 12" rectangle. Layer salami down the middle of the dough and repeat with layers of Provolone, mozzarella and ham.
Brush 1 long edge of dough with egg wash. Slightly fold short ends into center of dough. Starting at long end of dough without egg wash, roll up dough with in a spiral form as tightly as possible. Pinch dough edges together very securely and place stromboli seam side down on the baking sheet. Cut small marks in the dough using a serrated knife, being careful not to cut into the fillings inside.
Brush outside of stromboli with egg wash and sprinkle with Pecorino cheese, if desired. Bake for 25 minutes, check for doneness, and bake for an additional 5 minutes if necessary.
Allow to cool slightly before slicing with a serrated knife and serving with warm marinara sauce.
Need more quick and easy noshes? We've got 'em!
Easy Slow Cooker Meatball Subs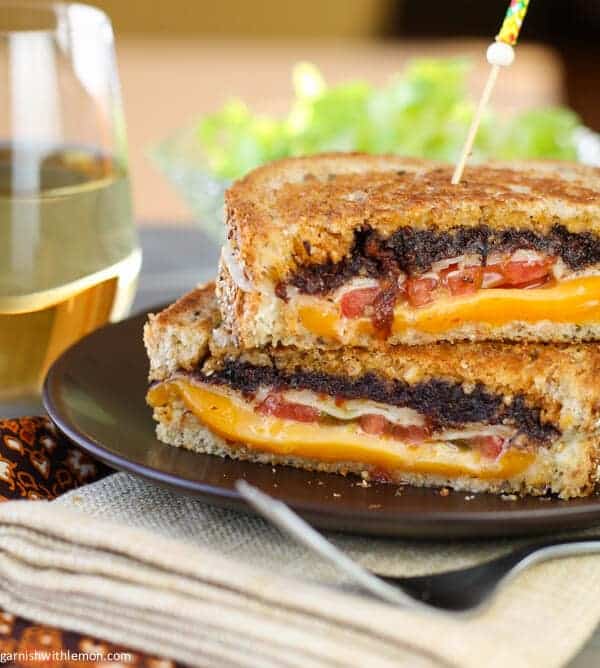 Grilled Gruyere, Cheddar and Olive Tapenade Sandwich
Stubb's Green Chile Fish Nachos