Weekends were made for sleeping in and indulgent breakfasts like this Mascarpone and Raspberry Stuffed French Toast. 
Can you bear with us for another recipe inspired by our trip to Miami? Trust me; this one is totally worth it. You all know about my love affair with breakfast. I firmly believe there is no wrong that cannot be righted by a bevy of breakfast foods, whether that be a straight-shooting order of eggs and bacon or an elaborate, six-course brunch. I.Love.It.All. My biggest challenge is choosing between sweet and savory (often times I don't choose; I find a way to have both), but this Mascarpone and Raspberry Stuffed French Toast is pure sweet decadence. 
Our return flight to Minneapolis didn't leave Miami until later in the afternoon, so naturally we made time for one last indulgence in the Miami food scene and enjoyed breakfast at Morgan's Restaurant with the lovely Amanda from i am baker. (Side note: have you seen the sweets that come out of her kitchen? No words. She's an amazing talent with a heart of gold. Check out her book, surprise-inside cakes, for more of her cake-making genius.) Lisa and I split a frittata and a plate of french toast that rocked my world - so much so that I knew I needed to try to recreate it at home. 
In spite of its name, this Mascarpone and Raspberry Stuffed French Toast is sweet but not too sweet, a feat that is often unusual for french toast, especially one that includes a healthy dollop of mascarpone cheese. The raspberries are laced with just a bit of sugar and fresh lemon juice to keep them bright and lively, thus a perfect foil for the rich cheese filling.
Since it may be a while before I make a return trip to Miami, I'll just have to make my own french toast at home. Aw, shucks. (#Ilovemyjob).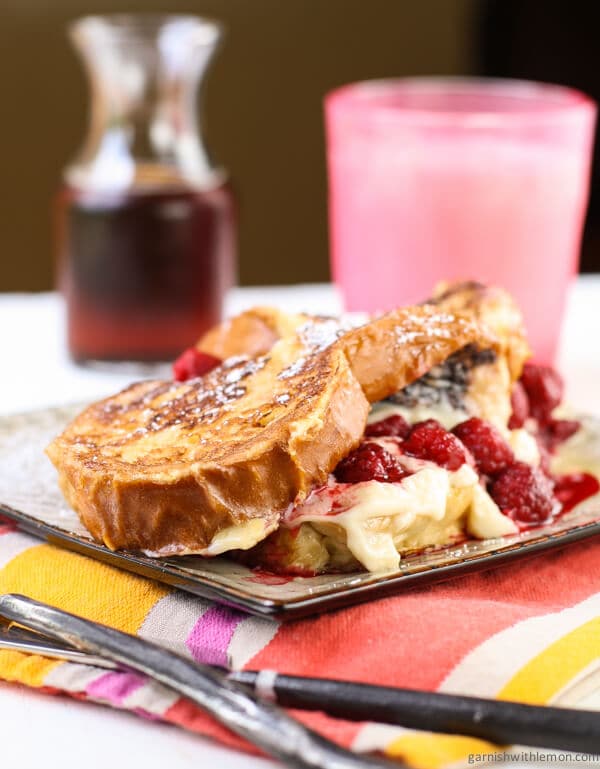 Yield: 8 servings
Mascarpone and Raspberry Stuffed French Toast
Your overnight guests will love this decadent stuffed French Toast recipe.
Ingredients
Raspberry sauce:
6 ounces frozen raspberries, thawed
1 teaspoon sugar
1 teaspoon fresh lemon juice
Mascarpone filling:
4 ounces mascarpone cheese, room temperature
2 tablespoons butter, room temperature
3 tablespoons powdered sugar
½ teaspoon vanilla extract
French Toast:
6 pieces slightly stale Challah or Brioche bread (sliced about ¾-inch thick)
3 eggs, beaten
¾ cup whole milk or half and half
1 teaspoon sugar
½ teaspoon vanilla extract
pinch of salt
Butter for the griddle
Powdered sugar for sprinkling
Instructions
To make the raspberry sauce:
Add raspberries, sugar and lemon juice together in a small bowl. Stir to combine and set aside.
To make the mascarpone filling:
In another small bowl, beat together mascarpone cheese, butter, powdered sugar and vanilla extract until smooth. Set aside.
To make the french toast:
Preheat griddle or pan to medium high heat.
Whisk together eggs, milk, sugar, vanilla extract and pinch of salt in a shallow dish or bowl. Place one piece of bread in egg mixture and soak for 30-45 seconds. Repeat on other side. Gently tap off excess liquid before adding bread to the buttered griddle. Cook for 3-4 minutes per side. Repeat with remaining bread. (You can keep the french toast warm in a low temperature oven while the other pieces cook, if desired.)
Evenly divide mascarpone mixture and raspberries over french toast pieces. Fold each piece in half and sprinkle with powdered sugar. Serve warm.
Notes
A couple of suggestions:1) Make sure your mascarpone and butter are at room temperature before combining or you'll end up with an unsightly curdled mess. If that happens, don't worry; simply reheat the mascarpone mixture in a heatproof bowl over barely simmering water (making sure the bowl does not touch the water). Whisk until the ingredients come back together again. Cool completely.
2) Stale bread holds up much better than fresh bread in french toast, so use up your leftover bread here. If you only have fresh bread, slice it and leave it on the counter for a few hours. Or even lightly toast it if you are in a time crunch.
Nutrition Information:
Yield:
8
Serving Size:
1
Amount Per Serving:
Calories:

276
Total Fat:

16g
Saturated Fat:

9g
Trans Fat:

0g
Unsaturated Fat:

5g
Cholesterol:

119mg
Sodium:

205mg
Carbohydrates:

29g
Fiber:

2g
Sugar:

22g
Protein:

5g