Sweet fall flavors are at their finest in this Maple Apple Upside Down Cake.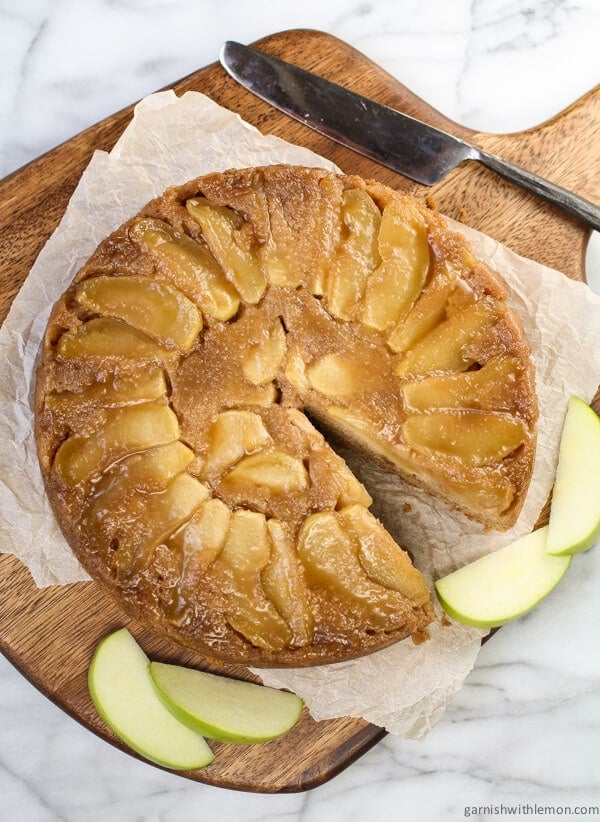 I know apple pie is number one in the hearts of many of you when it comes to apple desserts. And not that I blame you, especially after tasting Lisa's handiwork. (Man, that woman can bake some serious pie!) But just give me one bite of this Maple Apple Upside Down Cake, and then let's compare best apple dessert notes. 'Cuz I'm totally smitten with this cake, and I'm pretty sure you will be, too. 
Our annual trip to the apple orchard is in just a few weeks, right at the peak of apple season. Everyone has their favorite eating variety (Honeycrisp or bust!) but we always grab a bag of cooking apples to make some of our family favorites, like Apple Cinnamon Pull Apart Bread. This year, I'm going to stock up on a few extra baking apples just for this cake because it went fast the last time I made it. 
I love the very fall-like flavor combination of maple syrup and tart apples. I know some upside down cakes can get very dense, but that's not the case in this recipe. Here the cake stays tender, with the reduced maple syrup providing just enough sweetness without being cloying. We topped ours with a dollop of whipped cream, but don't overlook salted caramel ice cream if you're looking to wow your guests. Seriously. Yum. 
Old habits can be hard to break, so don't worry; I won't hold it against you if you choose pie over this Maple Apple Upside Down Cake. 
But I won't save any salted caramel ice cream for you, either.  
Yield: 8-10
Maple Apple Upside Down Cake
No one needs to know how easy this stunning upside down cake is to make!
Total Time
1 hour
15 minutes
Ingredients
3/4 cup pure maple syrup
2 baking tart apples - peeled, cored and cut into 16ths
1 1/2 cups all-purpose flour
3/4 teaspoon baking powder
1/3 teaspoon baking soda
3/4 teaspoon salt
1 teaspoon cinnamon
2 large eggs
1/2 cup plus 1 Tablespoon buttermilk
3/4 tablespoon pure vanilla extract
9 tablespoons unsalted butter, softened
1 cup sugar
Sweetened Whipped Cream for serving, optional
Instructions
Preheat the oven to 350°. Butter and flour a 9-inch round cake pan.
In a medium saucepan, bring the maple syrup to a boil over high heat, then reduce heat and simmer until reduced by about a quarter, about 15 - 20 minutes. Pour the thickened syrup into the cake pan. Place the apples in the cake pan in two circles, one larger and one smaller, overlapping the apples, if necessary.
Whisk together the flour, baking powder, baking soda, salt and cinnamon in a small bowl and set aside. In another small bowl, whisk the eggs with the buttermilk and vanilla. Place the butter and sugar in the bowl of a stand mixer and beat at medium speed until fluffy, about 3 minutes. Gently mix in the dry and wet ingredients in alternating batches until the batter is smooth.
Pour the batter over the apples, evenly spreading the top, if necessary. Bake the cake for 40-45 minutes or until golden on top and a toothpick inserted in the center comes out clean. Let the cake cool on a rack for 45 minutes.
Invert the cake onto a platter. You may need to gently tap on the bottom of the pan to get the cake to release. Cut into wedges and serve warm with whipped cream (optional).
Nutrition Information:
Yield:
10
Serving Size:
1
Amount Per Serving:
Calories:

333
Total Fat:

12g
Saturated Fat:

7g
Trans Fat:

0g
Unsaturated Fat:

4g
Cholesterol:

65mg
Sodium:

259mg
Carbohydrates:

54g
Fiber:

1g
Sugar:

37g
Protein:

4g
Fall is my favorite time of year to bake. Don't miss some of our other favorite fall desserts below!
Caramel Apple Cheesecake Bars with Biscoff Cookie Crust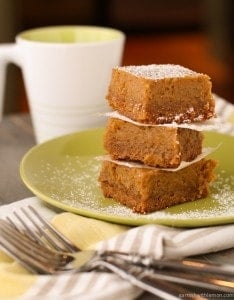 Pumpkin Butter Quick Bread Bars