Fresh, packed full of flavor and just 4 ingredients, this Mango Salsa is just what summer ordered.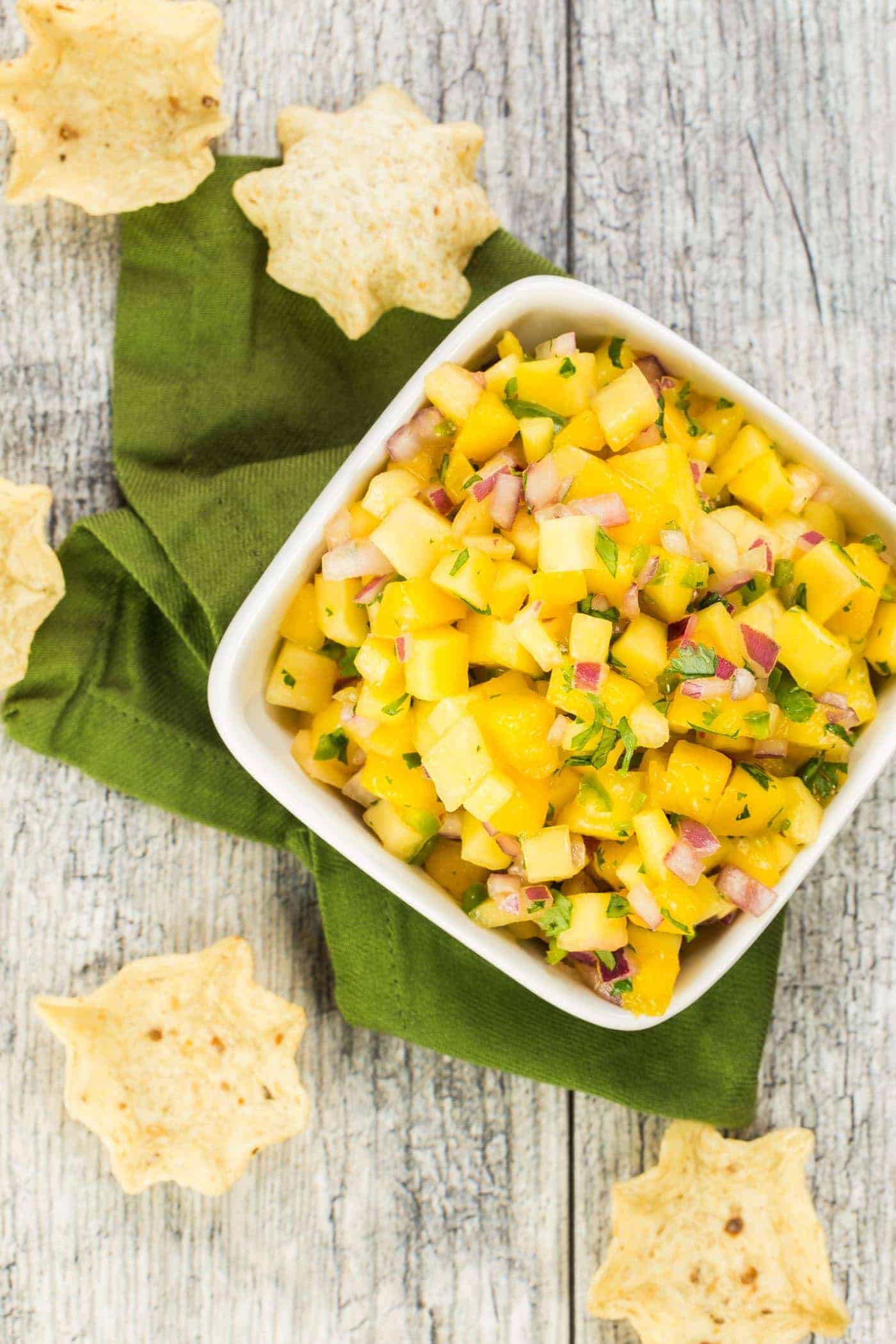 I used to have a take-it-or-leave-it attitude about mangoes. Sure I would eat them if they were served, but I never really did a whole lot with them at home. Don't get me wrong I always loved the flavor of them, but I was intimidated by them. I know, crazy huh? Intimidated by a mango?
Here's a secret – I couldn't cut a mango to save my life. The pit was a problem, and I would end up with half of the mango mangled and unusable. Then I discovered the mango splitter.  Life changing, I tell you. And now I can't get enough Mango Salsa.
Mangoes instantly transport me to a tropical state of mind. My favorite way to nosh on them is in this Mango Salsa. Just 4 ingredients chopped and diced in a bowl, sprinkled with salt and a squeeze of fresh lime juice. The spicy jalapeno is the such a perfect balance with the sweet, juicy mango and cilantro just makes every salsa better.
Any excuse I have to use chips instead of utensils puts this chip and dip loving girl is in heaven. But don't you worry, this Mango Salsa is uber versatile. Eat it as an appetizer with lime tortilla chips or serve it with some grilled fish or chicken. Simple, fresh and flavorful…summer at its best.
 Can't get enough Mango? Neither can we.
A sweet and savory mango salsa that is great with chips as an appetizer or serve it with fresh grilled fish!
Ingredients
2 mangoes, diced
1/2 large red onion, diced
1 jalapeño, seeded and diced
juice of 1/2 lime
1/2 teaspoon salt
1/4 cup cilantro, chopped finely
Instructions
Mix all ingredients in a bowl. Stir to combine and serve.
Serve with chips and veggies for an appetizer or spoon over grilled fish for a main course.
Nutrition Information:
Yield:
6
Serving Size:
1
Amount Per Serving:
Calories:

96
Total Fat:

0g
Saturated Fat:

0g
Trans Fat:

0g
Unsaturated Fat:

0g
Cholesterol:

0mg
Sodium:

202mg
Carbohydrates:

24g
Fiber:

2g
Sugar:

21g
Protein:

1g