No matter the temperature outside, you can feel like you're beachfront with this fragrant and delicious Mango Pineapple Smoothie. This refreshing vegan smoothie recipe also includes fresh ginger and coconut milk for the ultimate escape to the tropics!
With no warm weather vacations planned this winter, I plan to pull out all the stops to trick my mind into believing I'm somewhere warm. That means grilling my favorite summer foods (yes, even in the cold!), plenty of hot yoga and this easy, refreshing Mango Pineapple Smoothie on repeat.
Tropical smoothie without banana or yogurt
It's no secret that a majority of smoothie recipes out there include either bananas and/or yogurt. If you're not a fan of these foods, it can be challenging to find a smoothie recipe that works for you.
Which is why this Mango Pineapple Smoothie is so great! Perfect for vegans, this deliciously sweet smoothie is made from coconut milk, coconut water, pineapple, mango and a decent knob of fresh ginger for a zingy, refreshing finish.
Not a banana or yogurt container in sight.
Tip: Don't always have fresh ginger on hand? Me either. I big puffy heart love these frozen ginger cubes and squeezable ginger paste. Makes whipping up one of these Mango Pineapple Smoothies almost effortless!
Lite vs Regular Coconut Milk
You'll find two different types of coconut milk on the shelves at then grocery store: lite and regular (or full fat). Bon Appetit said it best when it declared that lite coconut milk is akin to 2% milk. Still good but nothing beats the taste and texture of whole milk. If you want a more in depth explanation of the two, check out their article about it linked above.
The same can be said of lite and regular coconut milk. The lite version is basically a watered down version of regular coconut milk - and thus less flavorful. Regular coconut milk adds richness and thickness to this smoothie. I definitely recommend you use it.
If using a can of coconut milk, make sure you stir it well to incorporate the solids and liquids before adding to the blender. I also recently discovered these resealable containers of coconut milk at the store that make storing excess coconut milk for a few days a snap.
Tip: you can freeze leftover coconut milk but it will separate when defrosted. Simply give it a whirl in the blender to emulsify before using.
How to add protein
Even though this Mango Pineapple Smoothie recipe does not include additional protein, it's easy to add.
Increasing your protein intake can help keep you fuller longer, boost your metabolism and build muscle. Choose any one of these protein-packed add-ins to give your pineapple smoothie an extra punch of nutrition:
Protein powder. This would be my first choice for adding a substantial amount of protein to this smoothie. I've had great luck with Vital Proteins Collagen Peptides. Mixes beautifully and no funky aftertaste!
Greek yogurt. If you like yogurt and don't need a vegan smoothie, then adding some plain Greek yogurt to this recipe will also work. Greek yogurt is thicker than regular yogurt because it's been strained of excess whey. The plain variety also has more protein and less sugar than regular yogurt. (Note: you may need to add a bit more liquid to your smoothie if including Greek yogurt to get a drinkable consistency.)
Silken tofu. This is the perfect protein addition for vegans or those looking to avoid animal products in their diets.
Instructions
Ever been frustrated by a lumpy smoothie with chunks of frozen fruit or ice in it? Often times that comes from not layering the ingredients in the blender correctly.
Now I know that this smoothie recipe doesn't include ALL of these ingredients, but it's a great checklist to follow to up your smoothie game as a whole:
Add liquids first. Always. It doesn't matter if your recipe calls for cow's milk, almond milk, coconut milk or just plain old water, you should always add your liquid(s) to the blender first. Why? The blender uses the liquids to create that cool tornado inside the jar and helps it pull down the other ingredients into the blade action more easily.
Next up are protein powders. Add these directly to the liquid in the blender jar to avoid any chance of a chalky aftertaste that could result from it not being fully incorporated into the smoothie during the blend time.
Get those greens in! Who knew that greens in smoothies are so tasty? There are a variety of greens that you can add to smoothies. Spinach seems to blend the easiest because its leaves are so tender, but heartier greens like kale or collard greens can be tougher to incorporate easily. I suggest removing the tough ribs and any woody stems from these greens before adding to the jar.
Layer in the solids next starting with the softest ingredients first. This can include yogurts and nut butters if you're using them as well as seeds and raw nuts.
Fresh fruit and veggies (that are not greens) can now be added. This mostly includes softer fruits like berries and melons as well as avocados.
The final add to any smoothie should always be your frozen ingredients, including frozen fruit and ice. These guys can be rock hard and you want them on top so the sheer weight of them pushes everything else down into the blade action.
So you've read all the tips, followed all the guides and your smoothie is still not how you want it. Try a few of these troubleshooting techniques to see if it can help save your smoothie:
Smoothie too thick? Add more liquid and give it a good stir to incorporate the liquid before blending again. You're trying to get that liquid as close to the base as possible to help with the blending action.
Smoothie not sweet enough? Add any number of sweeteners to the jar, including honey, maple syrup, stevia or even a whole pitted date. Start with a small amount, blend and then taste and adjust as needed.
Smoothie not blending well? Start the blender on low and then gradually increase it to higher speeds to fully blend everything together. You can also try adding a bit of additional liquid to see if that will help smooth out the texture during blending.
Smoothie not cold enough? Use frozen fruit. This keeps the smoothie chilled instead of adding ice. Bonus: frozen fruit also makes smoothies thicker.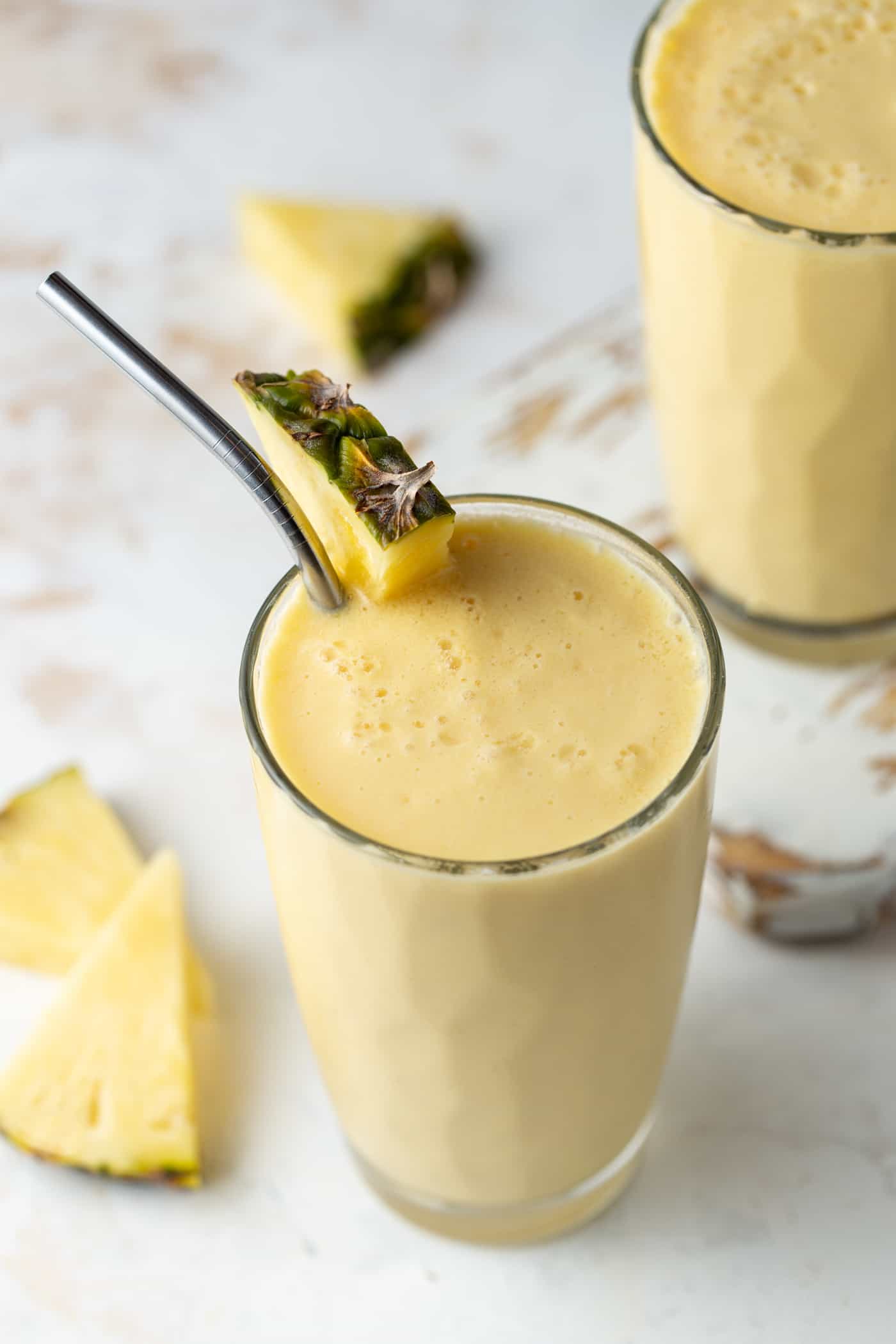 Make-ahead Tips
The easiest way to ensure you actually drink a smoothie is to make them in advance. No excuses that you ran out of time or ingredients! Try either of these methods for prepping smoothies ahead of time:
Make a quadruple batch of your Mango Pineapple smoothie and freeze it in individual portions in a freezer-safe container or mason jar. Simply pop one container in the fridge the day before so it defrosts overnight.
Make frozen smoothie packs. This method involves freezing individual portions of ingredients for your smoothies in zip top bags.
For this smoothie recipe, freeze portions of the coconut water and coconut milk in ice cube trays. Simply add your frozen ingredient cubes to a zip top bag (these Stasher bags are AWESOME for this) along with your mango and pineapple chunks.
When you're ready to make your smoothie, grab a pre-made bag from the freezer and dump it in the blender along with any remaining ingredients and enjoy a freshly made smoothie in no time flat!
Equipment
Now I know not everyone can splurge on a professional grade blender, but I highly suggest you save up your birthday gift cards because they make a huge difference in how quickly you can pull together one of these smoothie beauties. I own Blendtec and love it, but many people are also thrilled with their Vitamix blenders. They do a much better job of tackling rock hard items like ice and frozen yogurt cubes and are able to decimate any greens into microscopic pieces (which is key when you're trying to convince a non-green smoothie person to try a green smoothie).
These measuring cups are my favorite because they are magnetic and stick together. No more lost measuring cups in my unorganized utensil drawer!
more smoothie recipes
Mango Pineapple Smoothie
No matter the temperature outside, you can feel like you're beachfront with this easy, fragrant and delicious Mango Pineapple Smoothie. This refreshing vegan smoothie recipe also includes fresh ginger and coconut milk for the ultimate escape to the tropics!
Ingredients
1

cup

coconut water

¾

cup

coconut milk

2

tablespoons

freshly grated ginger

less if you don't love ginger

1 ¼

cups

frozen pineapple chunks

¾

cup

frozen mango chunks
Instructions
Layer ingredients in blender and process until smooth. Serve immediately.
Notes
Smoothies freeze beautifully. Make extra and keep them on hand for a delicious snack on the go!
Nutrition
Serving:
1
smoothie
Calories:
568
kcal
Carbohydrates:
62
g
Protein:
8
g
Fat:
37
g
Saturated Fat:
33
g
Polyunsaturated Fat:
2
g
Sodium:
279
mg
Fiber:
8
g
Sugar:
44
g
Nutrition info not guaranteed to be accurate.
No pricey airline ticket needed for a quick escape to the beach with this perfectly sweet Mango Pineapple Smoothie recipe. A hint of fresh ginger keeps the flavor lively and refreshing while a generous pour of coconut milk gives this smoothie just the right amount of thickness.