Nothing says spring like this light and fluffy Lemon Blueberry Cheesecake Bars recipe!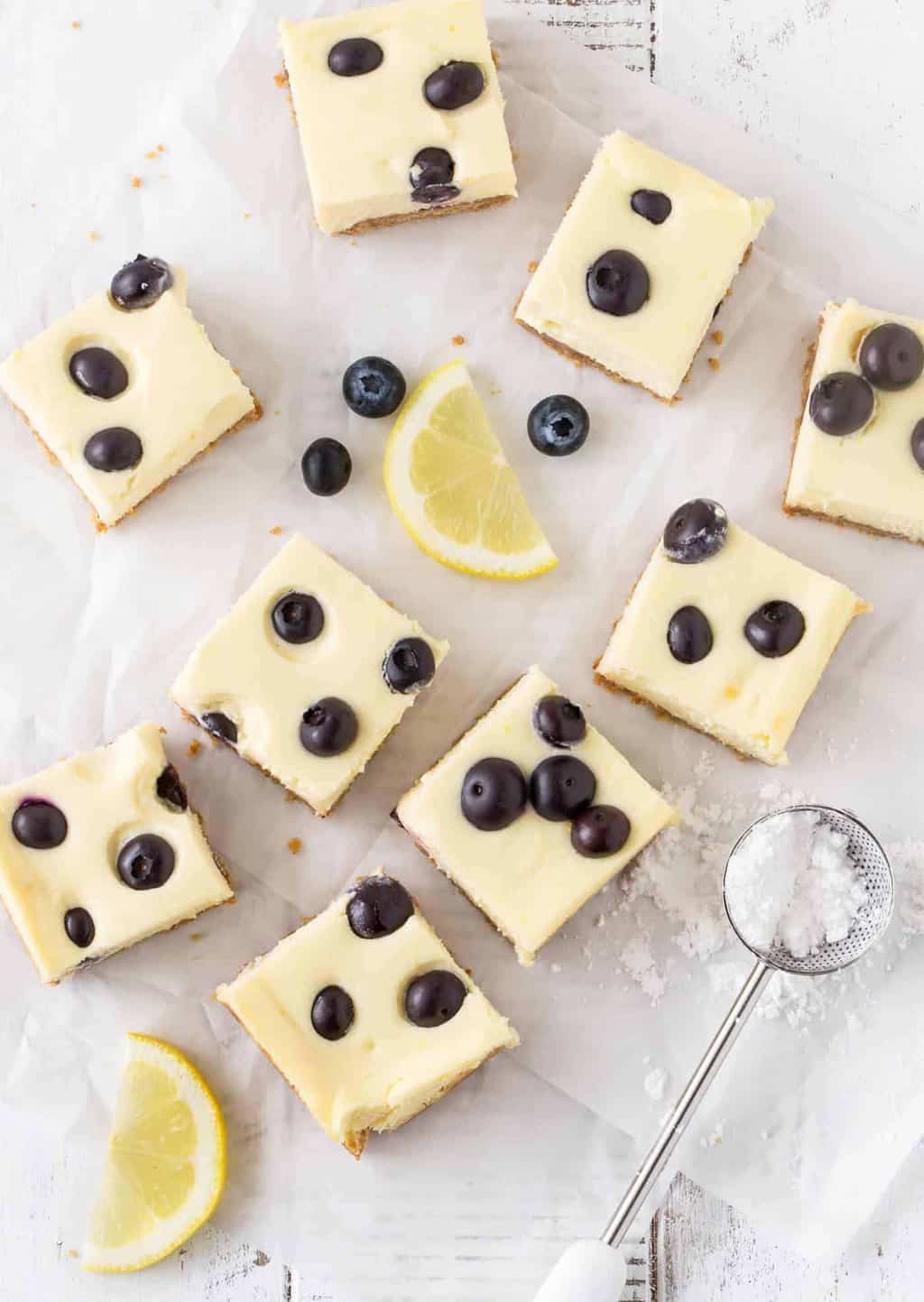 It seems like all across the United States winter has been unusually tough on us. But good things are happening this weekend. It's going to be 40 tomorrow, and we spring ahead! (Don't forget to move your clocks ahead an hour before bed tonight.) So to celebrate the idea of spring making an appearance, I made you some Lemon Blueberry Cheesecake Bars.
Because nothing says spring to me quite like the flavor of a lemon dessert. Plus, if we eat like spring is coming, the snow will melt, right?
The crunchy graham cracker crust with the creamy lemony filling and pop of fresh blueberries makes these Lemon Blueberry Cheesecake Bars sooooo tasty. And – bonus – they are not a dense, heavy dessert, which is perfect for spring. The lemon filling is light and fluffy, which obviously makes it OK to eat about 5 of these in 10 minutes. 🙂 They are super easy to make and will be ready for the oven in only 20 minutes.
I have to admit there is one downfall to these bars: you need to let them chill and set before you can devour them. The waiting is the hardest part. (C'mon, how many of you just sang Tom Petty in your head??)
So join me in saying NO to more winter and YES to spring. Even if we can't control the weather, we can have some say as to what happens in the kitchen. Hopefully Mother Nature will be on our side, and the worst is behind us.
Yield: 9
Lemon Blueberry Cheesecake Bars
Total Time
1 hour
5 minutes
Ingredients
Crust:
2 tablespoons sugar
1/4 teaspoon ground cinnamon
2 cups graham cracker crumbs
6 tablespoons unsalted butter, melted
Filling:
16 ounces cream cheese, room temperature
2 eggs
2 lemons, zested and juiced
1/2 cup sugar
11/2 cups fresh blueberries
Powdered sugar, for dusting
Instructions
Preheat oven to 325 degrees. Lightly grease a 9 x 9 square pan and line with parchment paper.
To make the crust:
Mix all of the dry ingredients in a small bowl and add the melted butter. Stir to combine and press in prepared pan.
Bake for 10-12 minutes. Remove and let cool for 10 minutes.
To make the filling:
Place the cream cheese, eggs, lemon juice, lemon zest and sugar in the bowl of a food processor and mix until thoroughly combined. Using a spatula, scrape into the cooled crust.
Drop blueberries on top.They will sink slightly and sink a little more and burst when they bake.
Bake for 35 minutes or until set in center.
Cool completely and then chill for 3 hours to set.
Remove bars from pan and cut into squares, dust with powdered sugar and serve. Keep leftovers refrigerated.