Two special ingredients – cream cheese and Kerrygold Irish Cream Liqueur – keep this Irish Cream Pound Cake extra moist and flavorful. It's the perfect base for any number of toppings!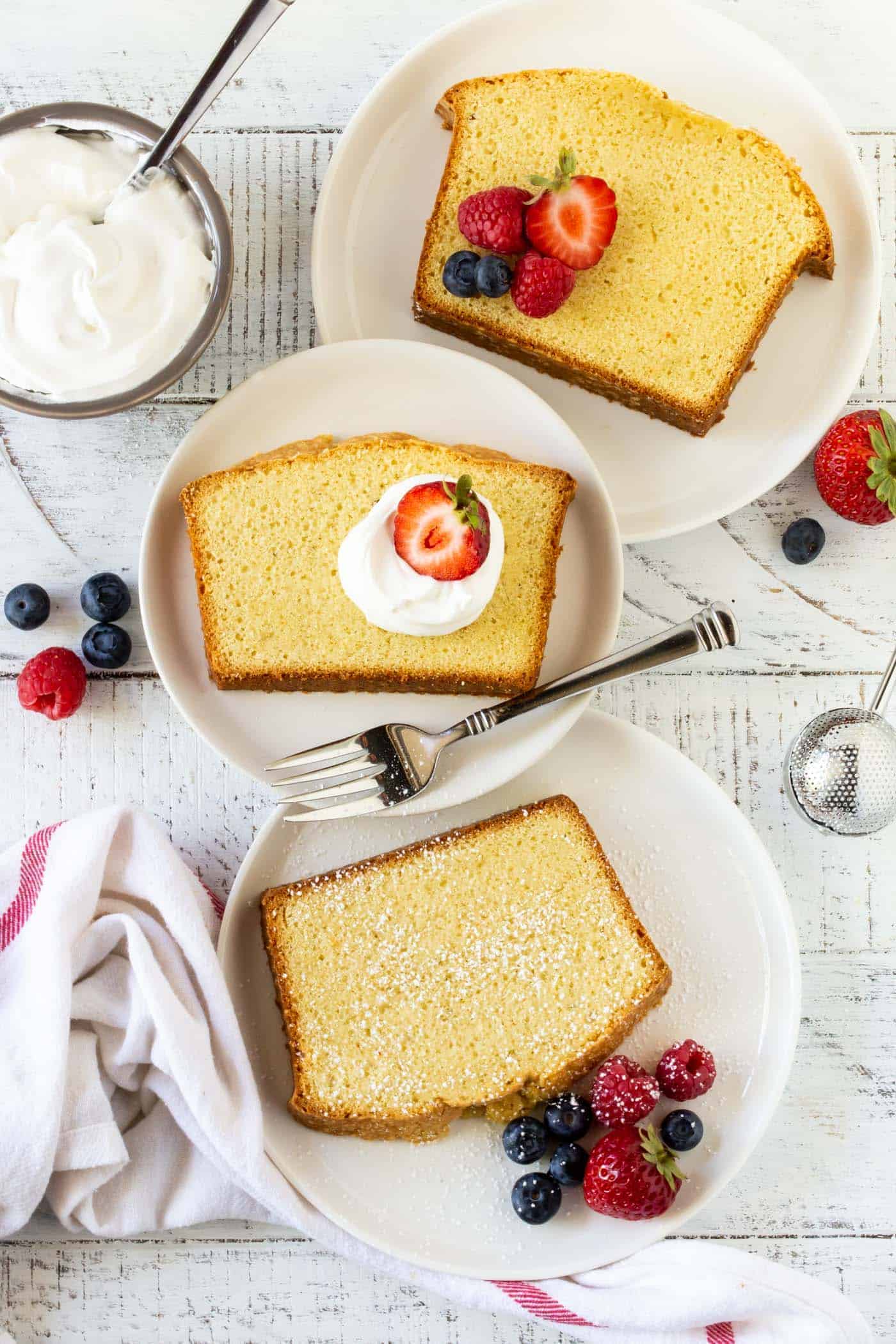 We love a good make-ahead dessert, and this rich, tender Irish Cream Pound Cake is the perfect way to wind down those lazy summer evenings with friends and family. (Especially when it's piled high with freshly picked berries.)
What is a pound cake?
A traditional pound cake recipe is typically made with a pound of each of the four ingredients: flour, butter, eggs and sugar. (Yes, you read that right; a full POUND of each!) Often made in a bundt pan, it's moist, dense and obviously very decadent.
We made our Irish Cream Pound Cake recipe in a loaf pan for smaller portions and and used a lot less quantity of the main ingredients while still keeping that full-bodied pound cake flavor thanks to the rich taste of Kerrygold grass-fed Unsalted Butter.
My pound cake is always dry. What's the secret to moist pound cake?
We added two additional ingredients to our Irish Cream Pound Cake recipe that don't always appear in your average pound cake: cream cheese and Kerrygold Irish Cream Liqueur. Modest amounts of both of these creamy, luxurious ingredients ensure flavor, moisture and a tender crumb.
Another key to moist pound cake? Use the right sized pan!
It's easy to grab whatever loaf pan you have on hand but I've found that loaf pan sizes vary considerably. This recipe was tested using a 9" x 5" pan (this one is our favorite – easy release every time!), and it consistently comes out beautifully. A slightly smaller pan may result in a spillover and an undercooked loaf while a larger pan may produce a shorter, drier loaf.
How else can I use this Irish Cream Pound Cake recipe?
We love to eat it just as it is with a generous topping of fresh berries and powdered sugar. Perhaps a dollop of whipped cream if we're feeling especially indulgent. But you can also turn this pound cake into a variety of other desserts:
Cut slices of the pound cake into cubes and layer it with chocolate pudding, whipped cream and Irish Cream Hot Fudge Sauce for an easy parfait.
Grill slices of pound cake and serve with these irresistible Balsamic Roasted Strawberries and whipped cream.

Skewer pound cake with your favorite summer fruits and marshmallows for easy dessert kabobs.
How to freeze pound cake
This Irish Cream Pound Cake recipe freezes beautifully, so make a double batch to stash in your freezer. Tightly wrap individual slices to keep on hand for last minute guests (or for the next time a dessert craving hits). Simply let the cake come to room temperature before serving.
And just like that, dessert is done!
You're craving more pound cake recipes, aren't you? We've got you covered!
Almond Pound Cake – Garnish with Lemon®
Ultimate Lemon Pound Cake – Grandbaby Cakes
Triple Chocolate Irish Cream Loaf Cake – Garnish with Lemon®
7 Up Pound Cake – Shugary Sweets
Disclosure: This post was sponsored by Kerrygold. We only share products with you that we personally use and love. Thanks for supporting the brands that make Garnish with Lemon possible.
Yield: 8
Irish Cream Pound Cake
A tender, decadent pound cake made with butter, cream cheese and rich Irish Cream Liqueur. It's a great make-ahead dessert that can be topped with fresh berries and whipped cream or hot fudge.
Cook Time
1 hour
35 minutes
Total Time
1 hour
50 minutes
Ingredients
• 12 tablespoons Kerrygold Unsalted Butter, softened
• 3 ounces cream cheese
• 1 ½ cups granulated sugar
• 2 cups flour
• 1 teaspoon salt
• 1 teaspoon baking powder
• 5 eggs, lightly beaten
• 2 teaspoons vanilla extract
• ¼ cup Kerrygold Irish Cream Liqueur
Instructions
Preheat oven to 325 degrees. Lightly grease a 9 x 5 loaf pan and set aside.
Place butter and cream cheese in a large bowl and cream on high until light and fluffy.
Whisk together sugar, flour, salt and baking powder in a medium bowl; add to butter mixture and beat until well-combined. (It will look crumbly and sandy at first, but keep beating it until it resembles a somewhat dry cookie dough that clumps together.)
Whisk together the eggs, vanilla and Irish Cream Liqueur in a small bowl. Add liquid to batter in 3 batches, beating well after each addition.
Pour batter into prepared pan and bake for 55 minutes. Lightly tent pan with foil to keep from overbrowning and bake for another 25-35 minutes or until toothpick inserted in loaf comes out clean.
Cool for 10 minutes in pan and then remove from pan to cool completely on wire rack.
Notes
Individual slices can be tightly wrapped and frozen for up to three months.