Add some fun to your St. Patrick's Day party with this Irish Cheddar and Stout Fondue!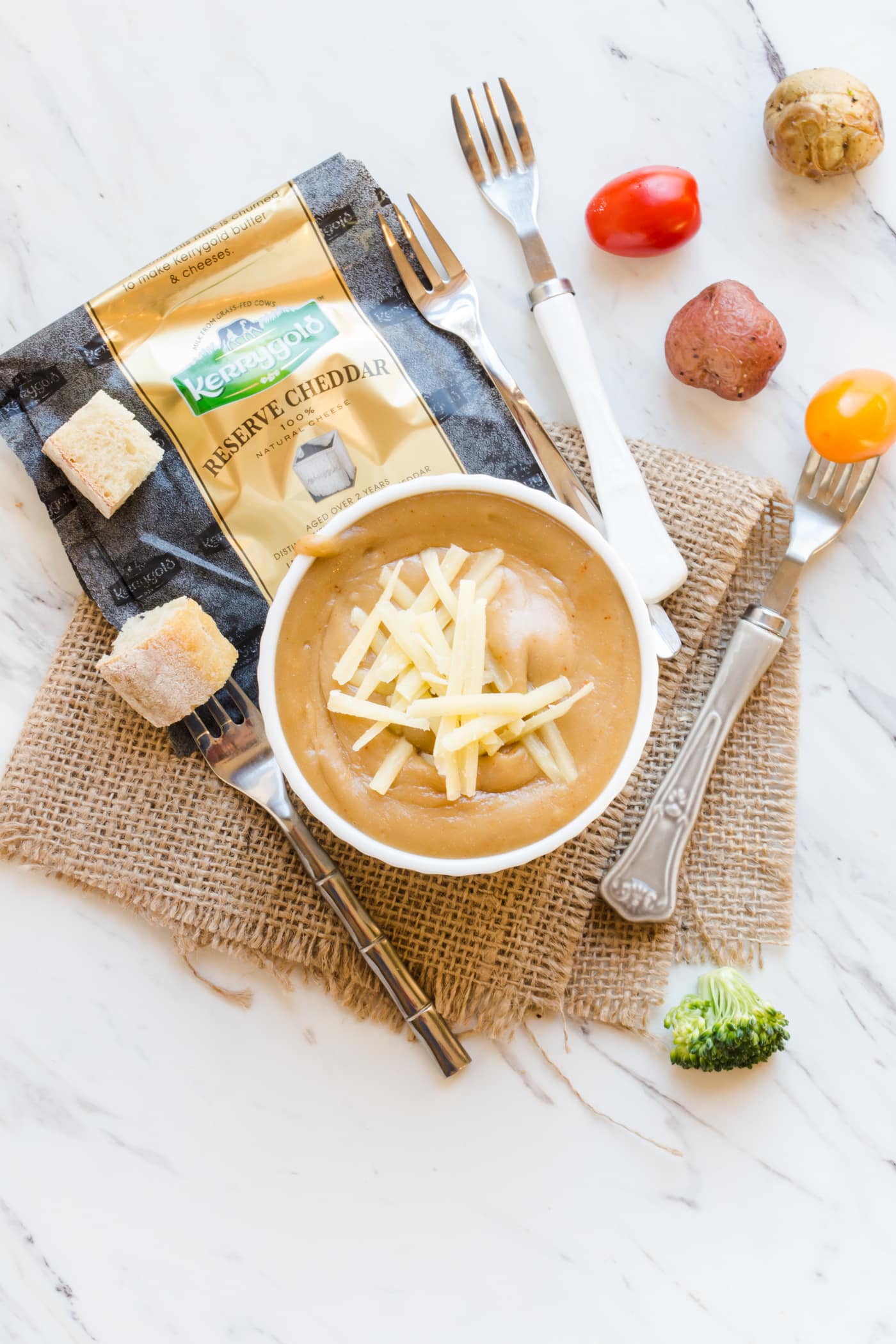 Nothing screams "party" like fondue, and our Irish Cheddar and Stout Fondue is sure to put a festive spin on your St. Patrick's Day celebrations.
Shredded Kerrygold Reserve Cheddar is the base of this flavorful cheese fondue. Most cheese fondue recipes use wine, but we thought that we'd honor the Emerald Isle with this fondue and swap the wine for beer. The strong taste of the aged cheddar is an ideal match for the dark stout beer. Rather than compete for center stage, the flavors complement each other. But for all of you non-beer lovers out there, don't worry; this fondue doesn't have an obvious beer taste. It's the roasted flavors in the beer that really shine through and add to the depth of the sharp cheddar.
This Irish Cheddar and Stout Fondue comes together quickly, so have all of your dippers ready to go before you start the fondue. Options for dippers abound. We love crusty bread of any sort, but veggies, pretzels and even some cured meats are delicious choices, too.
Tip: This recipe makes about 2 cups of cheese fondue, but trust me when I say it goes fast. Doubling the recipe is always a good idea, especially if you're serving a large group.
Though we love the beer in our Irish Cheddar and Stout Fondue, no St. Patrick's Day party is complete without a little Irish whiskey. So make sure you pour a little of your favorite Irish tipple in our Boozy Slow Cooker Chocolate Fondue.
Now your Irish-themed St. Patrick's Day party is ready to roll!
Recommended Equipment
Yield: about 2 cups
Irish Cheddar and Stout Fondue
Ingredients
1 pound Kerrygold Reserve Cheddar, shredded
2 tablespoons cornstarch
1 garlic clove, peeled
1 cup Irish stout beer
1 teaspoon dry mustard
1/4 teaspoon ground red pepper (cayenne)
2 teaspoons Worcestershire sauce
Food for dipping (bread, pretzels, roasted or raw vegetables, cured meats, etc.)
Instructions
Place cheese and cornstarch in a bowl and toss to coat evenly. Set aside.
Rub the inside of the fondue pot with the garlic clove. Discard garlic.
Add beer to a medium saucepan. Cook over medium heat until liquid is simmering. Gradually add handfuls of cheese to the saucepan, stirring until each handful is melted before adding more. Remove from heat and stir in mustard, ground red pepper and Worcestershire sauce once all cheese is melted.
Pour cheese mixture into prepared fondue pot and keep warm.
Disclaimer: This post was sponsored by Kerrygold. We only share products with you that we love and use all the time. Thanks for supporting the companies that make Garnish with Lemon possible.