These three ingredient Dulce de Leche Chocolate Cups are a super simple and delicious way to spread holiday cheer!
Grady is STILL making his way through his Halloween loot – can you believe it?!
We went to a friend's house to go trick or treating this year, and he made out with a huge garbage bag full of candy. Huge. He must have gone around the neighborhood 2 or 3 times judging by the size of that haul. 
Now, unlike Lisa's kids, mine hoard their candy until I can coax, pry or sneak it out of their sticky fingers. Fortunately I can usually entice them to "trade" their Halloween treats for some of my homemade goodies during the holidays, and these homemade Dulce de Leche Chocolate Cups are always powerful bargaining chips.
Normally candy making is not my thing. I purposefully skip the recipes that require candy thermometers and insist on precision in execution as I've been burned (quite literally) by my efforts here in the past. But these THREE ingredient Dulce de Leche Chocolate Cups couldn't be simpler, thanks to an uncommon and often overlooked kitchen tool: a paintbrush. 
Talk about channeling my inner kindergartner! An inexpensive food safe paintbrush makes these candy cups come together in a snap. Place some melted chocolate in the bottom of the paper liners, brush it up the sides of the liners, chill until firm, then fill with the sweet of your choice. I opted for dulce de leche for this version, but feel free to stuff them with your favorite flavor: salted caramel, almond butter, peanut butter, even chocolate ganache. Just have fun with all the options. Finish them off with more melted chocolate and a generous sprinkle of sea salt, and you have sweet little treats that make great gifts for friends and family this season.
Whoever said you shouldn't play with your food is just plain wrong.
Yield: 20
Dulce de Leche Chocolate Cups
Ingredients
10 ounces semi sweet chocolate, chopped and divided
1/3 cup dulce de leche
sea salt
Instructions
Place 20 mini muffin liners on a sheet pan. Melt 4 ounces of chocolate in a microwave safe bowl. Equally divide the chocolate between the muffin liners. Brush the chocolate up the sides of the liners using a small paintbrush. Chill for at least 45 minutes.
Melt remaining 6 ounces of chocolate. Divide dulce de leche among mini muffin cups. Top with remaining melted chocolate. Gently tap pan on counter or use a spoon to smooth tops, if necessary. Sprinkle with sea salt. Keep refrigerated until ready to serve. Remove from refrigerator 5 minutes before serving.
 Craving more holiday food gift ideas? We've got ya..
Holiday Spritz Cookies
Homemade Kettle Corn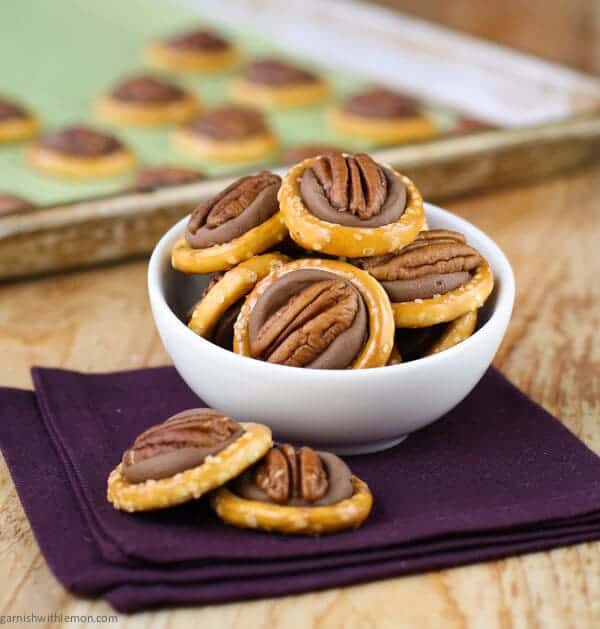 Easy Rolo Pretzel Turtles