These Healthy Oatmeal Raisin Muffins are just the sweet to add to your next brunch menu – delicious AND good for you!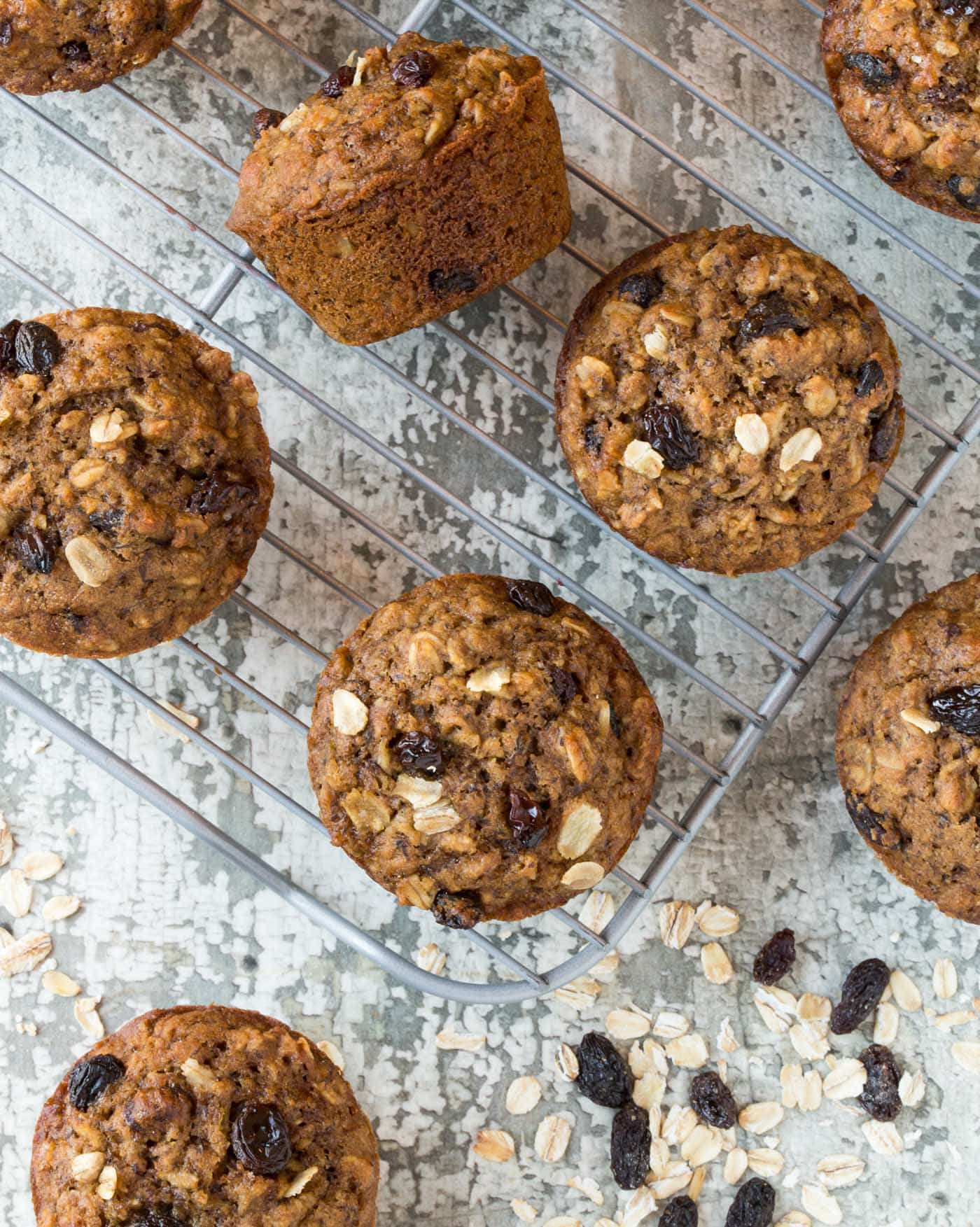 If you're a regular around these parts, you know that we are not the "healthy food" blog. But that doesn't mean we don't appreciate tasty food, good-for-you or not. This Healthy Oatmeal Raisin Muffins recipe is an example of that. They just so happen to be irresistible AND pretty darn wholesome. Nothing like having your cake – err, muffin – and eating it, too!
Don't be turned off by the healthier ingredients in these muffins. I don't use whole wheat flour, wheat germ and flaxseed on a regular basis, but I find they keep really well when tightly wrapped in the freezer.
In fact, these Healthy Oatmeal Raisin Muffins are not dense and heavy at all, despite the "tough" looking ingredients. They are remarkably light and tender with just the right amount of sweetness from the dried fruits. Not a raisin fan? Pick any combination of fruits you like. I've done various combos of raisins, craisins, dates and figs, depending on what I have in my pantry. And they all work great.
Tip
: This
batter scoop
is the best way I've found to evenly fill the muffin tins without making a huge mess. One of my favorite kitchen tools!
Prepping ahead for your upcoming brunch? These muffins freeze beautifully, which makes them a great option for weekend guests or even for a healthier afternoon carb fix.
Recommended Equipment
Yield: 12
Healthy Oatmeal Raisin Muffins
Ingredients
1 cup white whole wheat flour
1/4 cup granulated sugar
1/4 cup packed brown sugar
2 tablespoons wheat germ
2 tablespoons flaxseed meal
1 1/2 teaspoons baking soda
1 1/2 teaspoons ground cinnamon
1/2 teaspoon salt
1 1/2 cups quick cooking or rolled oats
1 cup raisins (or any other dried fruit combination - cranberries, figs, dates, etc.)
1 cup buttermilk
1/4 cup canola oil
1 1/2 teaspoons vanilla
1 egg, lightly beaten
1/2 cup boiling water
Instructions
Add first 8 ingredients in a large bowl and whisk together. Add oats and dried fruit. Stir to combine. Set aside.
In a small bowl, stir together buttermilk, oil, vanilla and egg. Add buttermilk mixture to dry ingredients. Stir until just moist. Gently pour in boiling water and stir until incorporated. Let stand for 15 minutes.
Preheat oven to 375 degrees. Grease a twelve-cup muffin pan. Evenly divide batter among muffin cups and bake for 20 minutes. Muffins will spring back lightly when touched. Remove from pan immediately and cool on a wire rack.
Nutrition Information:
Amount Per Serving:
Calories:

417
Total Fat:

5g
Carbohydrates:

83g
Protein:

12g