Say goodbye to the holiday gluttony and good morning to eating well with these Healthy Morning Glory Muffins.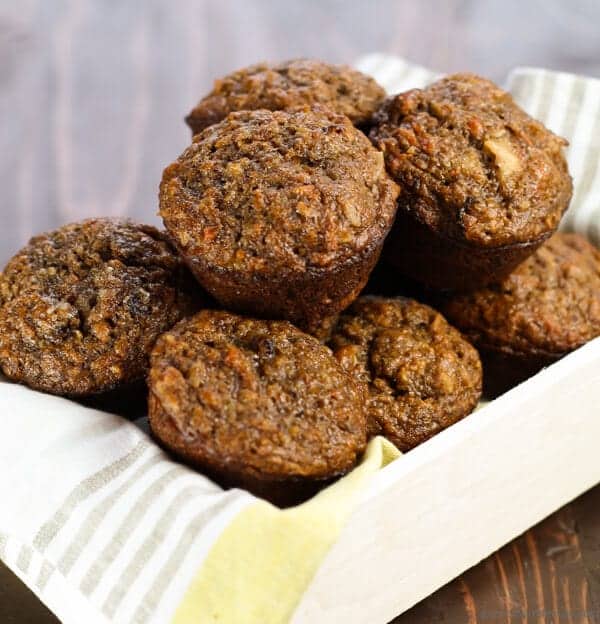 So here we are, back on the healthy eating bandwagon. I don't know about you, but starting my day on the right foot with eating sets the whole tone for the day. Which is why I loooooove these Healthy Morning Glory Muffins. Packed with loads of "good stuff", like whole wheat flour, flaxseed, carrots, apples, nuts and Greek yogurt, these muffins make sticking to your New Year's resolutions for healthier eating a piece of cake.
Lisa and I enjoy spirited debate about the presence of nuts in baked goods. I'm firmly in the "Load them in" category, while Lisa is firmly entrenched in the "Leave them out" camp. Clearly these muffins are all mine. The more stuff I can throw in them, the better. Which also means they are super easy to customize to whatever leftover bits are hiding in your pantry. A handful of dried apricots from some holiday appetizers? Toss them in. Out of walnuts? Try subbing in pecans. You can even toss in those last few chocolate chips from your holiday baking adventures, although more than a few does kinda negate the "healthy" aspect of these muffins, but I'll never judge.
What are your best tips or recipes for eating healthy in the mornings? Leave your thoughts below. We'd love to know what works well for you!
Healthy Morning Glory Muffins
20
adjust servings
Ingredients
1 1/2

cups whole wheat flour

1/2

cup all-purpose flour

1/4

cup ground flaxseed

2/3

cup sugar

2

teaspoons baking soda

2

teaspoons ground cinnamon

3/4

teaspoon salt

1/2

teaspoon ground ginger

2

large carrots, peeled and grated (about 1 cup)

1

large tart apple, peeled, cored, and grated

1/2

cup unsweetened shredded coconut

1/2

cup chopped walnuts

1/2

cup dried cranberries

3

large eggs

2

ripe bananas, mashed

1/2

cup Greek yogurt

1/3

cup canola oil

2

tablespoons molasses

2

teaspoons vanilla extract
Instructions
Preheat oven to 375 degrees. Grease or line muffin tins.
Place the dry ingredients (whole wheat flour through ginger) in a large bowl. Whisk together. Stir in carrots, apple, coconut, walnuts and cranberries.
Place eggs in a small bowl and gently whisk. Add bananas, yogurt, oil, molasses and vanilla to eggs in bowl and stir until thoroughly combined.
Pour egg mixture into the flour mixture and stir until just blended. Batter will be thick. Divide batter evenly among muffin tins.
Bake for 20-22 minutes. Allow to cool in the muffin tins for 5 minutes and then invert and finish cooling on wire rack.
Recipe Notes
These muffins freeze beautifully.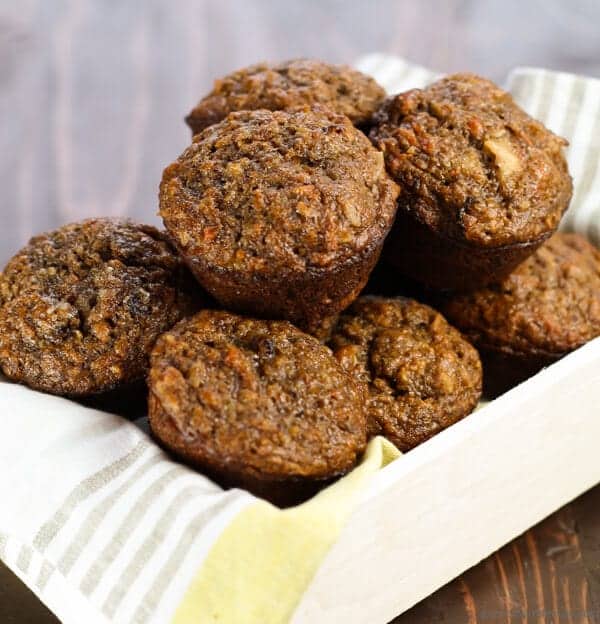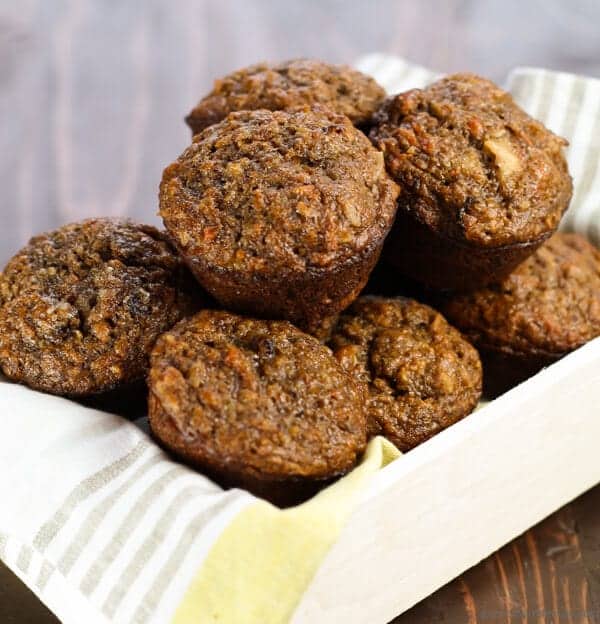 Did you make this recipe? We'd love to see it! Snap a pic of your creation and tag it #GarnishWithLemon. We might even feature your photo on social media!
Don't worry; We've got some "no nut" muffins options out there for you purists!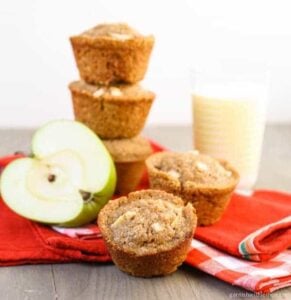 Double Apple Bran Muffins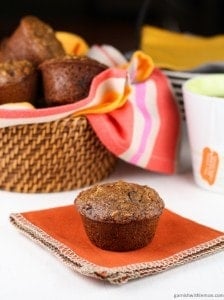 Healthy Oatmeal Raisin Muffins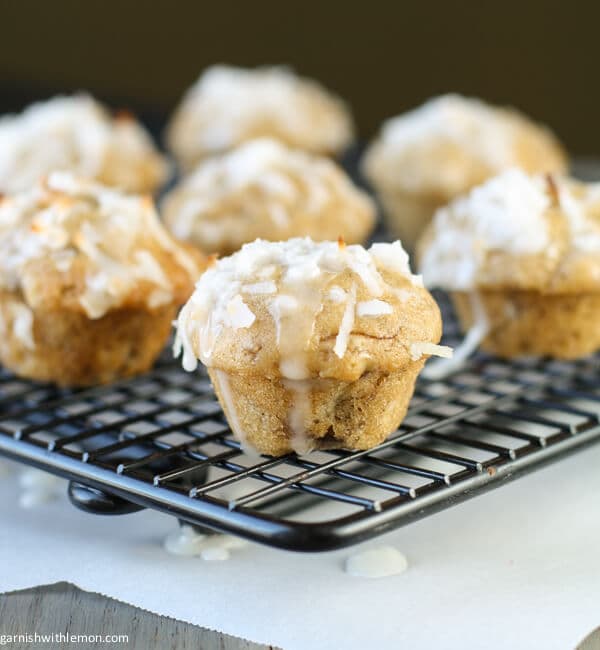 Coconut Banana Bread Mini Muffins with Lime Glaze