These quick and easy Grilled Zucchini Pizza Bites are a healthier way to indulge your pizza craving and make excellent grilled appetizers for a party.
Nothing keeps a crowd happy like pizza, even when the temperatures start to climb. And while grilled pizza is one of our favorite things to devour, not every occasion calls for Italy's most famous pie (shocking, I know). But now you can still enjoy the taste of pizza off the grill without all the carbs with these quick and easy Grilled Zucchini Pizza Bites – a great way to kick off a party!
One thing I love about these Grilled Zucchini Pizza Bites is how easily they come together, but there are a few things I learned from my trial and error that you might find helpful:
Place your grill pan on the grill when you preheat it. This ensures the zucchini gets a nice sear from the moment it hits the heat.
Cut your zucchini about 1/3" thick. Any thinner than that and your zucchini slices won't hold their shape as well after cooking.
Unless you can work super fast, I suggest removing the grill pan from the grill to add the sauce, cheese and pepperoni and then putting it back on the flames to finish cooking. Much easier than burning your forearms or fingers. (Don't forget your grilling mitts!)
Allow these to cool slightly on the grill pan after you remove them from the heat so the sauce and cheese can "set".
These Grilled Zucchini Pizza Bites are best warm, so serve them immediately after grilling. Grilled zucchini will start to release its juices after sitting for too long.
Tip:
This
grill pan
is our absolute favorite. We love the huge flat surface and the raised handles and sides for easily taking it on and off the grill.
Hmmm…maybe pizza fits into my healthy eating plan after all…
P.S. Don't have a grill? You can also make these on your stovetop using a traditional grill pan, but I personally love the bit of char the zucchini takes on from the grill.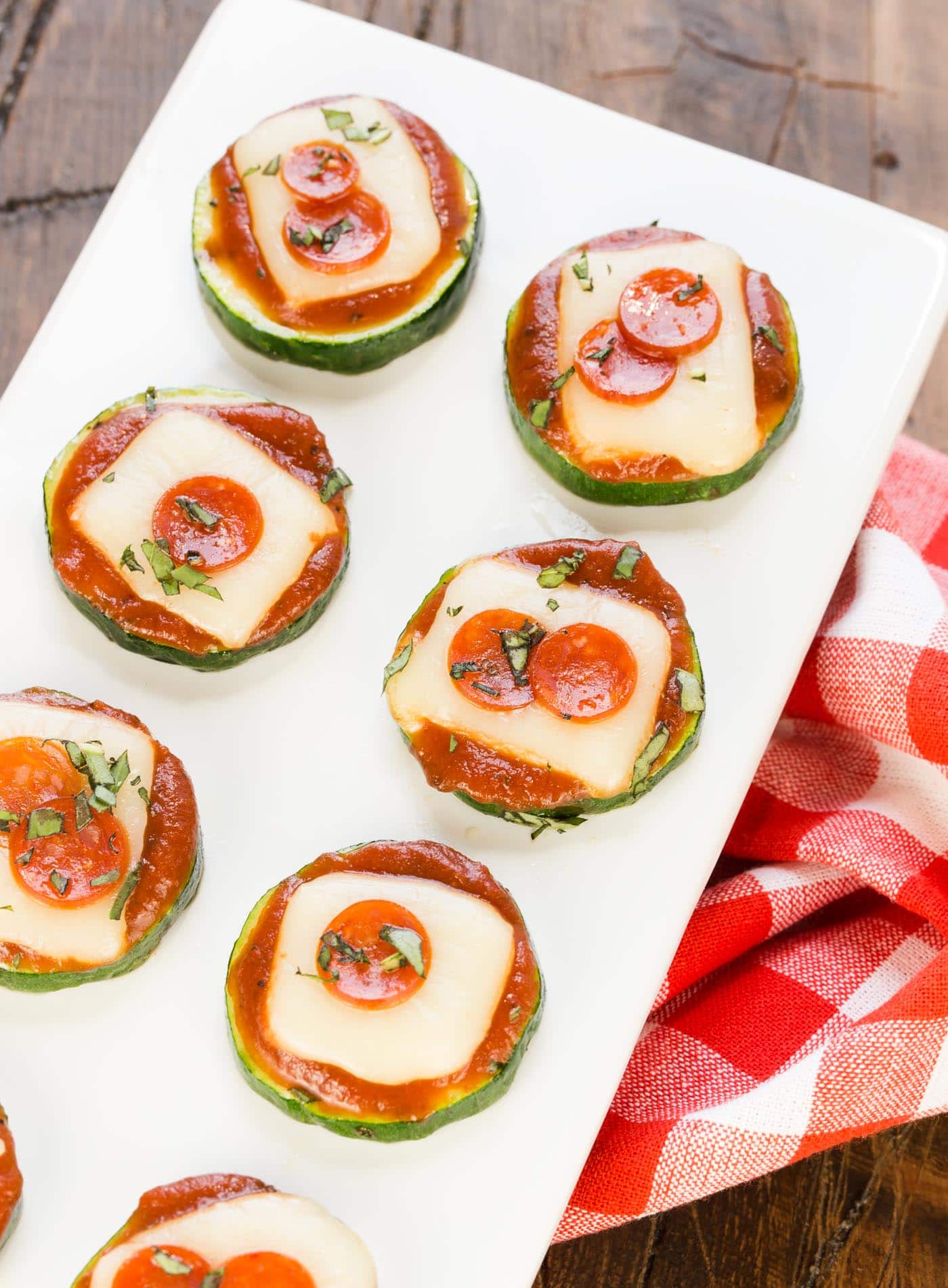 Yield: 6 servings
Grilled Zucchini Pizza Bites
Ingredients
Zucchini sliced 1/3" thick
Olive oil
Pizza sauce
Sliced mozzarella cheese
Mini pepperoni
Chopped parsley or basil
Instructions
Place grill pan on grill and preheat over medium high heat. Toss zucchini slices in a little bit of olive oil so each piece is lightly coated.
When grill is preheated, quickly place zucchini slices on grill pan. Cook for 2 minutes. Remove pan from grill (don't forget your grill mitts!) and turn zucchini over. Top each zucchini slice with a dollop of pizza sauce, a slice of cheese and pepperoni. Return pan to grill and cook until cheese is melted, about 1 -2 minutes.
Remove grill pan from grill and allow to cool slightly. Serve immediately.