Filled with juicy chicken, parmesan, and crunchy croutons, this Grilled Chicken Caesar Salad with homemade dressing will become a regular in the meal rotation.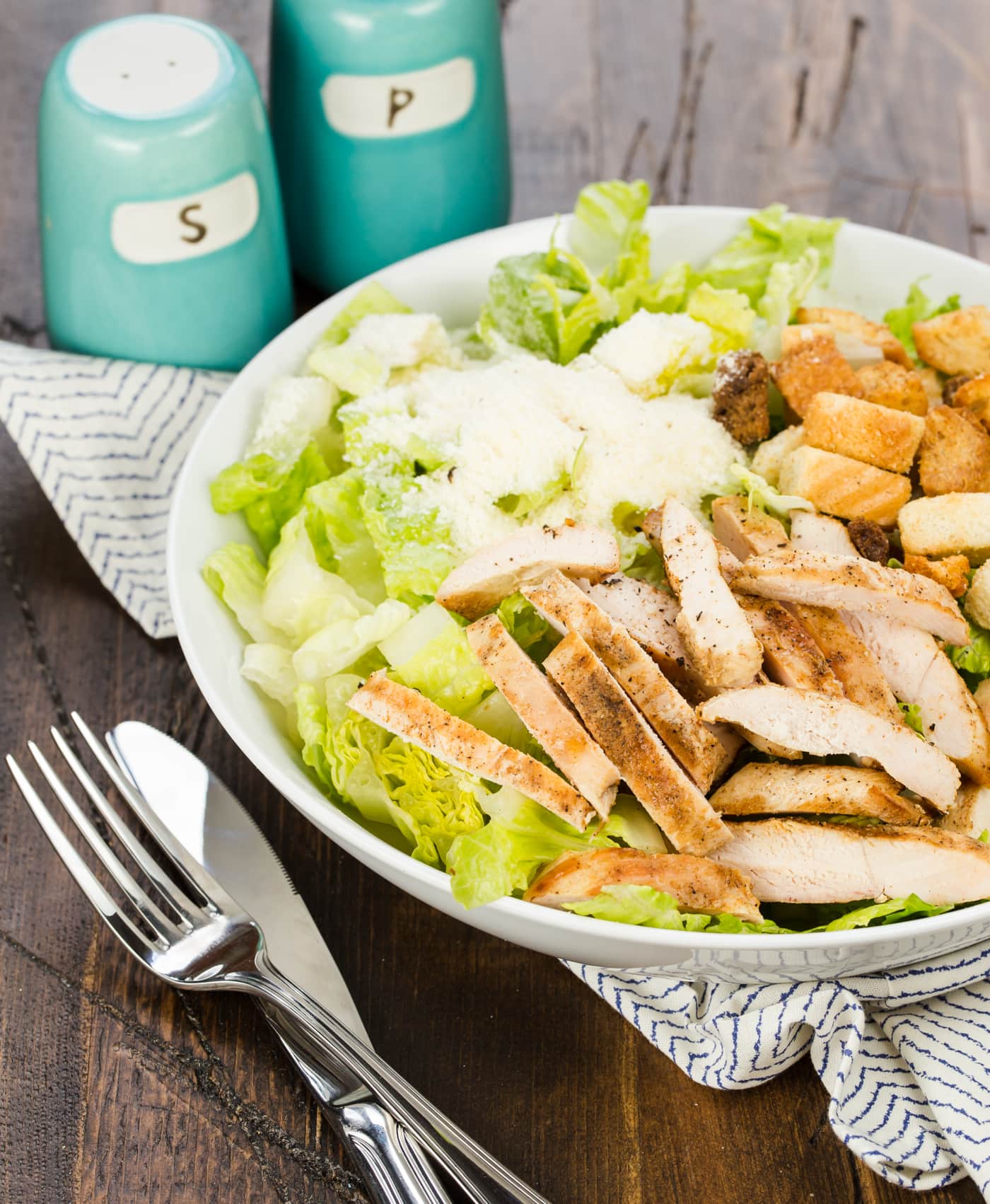 There are Caesar salad likers and then there are Caesar salad lovers.
I happen to fall in the latter, and fortunately my family does, too, which is a really good thing with how often this Grilled Chicken Caesar Salad shows up on the menu. That said, we (read, me) are pretty particular about our salads, especially the dressing. I don't want just any salad, I want a really good salad. Over the years I've tried dozens of different Caesar dressing recipes and haven't been happy. But this easy homemade Caesar dressing is a game changer. It's light, full of flavor, easy to whip up and it's made with staples from the pantry. Can you say "Winner, winner, chicken dinner?"

On hectic summer nights, our love of salads runs especially deep. (This Chicken Strawberry Salad and Buffalo Chicken Salad are 2 other favorites that make regular appearances on our table!) Like a lot of busy families, the four of us rarely eat dinner together at a normal hour, and the last thing everybody wants is to wait for me to cook dinner when we finally get home from one of our many activities. But when this Grilled Chicken Caesar Salad is on the menu, dinner is a snap. I grill the chicken earlier in the day, as well as clean the lettuce and make the dressing. Simply toss a loaf of bread in the oven while you put the salad together and – presto – a light, protein-filled dinner is ready to be devoured by all.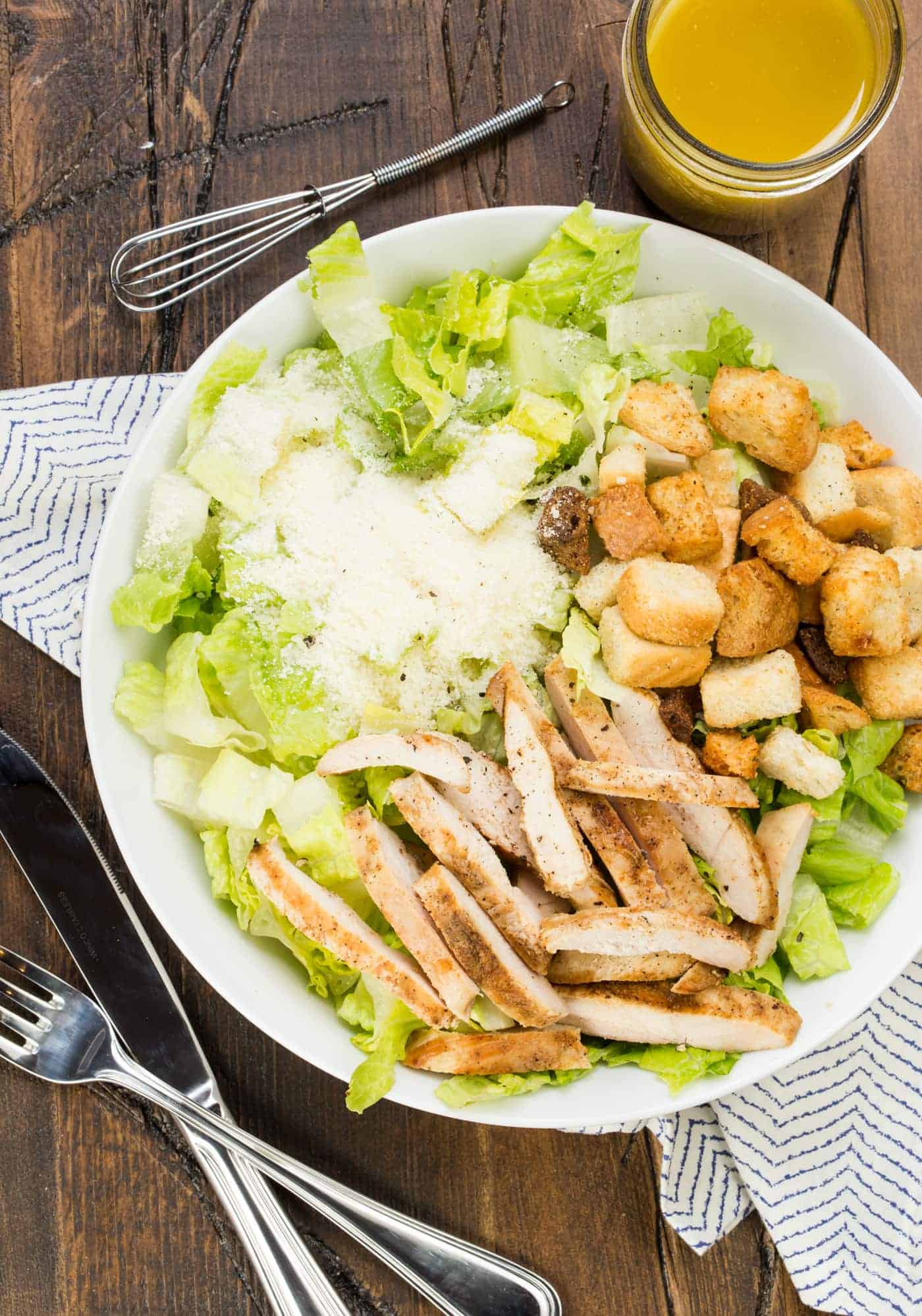 Tip: Don't have anchovy paste on hand? Mince 3 anchovies and add to the dressing instead. Not an anchovy fan? Leave them out and add a dash of extra salt to taste.
Yield: 4
Grilled Chicken Caesar Salad
A light, flavorful Caesar salad with grilled chicken.
Ingredients
Chicken:
2 boneless skinless Chicken Breasts
1/2 teaspoon Italian chicken seasoning
Salt and pepper
Dressing:
1 teaspoon anchovy paste
2 garlic cloves, minced
1 tablespoon lemon juice
1 tablespoon red wine vinegar
1 tablespoon Dijon mustard
1 1/2 teaspoons Worcestershire sauce
1/3 cup extra-virgin olive oil
1/4 cup grated Parmesan cheese
Salad:
2 large hearts of romaine lettuce, chopped
1 cup croutons
Anchovy fillets (optional)
Grated Parmesan cheese (optional)
Instructions
To make the chicken:
Season chicken breasts with seasoning, salt and pepper. Grill 8-10 minutes or until juices run clear. Remove from grill and tent with foil. Slice into strips and set aside.
To make the dressing:
Whisk together anchovy paste, garlic, lemon juice, red wine vinegar, mustard and Worcestershire sauce. Slowly add oil and whisk until thoroughly mixed. Stir in parmesan cheese.
To make the salad:
Place romaine hearts on plate and drizzle with dressing. Add chicken on top and garnish with croutons, anchovies and grated Parmesan cheese.
Nutrition Information:
Yield:
4
Serving Size:
1
Amount Per Serving:
Calories:

374
Total Fat:

25g
Saturated Fat:

5g
Trans Fat:

0g
Unsaturated Fat:

19g
Cholesterol:

59mg
Sodium:

612mg
Carbohydrates:

14g
Fiber:

4g
Sugar:

3g
Protein:

24g