OK, I know what you're thinking. You want me to serve grilled cheese to guests…as an appetizer? Unconventional, I know, but hear me out. If you're idea of a grilled cheese is pasteurized cheese spread and Wonder bread, you're in for a treat. This is no ordinary grilled cheese. Just a few simple ingredients turns the ordinary into the extraordinary in record time. The best part? These can be made up to three hours in advance and reheated in the oven right before guests arrive without compromising any quality. Gooey cheese, buttered and toasted bread and a rich balsamic dip – what's not to love? 
Since there are so few items in this recipe, it's important to seek out the best quality ingredients you can find. They really make a difference. Move over, Kraft Singles; nutty Gruyere and an aged, full-flavored Grafton Cheddar create an outstanding combination of flavors. Reduce the balsamic vinegar until it's a tangy syrup, round it out with butter, and you're left with a finger-licking sauce that's so addictive you can't help but ponder what else you can eat with it.  
This dish is a home run with kids and adults alike. Many parents out there can relate to the exasperated eye rolls we often receive from our kids as they hit the tween and teen years. Consider this fair warning: your guest may roll their eyes in pleasure after tasting these sandwiches. But it's one eye roll that you will actually be grateful to receive.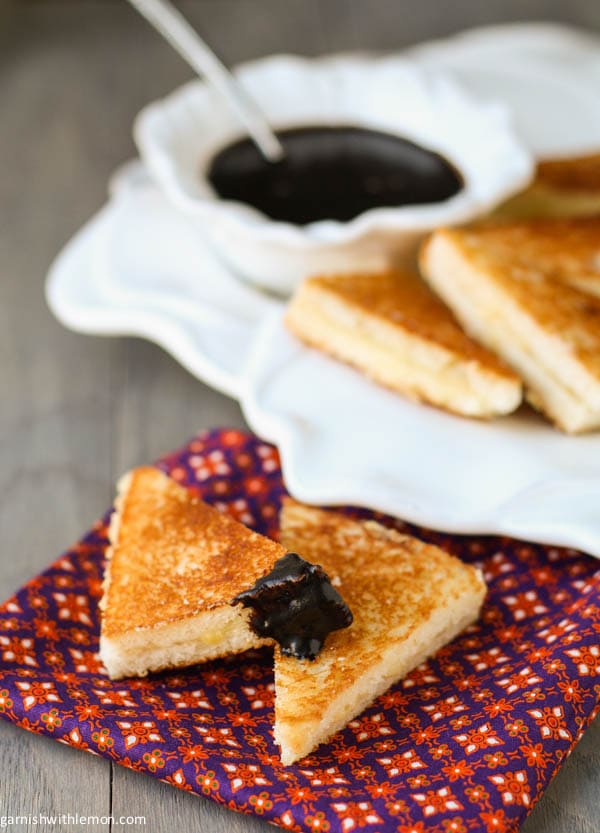 Grilled Cheese Sandwiches with Balsamic Glaze
5
adjust servings
Ingredients
Balsamic Glaze
1

cup balsamic vinegar

2

tablespoons unsalted butter, diced
Sandwiches
10

slices high-quality, firm white bread (I used Pepperidge Farm), crusts removed

1/2

cup (2 ounces) Gruyere cheese, grated

1/2

cup (2 ounces) Grafton Cheddar, grated

4

tablespoons unsalted butter, melted
Instructions
Balsamic Glaze:
Heat vinegar in saucepan over medium heat for 5-6 minutes. It should reduce by half. Remove from stove and stir in diced butter.
Sandwiches:
Preheat oven to 375 degrees.
Combine cheese and divide evenly among 5 bread slices. Top with other 5 slices. Use a pastry brush to brush butter on top of each sandwich. You'll use about half of the butter.
Preheat griddle (or pan) over medium-high heat and place sandwiches buttered side down on hot griddle. Brush tops of sandwiches with remaining butter.
Cook 1-2 minutes per side, just enough to nicely brown the bread. (TIP: you can make these sandwiches 3 hours ahead to this point. Cool, cover loosely and refrigerate. Proceed with remaining directions when ready to serve.)
When sandwiches are browned on both sides, place them on a sheet pan and place them in the oven to completely melt the cheese, about 6 - 8 minutes.
Remove sandwiches from oven and cut into triangles or squares. Dip into warm balsamic glaze and enjoy.
Recipe Notes
I always double, sometimes triple, this recipe because it goes so quickly.
Did you make this recipe? We'd love to see it! Snap a pic of your creation and tag it #GarnishWithLemon. We might even feature your photo on social media!