Use a rotisserie chicken to have Greek Chicken Wraps on the table in less than 20 minutes!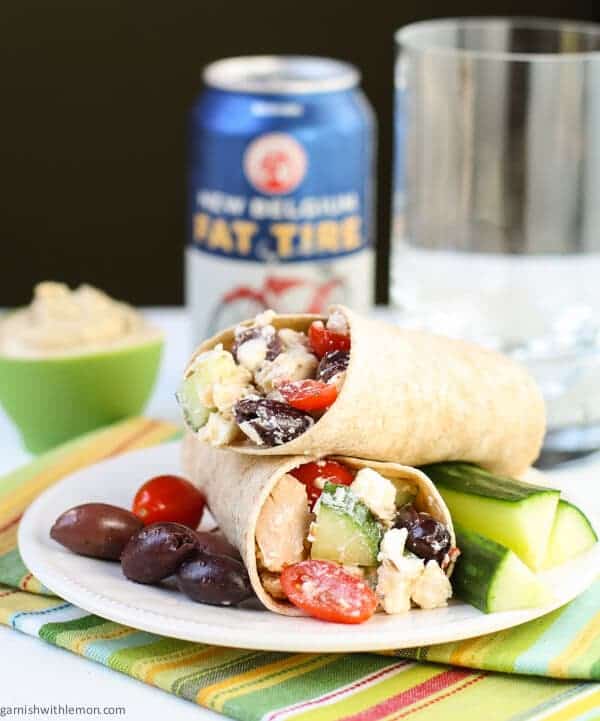 Please tell me I'm not alone. It's 4:00, and I don't have any idea what I'm making for dinner. I know, I'm a food blogger, but it happens to me, too. My day gets away from me, and all of the sudden the kids are asking me what's for dinner. And that is when I turn to a rotisserie chicken for help. Make these Greek Chicken Wraps, and you have a tasty dinner as well as lunch for school the next day. How's that for a winning combo?
Rotisserie chickens are my favorite shortcut in the kitchen. I'll buy a couple at a time, chop the meat up and freeze it in 2 cup portions. Having those stashed in the freezer has saved my hide more times than I would like to admit and makes meal time a snap when I'm under the gun. And these Greek Chicken Wraps are a perfect recipe to use them in. Place the chopped chicken and seasonings in a bowl, give it a stir and get the garnishes out. You've got a healthy dinner on the table in less than 20 minutes.
I love that there is no mayo in these wraps, making them a great option for the lunch box. Healthy, easy and super fast! My kids love to put these together because they can customize them just how they like, which makes everyone's life easier. I'm all for the double duty easy dinners. Especially as my car pool schedule is filling up for fall. Let the back to school madness begin!



Yield: 6
Greek Chicken Wraps
Prep Time 20 minutes

Total Time 20 minutes
Ingredients
1 cup grape tomatoes, halved
1/2 cup pitted kalamata olives, coarsely chopped
1/2 cup crumbled feta cheese
Juice from 1/2 lemon
1 tablespoon oregano
3 tablespoons olive oil
1/4-1/2 teaspoon ground red pepper
2 cups boneless rotisserie chicken breast , coarsely chopped
1/2 cup seedless cucumber, chopped
6 tablespoons plain hummus
6 (8-inch) whole-wheat flour tortillas
Instructions
In a medium bowl place chicken, tomatoes, olives , cheese and cucumber. Season with lemon juice, olive oil, oregano and red pepper and stir gently to combine.
Spread 1 tablespoon hummus (or more if desired) over each whole wheat tortilla. Divide the filling evenly between the 6 tortillas and roll up. Secure wrap with toothpick if desired.
Nutrition Information:

Amount Per Serving: Calories: 751.14 Total Fat: 58.31g Carbohydrates: 46.06g Protein: 19.11g