This delectable Gluten-Free Caramel Apple Monkey Bread will be the star of your next brunch menu – and guests will never guess that it's a gluten-free recipe!
Ever planned a party and had someone spring a dietary restriction on you at the last minute? It can be stressful to come up with something that everyone can eat, especially if you are unfamiliar with the food sensitivity or allergy. It's second nature for me to ask about my guests' dietary preferences since Bridget has a peanut allergy, but that's not the case for everyone. Which is why we are delighted to partner with Pamela's Products over the next several months to bring you gluten-free recipes that are reliable, delicious and don't require you to buy a large assortment of ingredients you may never use again. First up is this Gluten-Free Caramel Apple Monkey Bread – a drool-worthy example of just how tasty gluten-free eating can be.
Fact: gluten-free baking can be tricky, which is why we are grateful that Pamela's Products does all the heavy lifting for us like combining the best ingredients in their baking mixes, cookies and snack bars. Our Gluten-Free Caramel Apple Monkey Bread uses Pamela's gluten-free Bread Mix as its base, which was great because all I had to do was forage the remaining ingredients from my pantry and fridge (think basics like butter, sugar, eggs, apples, milk and cinnamon).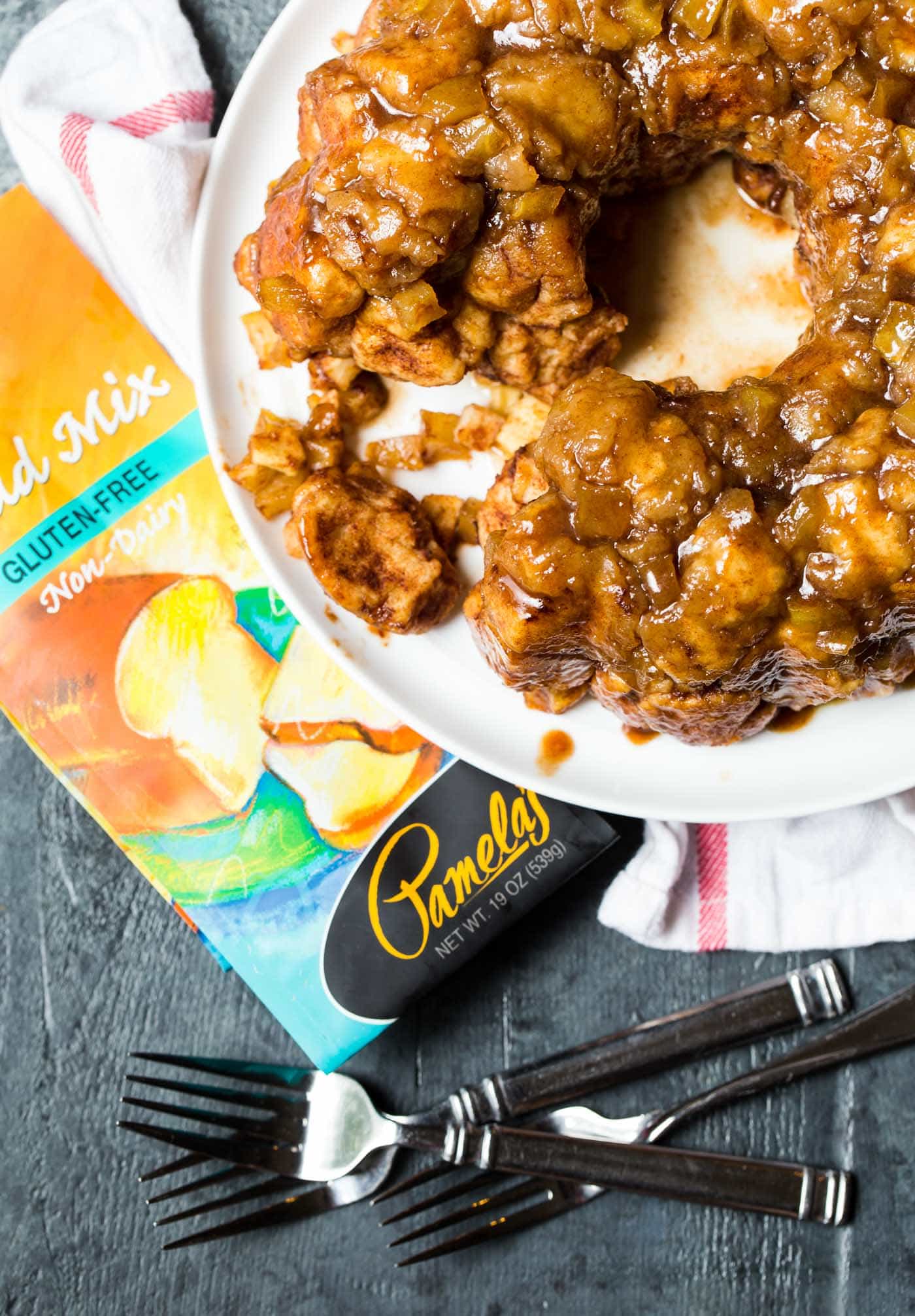 To those of you who are new to gluten-free baking, here are a few tips to make the process easier:
Fresh gluten-free dough is usually very sticky and tough to work with by hand. A few hours in the fridge makes all the difference in your ability to handle the dough. It will still be a bit sticky, but a light dusting with Pamela's All-Purpose Flour Artisan Blend lets you form the dough logs much more easily. You can also use regular rice flour, too, if you prefer.
I've found that working with the dough on a Silpat Baking Mat is easiest because it's made to smoothly release foods, but parchment paper can also work in a pinch. Lightly spray the underside of the paper so it adheres to the countertop and lightly dust the top with gluten-free flour.
This recipe is best consumed the day you make it (although I think the same is true of monkey bread made with all-purpose flour, too).
Tip: You can also add a couple handfuls of toasted nuts to this recipe if you'd like a bit more crunch. Simply stir them into the caramel apple sauce.
Look for more reliable and delicious gluten-free recipes that are perfect for entertaining over the next few months, but in the meantime, don't think twice about digging into this Gluten-Free Caramel Apple Bread!
Recommended Equipment: 
Yield: 8 servings
Gluten-Free Caramel Apple Monkey Bread
You can't go wrong with this gooey Caramel Apple Monkey Bread!
Total Time
4 hours
15 minutes
Ingredients
Dough:
1 (19-ounce) bag Pamela's® Bread Mix (mix includes yeast packet - don't forget to fish it out of the bag)
1 tablespoon sugar
1/4 teaspoon salt
3/4 cup water
1/2 cup milk
5 tablespoons butter
2 eggs
Caramel Apple Sauce:
3/4 cup packed brown sugar
4 tablespoons butter
1/4 cup half & half
2 cups peeled and chopped apples (I used Granny Smith)
Cinnamon Sugar Mixture:
3/4 cup granulated sugar
1 1/2 tablespoons cinnamon
Bread assembly:
Cooking spray
5 tablespoons butter, melted
Instructions
For the dough:
Place bread mix, yeast, sugar and salt in the bowl of a stand mixer. Gently stir to incorporate.
Add water, milk and butter a microwave safe bowl and warm to approximately 110º. With stand mixer on low, add eggs and milk mixture to bowl. Increase speed to medium for 3 minutes. Spray spatula with cooking spray and scrape dough down sides of bowl and off mixer beater. Spray plastic wrap with cooking spray, cover bowl and allow to rise for 60 minutes. Place covered bowl in refrigerator to chill for at least 2 hours but preferably overnight.
For the caramel apple sauce:
Place sugar, butter and half & half in a small saucepan and bring to a boil over medium heat, stirring frequently. Allow to boil for 3 minutes then remove from heat. Stir in apples and set aside.
For the cinnamon sugar mixture:
Combine cinnamon and sugar in a wide, shallow bowl and set aside.
To assemble monkey bread:
Preheat oven to 350 degrees. Spray bundt pan with cooking spray and pour 1/4 of caramel apple sauce into bottom of pan. Set remaining sauce aside.
Place 5 tablespoons melted butter in a wide shallow bowl next to cinnamon sugar mixture. Remove dough from refrigerator and lightly flour top of dough. Lightly flour Silpat and hands. Remove 1/3 of dough from bowl and gently form into a log about 14 inches long, adding flour bit by bit as necessary to work with the dough. Repeat twice with remaining dough.
Spray kitchen shears with cooking spray and cut dough logs into approximately 20 pieces each. Gently dip half of dough pieces into butter, roll in cinnamon sugar and place in bundt pan. Pour 1/2 of remaining caramel apple sauce over bread dough. Finish dipping remaining bread dough pieces in butter and cinnamon sugar, place in bundt pan and pour remaining caramel apple sauce over bread dough. Bake for 35-45 minutes or until bread is cooked through. Check after 30 minutes and cover with foil if browning too quickly.
Allow bread to sit in pan for 5-10 minutes before inverting onto a large plate. Serve warm.
Nutrition Information:
Yield:
8
Serving Size:
1
Amount Per Serving:
Calories:

638
Total Fat:

28g
Saturated Fat:

15g
Trans Fat:

1g
Unsaturated Fat:

11g
Cholesterol:

104mg
Sodium:

682mg
Carbohydrates:

90g
Fiber:

3g
Sugar:

45g
Protein:

9g
Disclosure: This post was sponsored by Pamela's Products. All opinions are my own. Thanks for supporting the companies that make Garnish with Lemon possible!