Looking for a substantial warm appetizer for your next party? Look no further than these baked Fontina Chive Risotto Cakes!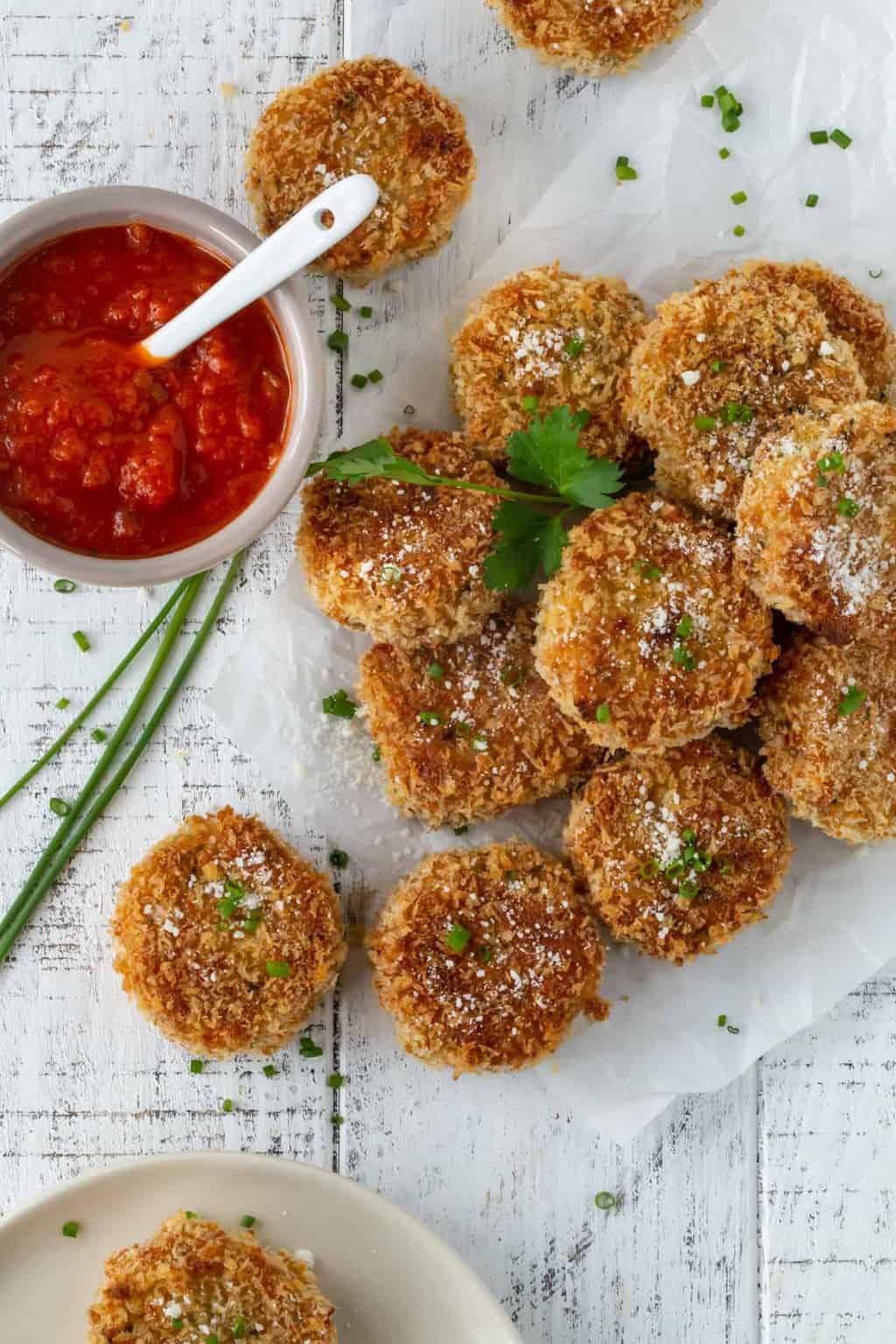 Although I love the simplicity and approachability of a Meat and Cheese Tray or Veggie Platter as an appetizer, sometimes I like to shake it up and offer guests a munchie that is just a little bit unexpected.
These Fontina Chive Risotto Cakes fit the bill perfectly – hearty, flavorful and always the talk of the party. Plus they can be prepped in advance which any time-starved host appreciates.
What the heck are Risotto Cakes?
Risotto Cakes are fried little cakes of risotto. To be honest, they actually look more like hockey pucks, but Risotto Pucks just doesn't have the same ring to it as Risotto Cakes.
My recipe for Risotto Cakes is baked, not fried, making them a heck of a lot easier to make and better for you, too.
How do I serve Risotto Cakes?
I often serve these Fontina Chive Risotto Cakes as appetizers. When you make them a bit smaller, they are the perfect crispy bite to kickstart a party, but you can also make them larger and serve them with a dressed salad as a light main meal.
Can I make this Risotto Cakes recipe in advance?
Yes! I'm a huge advocate of prepping as much as you can in advance, so you can bet I tested this recipe to ensure it's freezer-friendly.
After you've formed the risotto cakes (but before you've dredged them in egg and panko), place them in an individual layer on a sheet pan and pop them in the freezer. Once they are frozen through, you can store them in a freezer-safe bag.
When you're ready to make them, defrost the number of cakes you need in the fridge. All that's left is a quick dunk in an egg wash and a roll in some panko crumbs before they are ready for the oven.
Don't forget the sauce for these Risotto Cakes!
My favorite sauce to dollop on top of these cakes is my Sweet and Tangy Tomato Jam. (Haven't tried it yet? You NEED to! It's seriously one of the most versatile condiments ever.) But if you're short on time, any chunky marinara sauce will do nicely, too.
Got leftover risotto? Make Risotto Cakes!
This basic recipe for Risotto Cakes is a great way to use leftover risotto. You can easily scale this recipe to fit the cooked risotto you have in your fridge.
You can even stir in some additional herbs or a handful of cheese to give your leftovers a flavor boost before forming the individual cakes.
Looking for more unexpected appetizer recipes? Check out these tasty nibbles!
Candied Bacon – Garnish with Lemon®
Curried Pork Empanadas – Garnish with Lemon®
Mini Chicken Enchiladas Cups – Pinky Princess Girl
BBQ Chorizo Pinwheels – Garnish with Lemon®
Baked Parmesan Asparagus Fries with Creamy Lemon Dipping Sauce – Wishes & Dishes
Yield: 32
Fontina Chive Risotto Cakes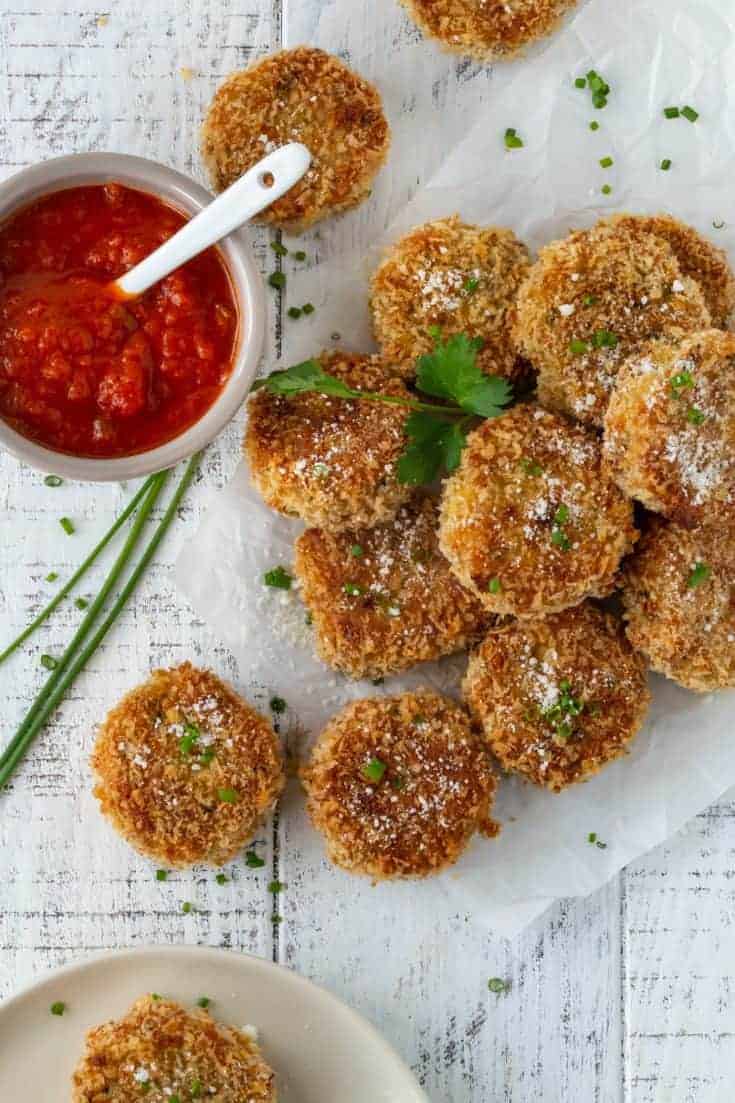 Looking for a delicious warm appetizer for your next party? Look no further than these baked Fontina Chive Risotto Cakes! A great use for leftover risotto, too.
Prep Time
1 hour
15 minutes
Total Time
1 hour
45 minutes
Ingredients
3 1/2 cups chicken broth
2 tablespoons olive oil
1/2 cup finely chopped onion
1 cup plus 2 tablespoons arborio rice
1/4 cup dry white wine
6 tablespoons grated Parmesan cheese
2 tablespoons butter
Salt and pepper to taste
1 3/4 cups Panko, divided
3 ounces coarsely grated Fontina cheese
1/4 cup chopped fresh parsley
1/4 cup chopped fresh chives
3 large eggs, divided
Olive oil spray
Instructions
Bring broth to a simmer in a saucepan. Turn heat to low and keep warm.
Meanwhile, place olive oil in another pan and heat over medium heat. Add onion and saute until translucent. Pour in rice, stir until coated and cook for about a minute. Add wine to saucepan and stir until it is absorbed. Start adding warm broth 1/3 cup at a time to the rice, stirring constantly until liquid is fully absorbed before adding more broth. After all of the broth is incorporated, remove pan from heat and stir in Parmesan cheese and butter. Add salt and pepper to taste. Pour into a 9 x 13 pan and allow risotto to completely cool.
Thoroughly whisk one egg and add to cooled risotto along with 1/2 cup Panko, Fontina, parsley and chives. Stir until completely mixed. Using your hands or a stainless steel scoop, form risotto into balls and then flatten into puck shapes. (At this point, the cakes can be covered and refrigerated for up to two days or frozen for a month.)
Preheat oven to 400 degrees.
Generously spray a baking sheet with olive oil. Whisk remaining eggs in a shallow bowl and place Panko in another shallow bowl. Dip each cake in egg and then dredge in Panko. Place coated cakes on the baking sheet. Generously spray the tops of the cakes before baking for 25-30 minutes, turning once.
Serve warm.
Nutrition Information:
Yield:
16
Serving Size:
2 cakes
Amount Per Serving:
Calories:

137
Total Fat:

8g
Saturated Fat:

3g
Trans Fat:

0g
Unsaturated Fat:

4g
Cholesterol:

48mg
Sodium:

413mg
Carbohydrates:

11g
Fiber:

1g
Sugar:

1g
Protein:

5g