Looking for a substantial warm appetizer for your next party? Look no further than this baked Fontina Chive Risotto Cakes recipe!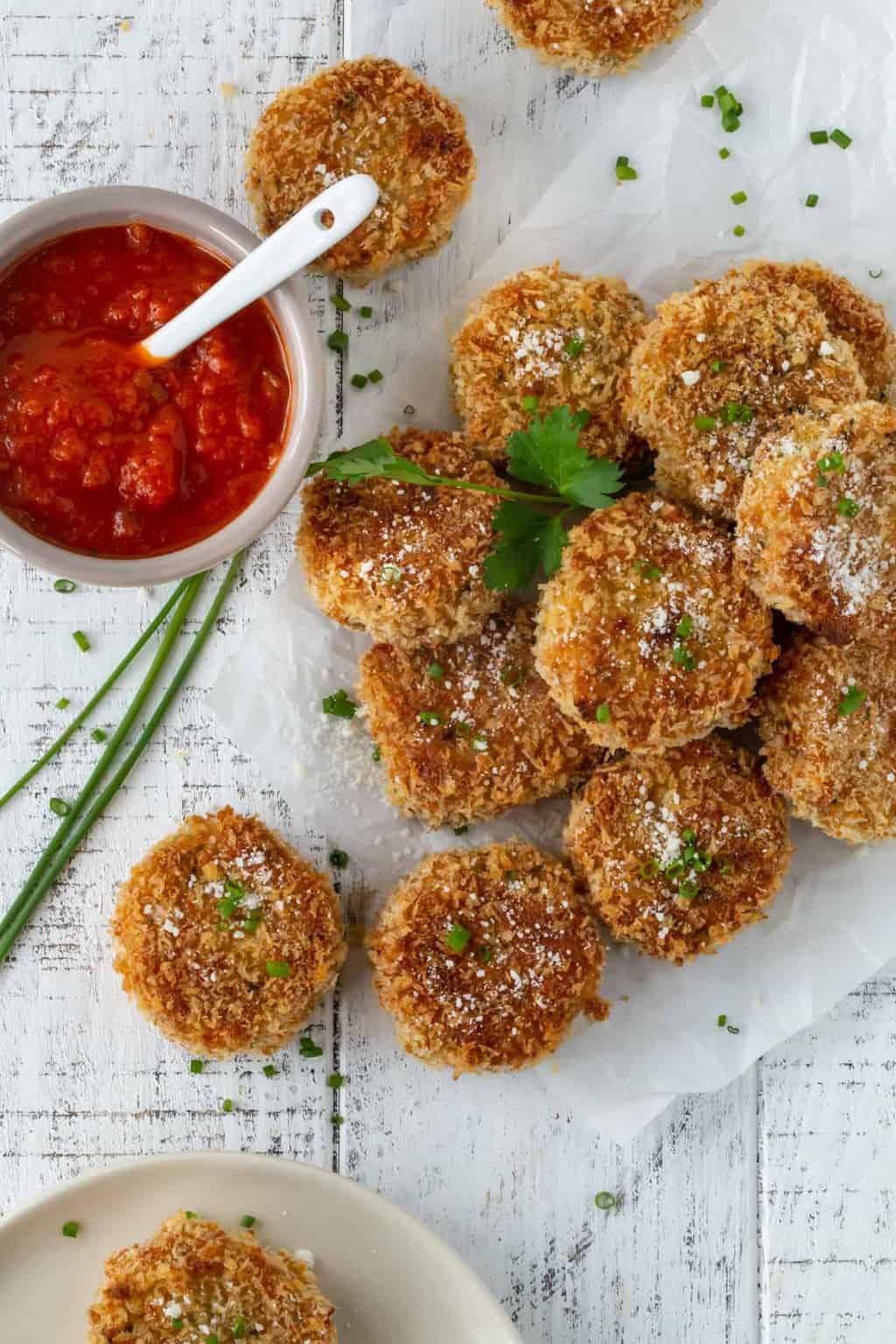 Although I love the simplicity and approachability of a Meat and Cheese Tray or Veggie Platter as an appetizer, sometimes I like to shake it up and offer guests a munchie that is just a little bit unexpected.
This recipe for Fontina Chive Risotto Cakes fit the bill perfectly - hearty, flavorful and always the talk of the party. Plus they can be prepped in advance which any time-starved host appreciates.
Jump to:
Got leftover risotto? Make Risotto Cakes!

Risotto cakes were born from ingenuity. When Italians had leftover risotto (which is a hearty rice dish that has been flavored with stock, butter, cheese and herbs), they were looking for another way to use it.
Someone had the brilliant idea to form the leftover rice into "cakes" and fry them. To be honest, these risotto cakes look more like hockey pucks, but "risotto pucks" just doesn't have the same ring to it as risotto cakes. ?
The result are small bites with a crunchy crust and a creamy interior that can be served as a side dish or made into bite-sized form like these risotto cakes appetizers.
Don't have leftover risotto? You can still make these cakes! This recipe is actually two parts. In step one, you make the risotto and then in step two you make the risotto cakes.
But you can easily scale this recipe to fit the cooked risotto you already have in your fridge. You can even stir in some additional herbs or a handful of cheese to give your leftovers a flavor boost before forming the individual cakes.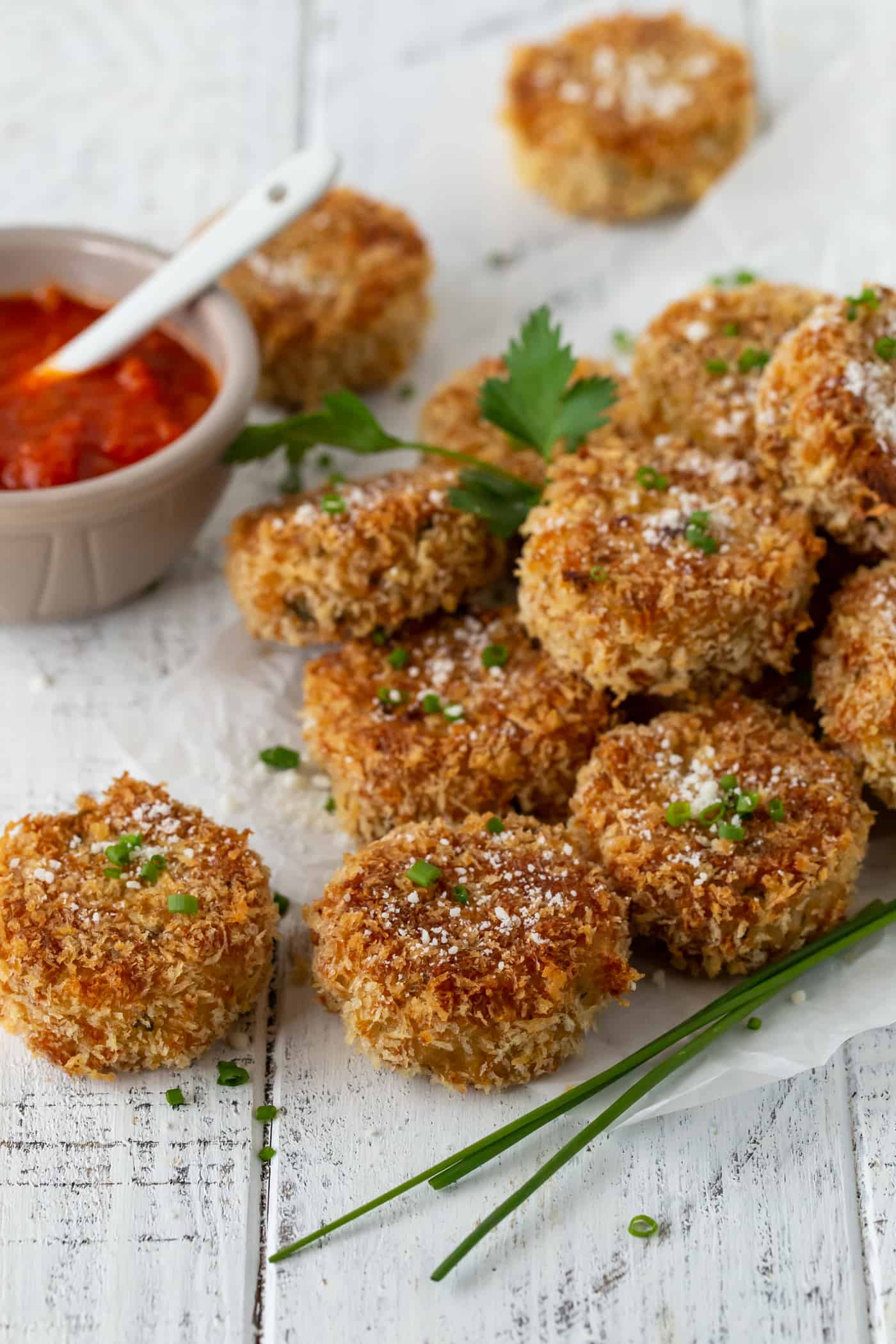 Ingredients
The base of this recipe is a cheesy, herby risotto along with a few extra ingredients to make them into cakes:
Chicken broth
Olive oil
Onion
Arborio rice
White wine
Parmesan cheese
Butter
Panko crumbs (or regular breadcrumbs)
Fontina cheese
Fresh herbs, including parsley and chives
Eggs
FAQs
What is arborio rice? Can I use regular rice instead?
No, you can't swap the two. Arborio rice looks different than regular rice and has different uses.
For starters, it's an Italian, short grain rice that looks almost fat when compared to other thin, long grain rice (such as Jasmine or Basmati). It also has a higher starch content that is released when cooking to give it a creamy texture and a bit more chew than regular rice.
You'll most often see arborio rice used in risotto recipes but that higher starch content also helps it make a very tasty rice pudding.
Panko vs breadcrumbs
You'll often find breadcrumbs and panko next to each other at the grocery store. Which one do you choose?
Traditional breadcrumbs can be substituted for panko in this risotto cakes recipe, but I prefer to use the Japanese style of breadcrumbs known as panko.
What makes panko different from regular breadcrumbs is its texture. Made from white bread without crust, panko is dried into flakes instead of crumbs. You're not going to get a lot of flavor from panko on its own, but its larger size and unique texture stay crisp during cooking. Panko breadcrumbs also absorb less oil than traditional breadcrumbs when fried.
This recipe for Risotto Cakes is baked, not fried, making them a heck of a lot easier to make and better for you, too. (Not to mention easier to clean up!)
Tips
You can certainly make this Fontina Chive Risotto Cakes recipe all at once, but my favorite way to do it is to split the recipe in two parts:
Make the risotto (up to a few days beforehand), and then
bake the cakes right before serving.
If you've never made risotto before, it does take a bit of time and patience because you're constantly stirring the rice and stock together on the stove. Cue up Netflix on your tablet or blast some of your favorite tunes. I promise that it's worth it.
Once the risotto has cooled, you can pop it in the fridge for a few days. All that's left to do is form the cakes, dredge them in the egg and panko mixture and bake in the oven.
Make Ahead Tip
This is a great option when you're short on time or want to do as much prep work in advance as possible.
After you've formed the risotto cakes (but before you've dredged them in egg and panko), place them in an individual layer on a sheet pan and pop them in the freezer. Once they are frozen through, you can store them in a freezer safe bag.
When you're ready to make them, defrost the number of risotto cakes you need in the fridge. All that's left is a quick dunk in an egg wash and a roll in some panko crumbs before they are ready for the oven.
Serving Suggestions
I often serve these Fontina Chive Risotto Cakes as appetizers. When you make them a bit smaller, they are the perfect crispy bite to kickstart a party, but you can also make them larger and serve them with a dressed salad as a light main meal. (This easy, 5-ingredient Arugula Salad is one of our go-to salad recipes!)
Don't forget the sauce for these Risotto Cakes!
My favorite sauce to dollop on top of these cakes is my Sweet and Tangy Tomato Jam. (Haven't tried it yet? You NEED to! It's seriously one of the most versatile condiments ever.) But if you're short on time, any chunky marinara sauce will do nicely, too.
more unexpected appetizer recipe
You can find all of our appetizer recipes HERE!
Recipe
Fontina Chive Risotto Cakes
Looking for a delicious warm appetizer for your next party? Look no further than these baked Fontina Chive Risotto Cakes! A great use for leftover risotto, too.
Ingredients
3 ½

cups

chicken broth

2

tablespoons

olive oil

½

cup

finely chopped onion

1

cup

plus 2 tablespoons arborio rice

¼

cup

dry white wine

6

tablespoons

grated Parmesan cheese

2

tablespoons

butter

Salt and pepper to taste

1 ¾

cups

Panko

divided

3

ounces

coarsely grated Fontina cheese

¼

cup

chopped fresh parsley

¼

cup

chopped fresh chives

3

large eggs

divided

Olive oil spray
Instructions
Bring broth to a simmer in a saucepan. Turn heat to low and keep warm.

Meanwhile, place olive oil in another pan and heat over medium heat. Add onion and saute until translucent. Pour in rice, stir until coated and cook for about a minute. Add wine to saucepan and stir until it is absorbed.

Start adding warm broth ⅓ cup at a time to the rice, stirring constantly until liquid is fully absorbed before adding more broth. After all of the broth is incorporated, remove pan from heat and stir in Parmesan cheese and butter. Add salt and pepper to taste. Pour into a 9 x 13 pan and allow risotto to completely cool.

Thoroughly whisk one egg and add to cooled risotto along with ½ cup Panko, Fontina, parsley and chives. Stir until completely mixed. Using your hands or a

stainless steel scoop

, form risotto into balls and then flatten into puck shapes. (At this point, the cakes can be covered and refrigerated for up to two days or frozen for a month.)

Preheat oven to 400 degrees.

Generously spray a baking sheet with olive oil. Whisk remaining eggs in a shallow bowl and place Panko in another shallow bowl. Dip each cake in egg and then dredge in Panko. Place coated cakes on the baking sheet. Generously spray the tops of the cakes before baking for 25-30 minutes, turning once.

Serve warm.
Notes
Don't forget the dipping sauce! This Sweet & Tangy Tomato Jam is our favorite but any chunky marinara will also work well.
You can also serve this with an easy salad for a meatless meal.
adapted from Epicurious
Nutrition
Serving:
2
cakes
Calories:
137
kcal
Carbohydrates:
11
g
Protein:
5
g
Fat:
8
g
Saturated Fat:
3
g
Polyunsaturated Fat:
4
g
Cholesterol:
48
mg
Sodium:
413
mg
Fiber:
1
g
Sugar:
1
g
Nutrition info not guaranteed to be accurate.
Shake up your appetizer spread with this make-ahead Baked Fontina Chive Risotto Cakes recipe. These cakes are baked instead of fried for an easier and healthier Italian happy hour snack!