Elevate your party food with this warm Fig and Goat Cheese Bruschetta recipe - a perfect holiday appetizer!
Figs are festive, don't you think?
They scream party to me. So it's only fitting that the latest addition to our appetizer buffet include a recipe with figs - dried black mission figs, to be specific. (And goat cheese because you already know how much we love goat cheese.)
These elegant Fig and Goat Cheese Bruschetta with toasted walnuts can be served warm or at room temperature and look super fancy but the reality is this party food recipe can be mostly made in advance which is always appreciated during the busyness of the holidays.
What do I need to make this Fig and Goat Cheese Bruschetta recipe?
Add these items to your shopping list:
Dried black mission figs
Sugar
Oranges (fresh orange segments, orange rind and orange juice)
Fresh rosemary
Black pepper
Baguette
Goat cheese
Walnuts
Where do I buy dried figs?
If you're not used to looking for figs at the grocery store, they might not feel very accessible. But fear not, they are readily available year round.
The brand I most often see at my grocery store is Sun-Maid (yes, the raisin people), but there are several companies that sell dried figs. Check the dried fruit section of your local store to see what's available near you.
Fresh figs vs. dried figs - which to use in this appetizer recipe?
To be honest, I don't have a lot of access to fresh figs here in Minnesota. They are rather hit or miss at the grocery store, and even then they can be on the pricier side if they are not in season.
That said, I think if you have ready access to fresh figs, by all means swap them in for the dried version. Chop the fresh figs just as you do the dried figs and add them to the recipe.
I suspect you'll need to cook the jam down for a longer time but the flavor should still be similar. If you give it a try, please stop back and let us know!
Easy Fig and Goat Cheese Bruschetta recipe
Although these little bites sound fancy, they really are simple to make. Follow these three steps to make these tasty nibbles:
Step one: Make the jam.
Essentially you're cooking down the figs and oranges to make a "jam" to add to the baguette slices. Make sure you chop the figs and oranges into similar sizes so it cooks down evenly.
Citrus from three parts of the orange - the flesh, the zest and the juice - all add brightness to the jam while the hint of fresh rosemary and bite of black pepper keep the figs from tasting overly sweet.
Step two: Assemble the bruschetta
Can you really call this recipe "bruschetta" if you don't toast the bread? That's a fair point. The term bruschetta comes from the Italian word bruscare, which means to roast over coals, and I don't recommend toasting the bread in this recipe.
Why? Because I think it makes it harder to eat as finger food for a party. Sometimes if bread is pre-toasted and then hit under the broiler for a second time (as it would be in this recipe), it can get pretty crusty and hard to bite around the edges. Ever tried to gracefully bite into an over-toasted piece of bread loaded with toppings? It's not usually pretty.
So while this may not be bruschetta in the typical sense, it is still slices of bread piled high with layers of flavor and lightly toasted at the end, which makes it close enough to bruschetta for me.
Assembly of these bruschetta is fast and easy. Layer the fig jam on top of the bread slices, top each slice generously with goat cheese and finally sprinkle with walnuts.
Step 3: Broil the bruschetta
A few minutes under the broiler is all it takes to toast the walnuts and warm the cheese and jam on these tasty toasts. Serve immediately.
How do I made this goat cheese bruschetta recipe in advance?
Pushed for time? Been there, friend. There a couple ways you can shave some prep time off these fig toasts:
  The fig and orange jam can be made up to three days ahead of time. Simply refrigerate until ready to assemble the bruschetta.
You can also slice the baguette, crumble the goat cheese and chop the walnuts in advance and store until assembly.
Though I prefer to serve these fresh from the oven, you can also make them up to an hour in advance and serve them at room temperature as part of a buffet of snacks for a larger group.
What I used to make this fig appetizer recipe
You need a good cutting board for the chopping and slicing the ingredients in this recipe. These are my favorite. I'm convinced they don't make my knives dull as quickly as they do with other boards.
I know I used to have a traditional citrus zester at one time, but who needs a one-trick kitchen tool when you can have a microplane? I use this bad boy for zesting fruits and grating cheese, ginger root, garlic, etc. It's a super versatile tool and a must have, in my opinion.
A few years ago, I grew tired of my warped, stained metal sheet pans and traded them all in for new ones from USA Pans. After one use, I wondered why I waited so long. Sturdy, easy to clean and extremely durable. Highly recommend!
Craving more goat cheese appetizer recipes? You've come to the right place…
Baked Goat Cheese and Tomato Dip
Marinated Goat Cheese recipe
Find all of our appetizer recipes HERE!
Yield: makes 24 bruschetta
Fig and Goat Cheese Bruschetta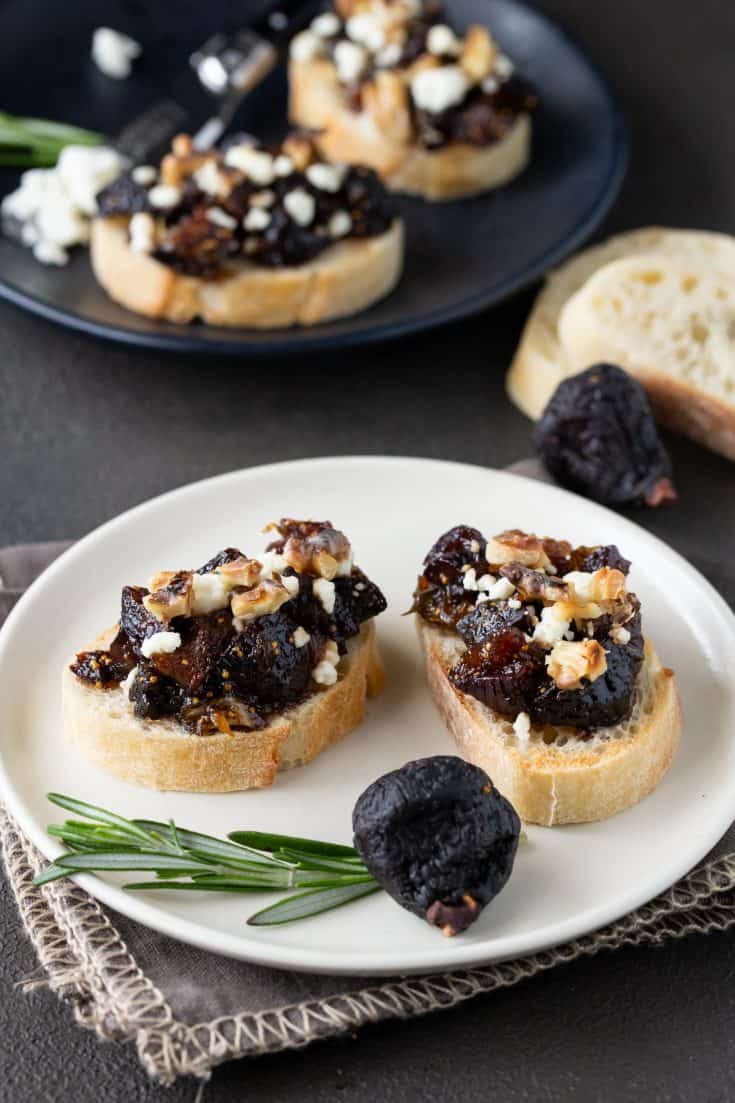 This flavorful Fig and Goat Cheese Bruschetta recipe looks fancy but it can be prepped in advance and is sure to impress your guests.
Ingredients
9 ounces dried Black Mission Figs, stems removed and coarsely chopped
1/4 cup sugar
1/3 cup coarsely chopped orange segments
1 teaspoon grated orange rind
1/3 cup fresh orange juice
1 teaspoon chopped fresh rosemary
1/4 teaspoon ground black pepper
1 baguette, sliced into 24 pieces
10 ounces crumbled goat cheese
2 tablespoons chopped walnuts
Instructions
Place figs, sugar, orange segments, rind, juice, rosemary and black pepper in a small saucepan. Stir and bring to a boil. Cover pan and reduce heat. Simmer for 10 minutes. Uncover and cook for another 5 minutes or until fig mixture thickens. Remove from heat and allow to cool.
Preheat broiler.
Place baguette slices on a sheet pan. Evenly divide fig mixture and goat cheese on slices. Top with chopped walnuts. Broil for 1-2 minutes or until nuts look toasted. Serve warm or at room temperature.
Notes
You can easily make the fig mixture in advance. Refrigerate until ready to assemble the Bruschetta.
Recipe barely adapted from Cooking Light
Nutrition Information:
Yield:
12
Serving Size:
2 bruschetta
Amount Per Serving:
Calories:

181
Total Fat:

7g
Saturated Fat:

4g
Trans Fat:

0g
Unsaturated Fat:

2g
Cholesterol:

11mg
Sodium:

271mg
Carbohydrates:

24g
Fiber:

1g
Sugar:

10g
Protein:

8g
This Fig and Goat Cheese Bruschetta recipe looks extra fancy but it comes together in minutes. Perfect party food for the holidays!