Fancy up your appetizer spread during the holidays with these warm Fig and Goat Cheese Bruschetta!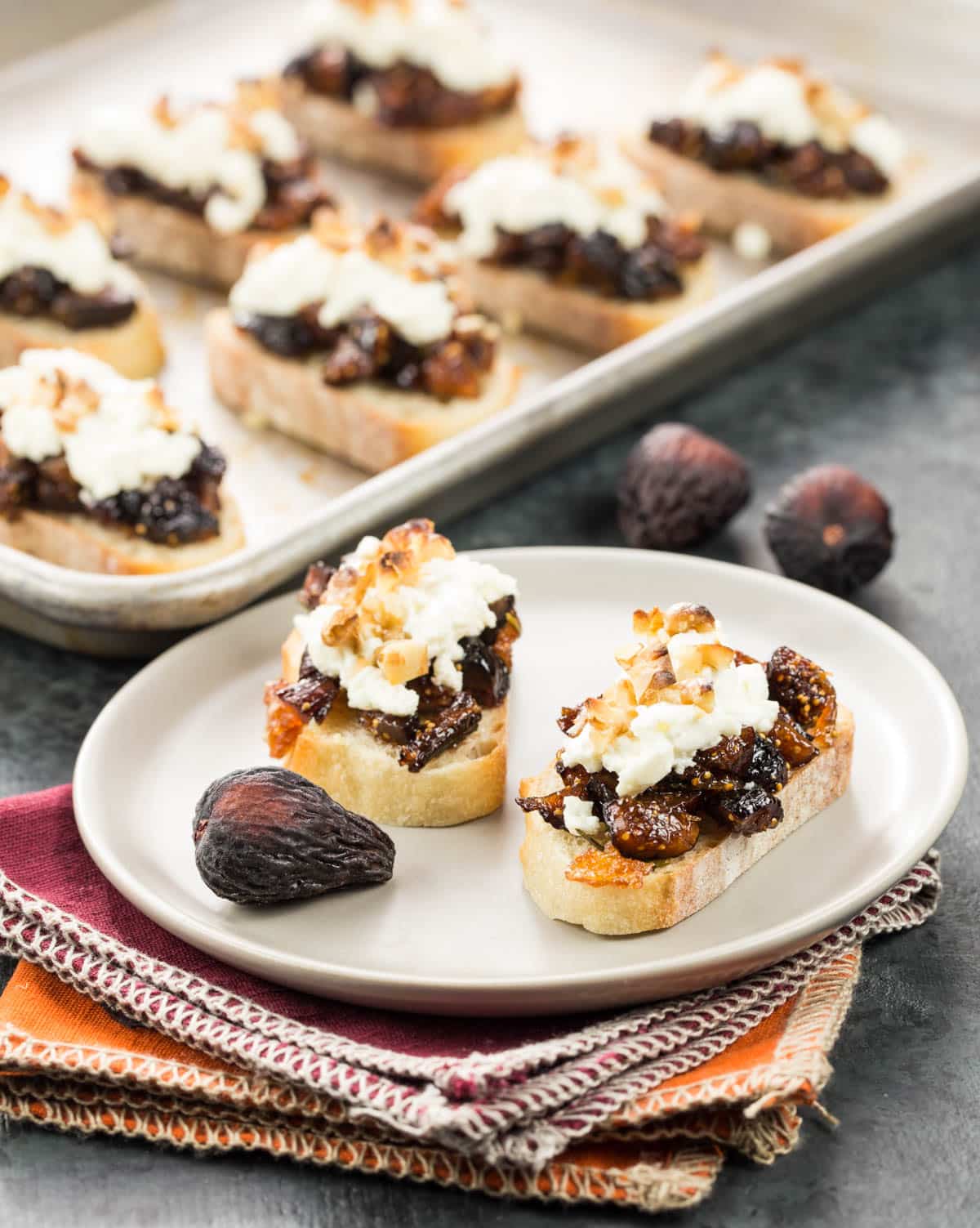 Figs are festive, don't you think?
They scream holidays to me. So it's only fitting that the latest addition to our appetizer buffet include dried mission figs. (And goat cheese because you already know how we feel about goat cheese.) These elegant Fig and Goat Cheese Bruschetta with toasted walnuts can be served warm or at room temperature and are sure to impress your friends and family.
Orange plays a heavy hand in these tasty nibbles. Fresh orange sections, orange rind and orange juice all combine to add brightness and help balance out the sweetness of the figs. Plus a bit of fresh rosemary lends a savory undertone to the fig compote. Layer it all with creamy goat cheese and crunchy walnuts, and you have one memorable mouthful – perfect for holiday entertaining.
Make ahead tip: You can prep the fig mixture up to 3 days ahead of time and assemble the goat cheese bruschetta up to an hour before guests arrive.
Recommended Equipment
Yield: 25
Fig and Goat Cheese Bruschetta
This Fig and Goat Cheese Bruschetta is a fabulous addition to your holiday table!
Ingredients
9 ounces dried Black Mission Figs
1/4 cup sugar
1/3 cup chopped orange segments
1 teaspoon grated orange rind
1/3 cup fresh orange juice
1 teaspoon chopped fresh rosemary
1/4 teaspoon ground black pepper
25 slices French baguette
10 ounces crumbled goat cheese
2 tablespoons chopped walnuts
Instructions


Place figs, sugar, orange segments, rind, juice, rosemary and black pepper in a small saucepan. Stir and bring to a boil. Cover pan and reduce heat. Simmer for 10 minutes. Uncover and cook for another 5 minutes or until fig mixture thickens. Remove from heat and allow to cool.
Preheat broiler.
Place baguette slices on a sheet pan. Evenly divide fig mixture and goat cheese on slices. Top with chopped walnuts. Broil for 1-2 minutes or until nuts look toasted. Serve warm or at room temperature.