Brunch doesn't get much tastier than these baked Egg Boats with Gruyere & Pancetta. Plus you can easily prep most everything ahead of time!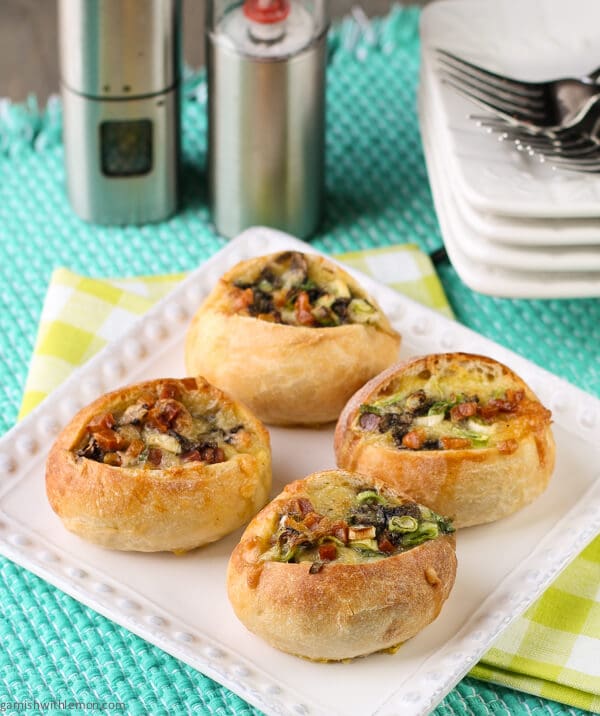 What's not to love about weekend brunch? You get to snooze a little extra but still enjoy the best part of the day (says me, the morning bird), catch up with friends and family, eat to your heart's content and then crash into bed for a mid-afternoon nap to let your belly settle from the gorge fest. How can you argue with that? Brunch.Is.The.Best.
We're hosting a couple brunches in the next month or so, and I'm excited to share one of our tried and true menu items with you. I've been making these Egg Boats with Gruyere and Pancetta ever since I first saw them on the always drool-worthy Spoon Fork Bacon's blog a few years ago. They are a fantastic, prep-ahead brunch option that needs little babysitting when you're entertaining, and you can customize the filling to accommodate vegetarians and carnivores alike. Genius!
I like to serve mine in individual french rolls because 1) they cook faster, and 2) I prefer individual portions of everything (Is that weird? Don't judge.) But this can definitely be made in one large loaf of french bread and sliced for serving. Use what you like and is accessible to you.
P.S. Don't forget to check out our list of 50 Easter Brunch Ideas and our brunch-obsessed Pinterest board for even more brunch ideas!
Egg Boats with Gruyere and Pancetta
12
adjust servings
Ingredients
8

ounces pancetta, diced

12

French rolls

10

eggs

2/3

cup heavy cream

5

ounces gruyere cheese, grated

4

green onions, thinly sliced

5-6

mushrooms, chopped

Salt and Pepper
Instructions
Place pancetta in a skillet over medium-low heat and fry until most of fat renders from meat and pancetta bits are crispy. Use a slotted spoon to remove pancetta from skillet and drain on paper towels.
Preheat oven to 350 degrees.
Cut a v-shaped wedge out of each of the rolls and dig out some of the roll's interior. (I saved the extra parts of my rolls and made homemade croutons.) Place rolls on a baking sheet and set aside.
Whisk together eggs and heavy cream. Add salt and pepper to your preference. Stir in cheese, green onions, mushrooms and pancetta. Evenly divide egg mixture among rolls and bake for 20-25 minutes or until eggs look set and tops are lightly browned. Serve warm.
Recipe Notes
These can easily be made in advance. Cook the pancetta one day, prep the rolls and dice the other ingredients the next. Stir together your egg mixture the morning of your brunch and pop the filled rolls in the oven right before guests arrive.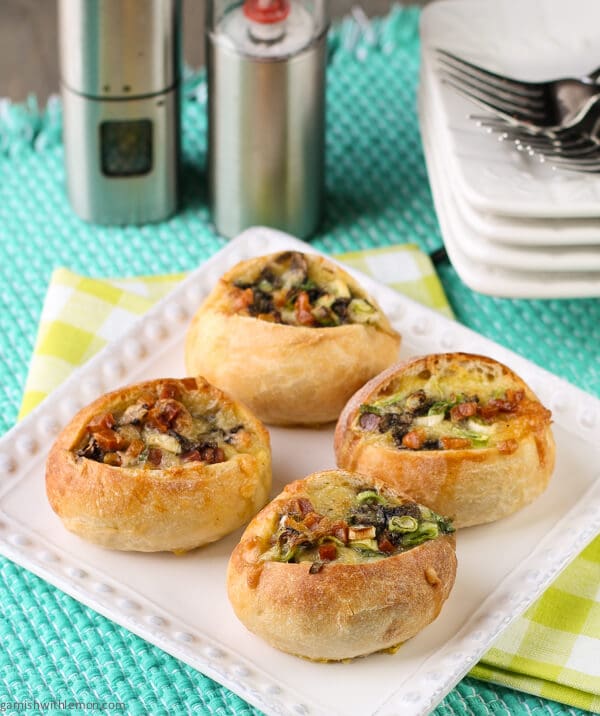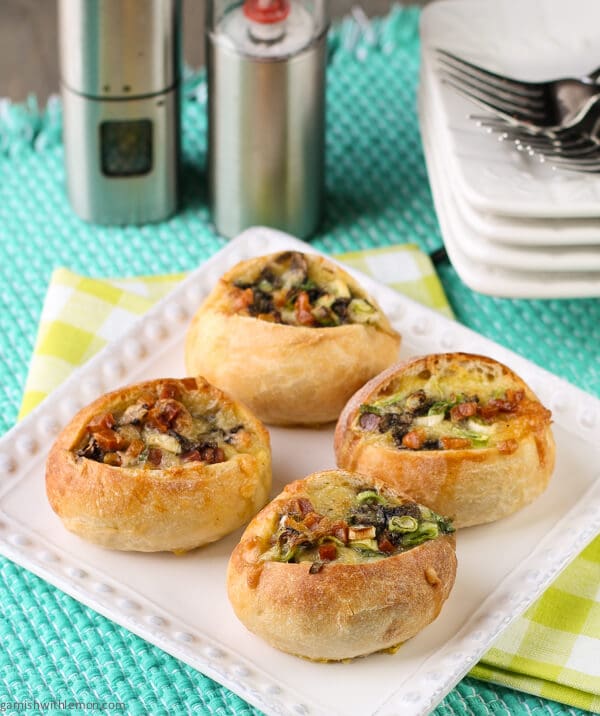 Did you make this recipe? We'd love to see it! Snap a pic of your creation and tag it #GarnishWithLemon. We might even feature your photo on social media!