This Easy Weeknight Seafood Stew is an ideal combination of low effort and high return – perfect for the end of a busy week.
Lent is here. For our family, that means fish on Fridays. I have a handful of fish recipes that I keep in the rotation for this time of year, but if I'm being completely honest, I'm often wiped by the time Friday rolls around. When weeks are jam-packed with work and kids' activities, spending time in the kitchen on a Friday night can be the absolute LAST thing I want to do. Fortunately this Easy Weeknight Seafood Stew has my back as it's simple, tasty and ready in 30 minutes. Just enough time for me to enjoy a glass of wine.
The beauty of this stew is you can clean out whatever leftover fish fillets you have in your freezer or simply buy a bag of frozen seafood at the store. The type of fish isn't particular here, but there are a couple must-do's to make this stew a success:
1) Spring for the creme fraiche. Yes, it's a bit more expensive than regular sour cream, but the richness and tang it brings to the stew can't be beat. Plus it doesn't break down under heat like sour cream can.
2) Use fresh dill. The impact that it has on this soup can't be overstated.
3) Don't skimp on the garlic bread. (OK, this isn't really a requirement for the stew, but I think it tastes really good with it. 😉 )
Yes, we sometimes default to pizza on busy nights, but it's always nice to have a few fast and tasty recipes to pull out on a moment's notice, like this Easy Weeknight Seafood Stew. Suddenly dinner doesn't seem so daunting.



Yield: 3-4
Easy Weeknight Seafood Stew
Prep Time 5 minutes

Cook Time 25 minutes

Total Time 30 minutes
Ingredients
1 1/2 tablespoons olive oil
1 1/2 cups chopped onion
3 celery stalks, chopped
1 1/2 teaspoons minced garlic
1 1/2 cups white wine
1 1/2 tablespoons corn starch
1 1/2 tablespoons cold water
2 1/2 cups chicken broth
salt and pepper
1 1/2 pounds frozen seafood, defrosted and cut into bite-sized pieces (I used a bag of frozen mixed seafood)
4-5 tablespoons chopped fresh dill, plus extra for garnish
1/2 cup crème fraîche
garlic bread, optional
Instructions
Heat oil in a dutch oven over medium heat. Add onion and celery and cook until softened, about 5-7 minutes. Stir in garlic and cook for another 30 seconds. Add wine to the pot and bring to a low boil, cooking until most of the liquid has disappeared.
Combine the corn starch and water in a small bowl and stir until dissolved. Add cornstarch mixture and chicken broth to the pan. Simmer for 7-10 minutes or until thickened, stirring occasionally. Season the soup to taste with salt and pepper then add the seafood and dill to the pot. Simmer until seafood is cooked through (3-7 minutes, depending on the size of your fish pieces). Stir in creme fraiche.
Serve warm with extra dill and garlic bread, if desired.
More easy weeknight meal ideas: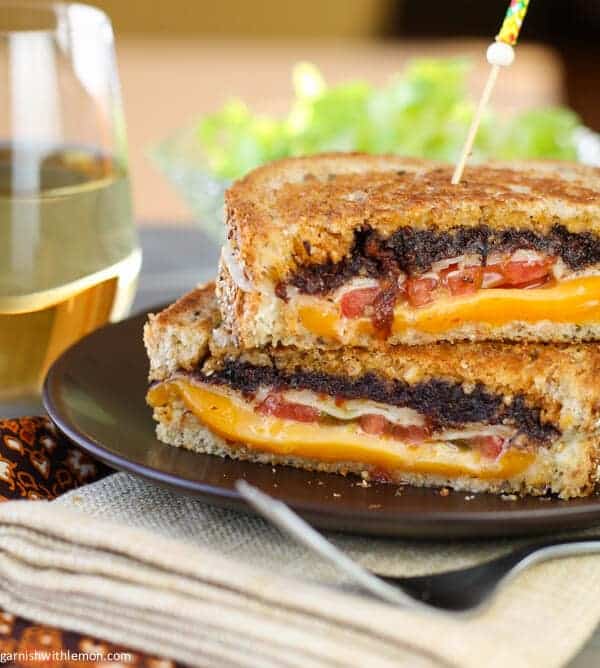 Grilled Gruyere, Cheddar and Olive Tapenade Sandwiches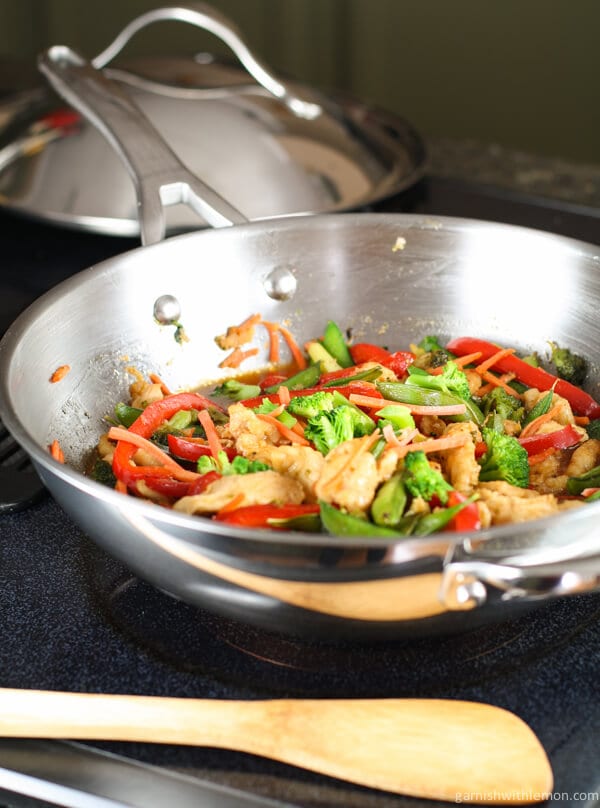 Spicy Sweet Chicken Stir Fry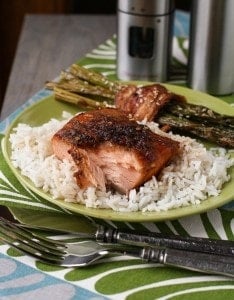 Maple Ginger Salmon