Holiday candy making doesn't get much simpler than these Easy Rolo Pretzel Turtles!
We're kicking off the holiday candy season with a super tasty treat that the whole family can make and enjoy: Easy Rolo Pretzel Turtles. While simple enough to throw together on your own, it's not a bad idea to recruit a few extra hands for no other reason than to help you unwrap all of the Rolos!
You've probably seen this recipe or a version of it on Pinterest with various candies and nuts. My mom made these last Christmas, and, since Rolos are one of my favorite candies, I knew I wanted to share them with you this year. I'm a sucker for anything caramel, so this sweet and savory combo was a no-brainer for me.
With a lot of candy recipes, you can get stuck making the entire batch (or pan) at one time. Not so with this one. Scale these Easy Rolo Pretzel Turtles to whatever your needs may be. Not interested in having dozens of treats lying around the house? Make just a handful for some late night snacking. Having a big holiday bash or cookie exchange? Whip out those sheet pans and start cranking out mass quantities. But I highly recommend making more than you think you'll need…they go fast.
Yield: 60
Easy Rolo Pretzel Turtles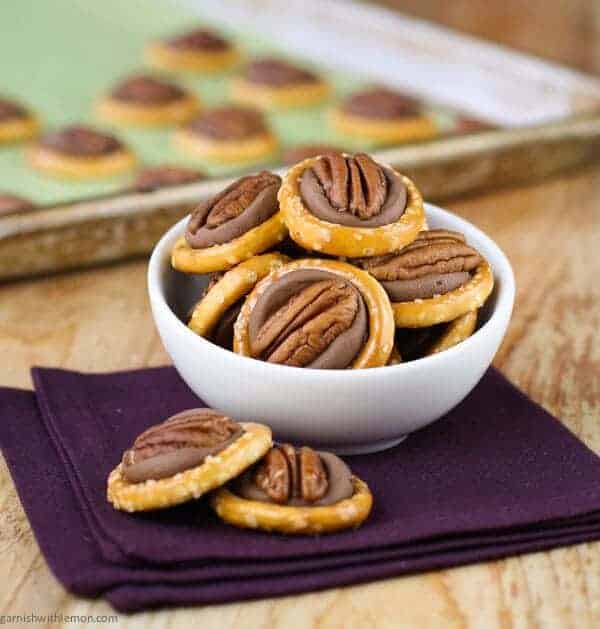 Holiday baking doesn't any easier!
Ingredients
Circle-shaped pretzels (or any other small-shaped pretzels)
Rolo candies, unwrapped
Pecan halves
Instructions
Preheat oven to 350 degrees. Line a baking sheet with parchment paper.
Arrange desired number of pretzels on baking sheet. Place one Rolo candy in the center of each pretzel. Bake for 4-5 minutes.
Remove from oven and immediately top each warm Rolo with a pecan half.
Allow to cool thoroughly. Store in a sealed container.