Don't let the short ingredient list fool you. These Easy Parmesan Pinwheels are packed with flavor and are a great addition to your party menu.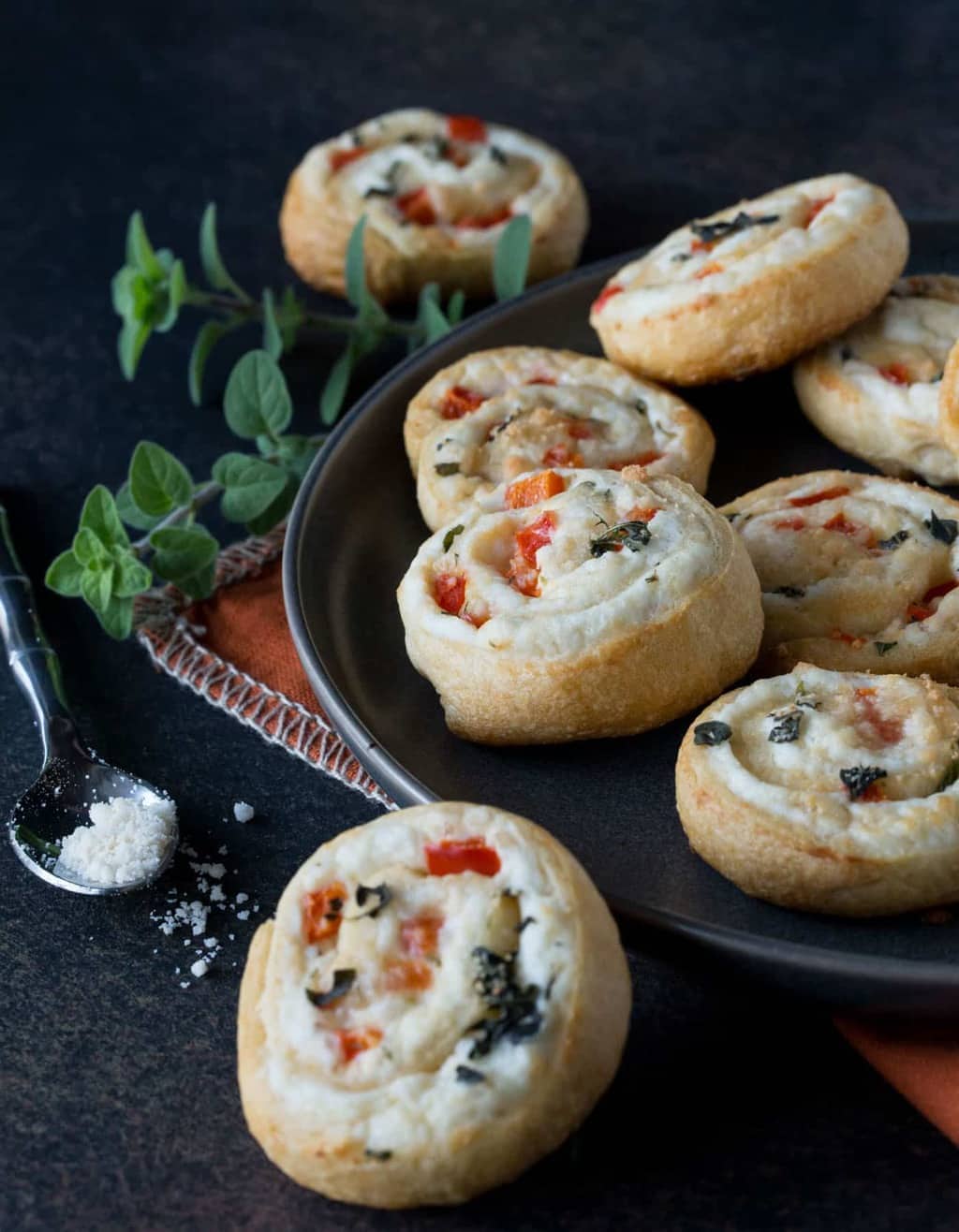 Super Bowl weekend is finally here and the entire state of Minnesota is ready to host the big party. Appetizers are one of my favorite things to serve when entertaining. It's kind of ironic, since I'm not really much of a snacker between my meals any other time.
But put some appetizers in front of me and a cocktail in my hand, and it's a whole different ball game. It just seems meant to be; those little appetizer bites just pop right in your mouth. And that is just what you'll do with these Easy Parmesan Pinwheels – just keep eating one more.
Finding a new, easy appetizer is always a win for the books, especially one that has only 5 ingredients and is still packed with flavor. We had friends over for dinner a couple of weeks ago, and I was searching for some new appetizer recipes to try. I stopped when I found these Easy Parmesan Pinwheels. 10 minutes to make and 15 minutes to bake…what's not to love? The slightly sweet dough wrapped around nutty Parmesan, oregano and crunchy red pepper is totally addictive.
And with the big game this weekend, it's the perfect excuse to have a party. These Easy Parmesan Pinwheels are just what you need to make the menu complete.
Small Bites make great party snacks!
Crispy Italian Ranch Cups– Garnish with Lemon®
Mini Hummus and Roasted Pepper Phyllo Bites  -Cookin Canuck
Curried Pork Empanadas– Garnish with Lemon®
Mini Brie Bites– She Wears Many Hats
Cheesy Chipotle Roll Ups– Garnish with Lemon®
12
adjust servings
Ingredients
1- 8

ounce package low-fat cream cheese, softened

1

cup grated Parmesan, divided

1

small red pepper, diced

1/2

cup fresh oregano, chopped

2

(8 ounce) cans refrigerated crescent dinner rolls (I used Pillsbury)
Instructions
Preheat oven to 350.
In a small bowl, stir together cream cheese and 3/4 cup of Parmesan cheese until smooth. Add red pepper and stir until mixed in.
Unroll crescent rolls and separate in 4 rectangles, pressing down on the dough gently to seal the seam. Spread 3 tablespoons of the cream cheese mixtures on top of each triangle and spread gently. Top with 1 T. of oregano. Starting on the shorter side, roll in a jelly-roll fashion.
Slice each roll into 6 pieces and place on ungreased baking sheets. Sprinkle with remaining Parmesan cheese and bake for 13-15 minutes or until golden brown.
Serve immediately.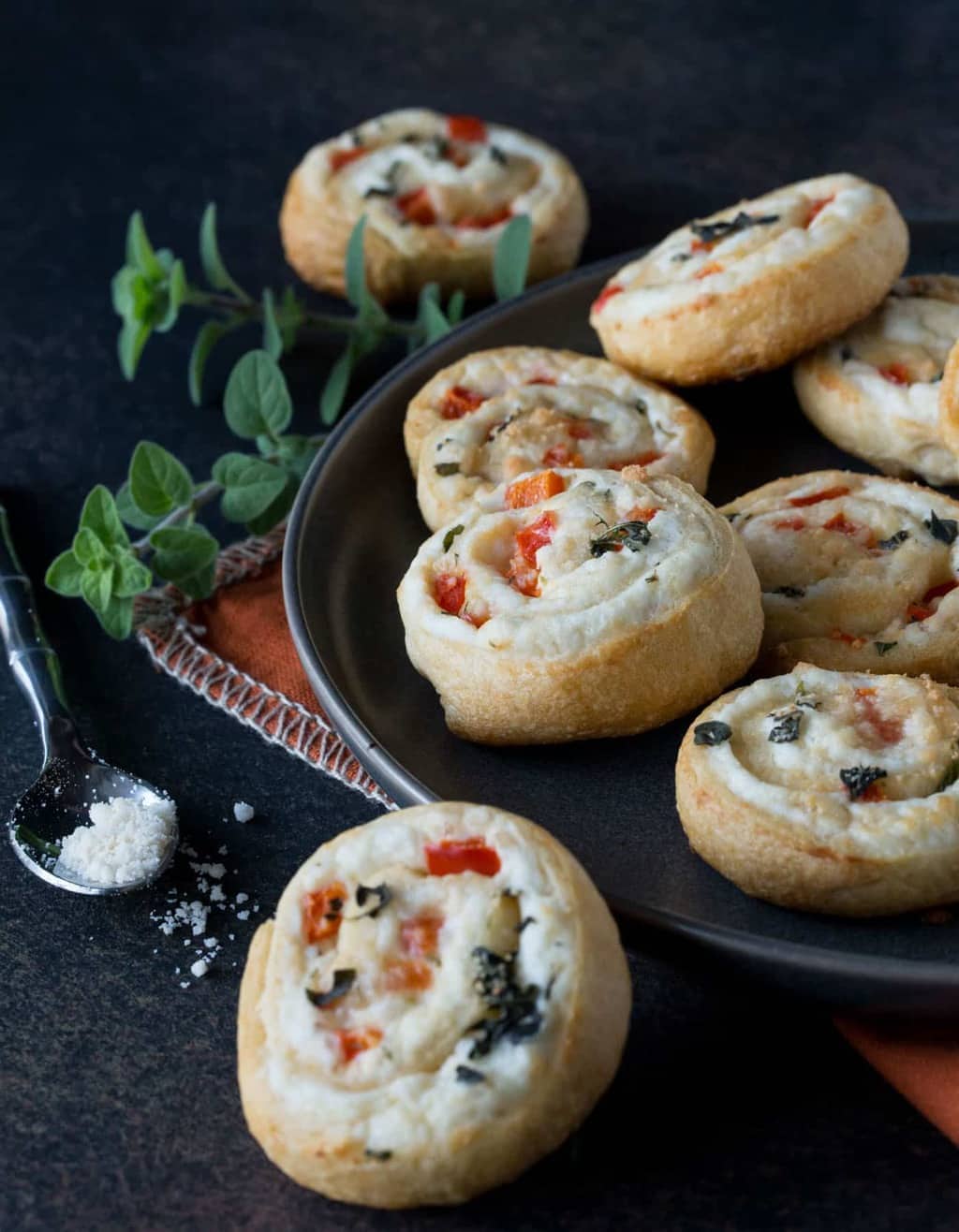 Did you make this recipe? We'd love to see it! Snap a pic of your creation and tag it #GarnishWithLemon. We might even feature your photo on social media!