Free up your oven space and reheat these Day Before Mashed Potatoes in your slow cooker!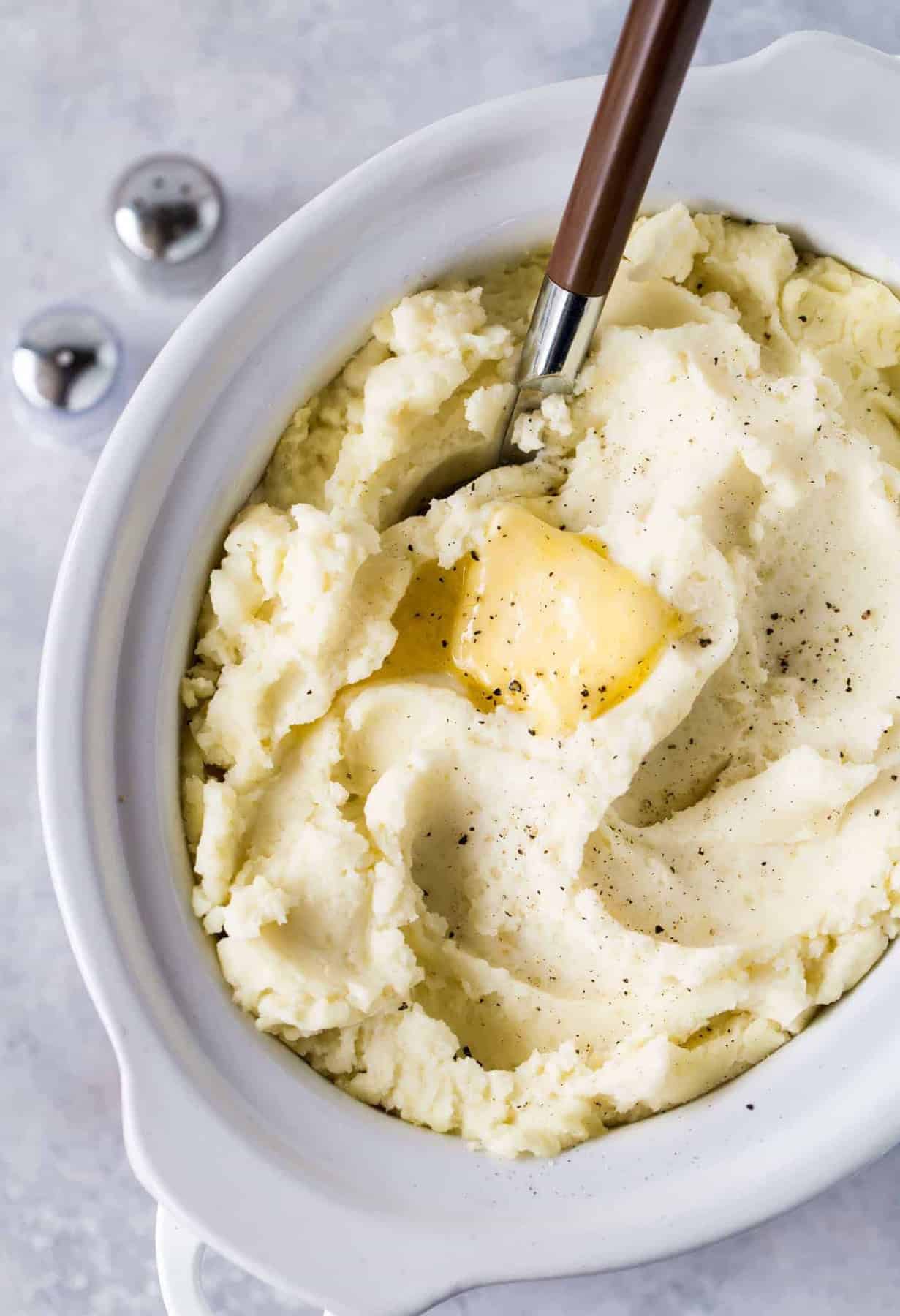 You know how there are some memories that are etched in your brain forever?
I can still vividly remember my sixth grade teacher (yes, I know I'm dating myself here) walking into class with tears in her eyes telling us that President Reagan had been shot. And I'm pretty sure we can all remember exactly where we were on 9/11.
Another memory that is quite clear for me is the very first Thanksgiving that I hosted. My mom wasn't there to answer my questions or help me out with cooking. It was just me and Kevin (who was my boyfriend at the time), and we were hosting his whole family, some of whom I was meeting for the very first time. No pressure, right?
Kevin's attitude was, "What's the big deal? It's just a turkey!" Hmmm…turkey, stuffing, mashed potatoes, sweet potatoes, cranberries…oh, and meeting people who were not yet my in-laws. Talk about a stressful day!
The biggest lifesaver of that Thanksgiving (and many events and holidays since) are these Day Before Mashed Potatoes. That's right, make the mashed potatoes the day before and reheat them in your crock pot, which leaves your oven open for the rest of the feast's goodies. You can never have enough oven space on Thanksgiving.
I know I'm a bit biased, but these Day Before Mashed Potatoes are pretty much the best spuds you will ever have. The cream cheese and sour cream make them creamy and rich. In fact, you may not even need gravy. My kids are not gravy lovers (not sure where that came from), but these potatoes are one of the highlights of the meal for them. I loooooove gravy, and these potatoes taste amazing with a big ladle of gravy over the top.
But really, my favorite part of these mashed potatoes is that I can have them completely done ahead of time. Pans washed, potatoes mashed and all ready for the big day.
If you have ever eaten at my house for any special occasion (or just ever, really), you have had these potatoes. They have bailed me out more than once and forever hold a special place in my heart. It was 17 Thanksgivings ago that I first made them, and Kevin and I have hosted many successful Thanksgivings since.
Fortunately Kevin no longer says, "What's the big deal? It's just a turkey!"
Yield: 6
Day Before Mashed Potatoes
A creamy mashed potato made the day before.
Ingredients
3 pounds potatoes, peeled and cubed
6 ounces cream cheese (light or regular)
1 cup sour cream (light or regular)
salt and pepper to taste
2 tablespoons butter
Instructions
Bring a large pot of salted water to a boil. Drop in potatoes and cook until tender but still firm, about 15 minutes.
Transfer potatoes to a large bowl and mash until smooth. I use a ricer first and then place them in my stand mixer.
Mix in the cream cheese, sour cream, salt, pepper and butter. Be careful to not over mix or they will become gluey. Cover and refrigerate overnight or for at least 8 hours.
Place potato mixture in a slow cooker sprayed with cooking spray and cook on low for 5 hours or until heated through, stirring occasionally.
Notes
These potatoes can also be reheated in the oven. Preheat oven to 350 degrees and lightly grease a medium baking dish. Spread potato mixture into the prepared baking dish, and bake in the preheated oven about 30 minutes or until heated through.