This Dark Chocolate Bourbon Fudge recipe is the perfect treat for the bourbon lover in your life!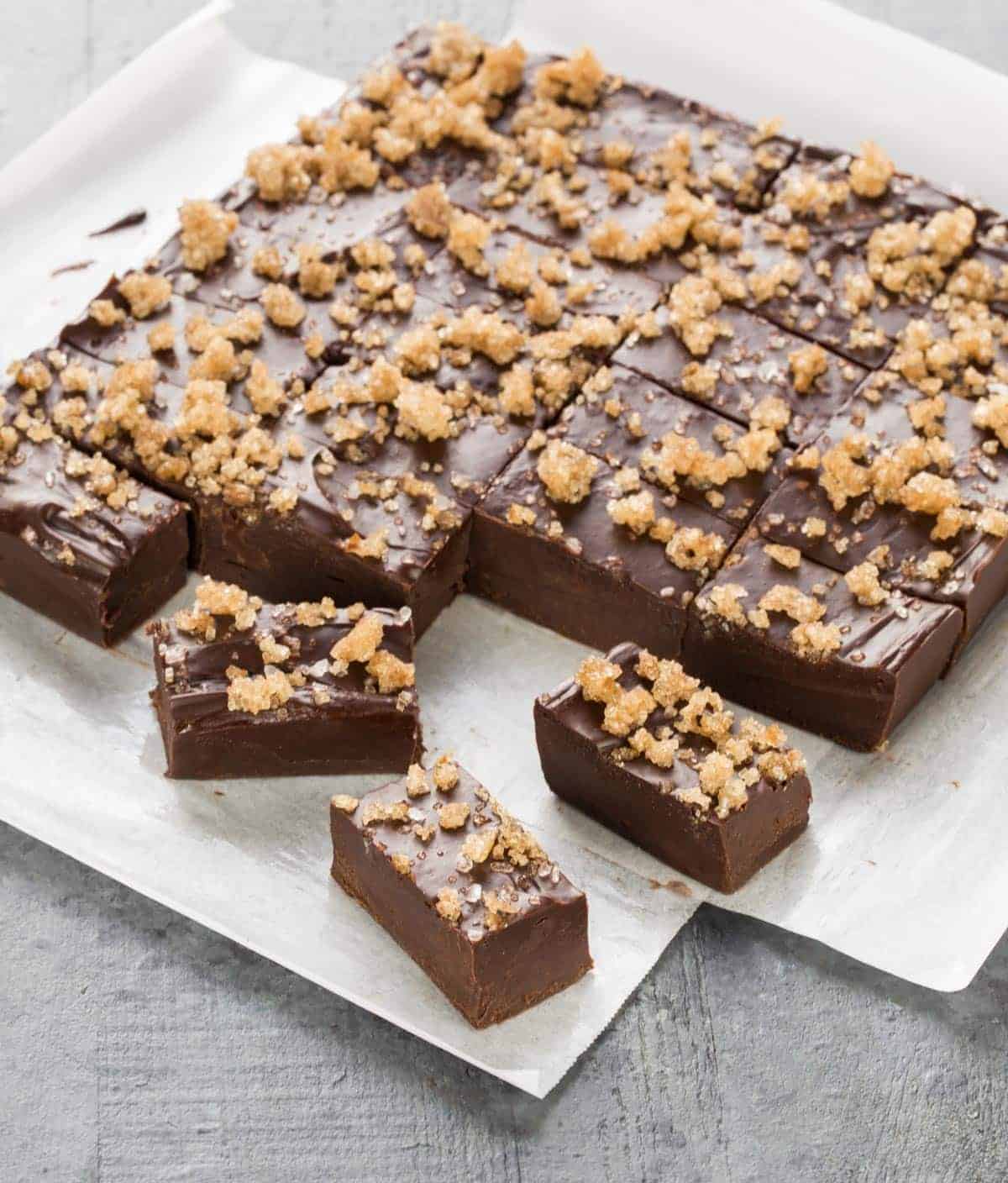 Need a make ahead dessert bite for a party? Or perhaps just an extra special something for your sweetheart? This rich Dark Chocolate Bourbon Fudge recipe is sure to please everyone but especially the chocolate and bourbon lovers in your life.
Nothing says love to me like chocolate. And nothing says love to Pat like bourbon. So I knew this Dark Chocolate Bourbon Fudge recipe would be an instant hit for both of us. Bourbon is highlighted twice in this recipe - once in the fudge itself and again in the bourbon sugar sprinkled on top. The sugar topping was new to me, but don't be put off by it; the crunch of the sugar and sea salt is a fantastic contrast to the silky smooth dark chocolate fudge.
A few things to keep in mind:
1) You need to start this recipe the night before (or early in the day). The bourbon sugar needs to "dry" out for 8 hours, and the fudge needs to chill for at least 4 hours, so plan accordingly.
2) A little elbow grease is necessary to pull this fudge together. There are a few minutes of serious stirring here, but consider it your arm workout for the day.
I find this fudge best retains its shape and flavor when chilled. Of course, having a pan of decadent Dark Chocolate Bourbon Fudge stare you in the face every time you open the fridge isn't ideal for your New Year's healthy eating resolutions, but you won't hear me complaining…my mouth is too full of fudge for that.
Tip: This recipe makes extra bourbon sugar. Save the leftovers to stir into your coffee or sprinkle on top of ice cream.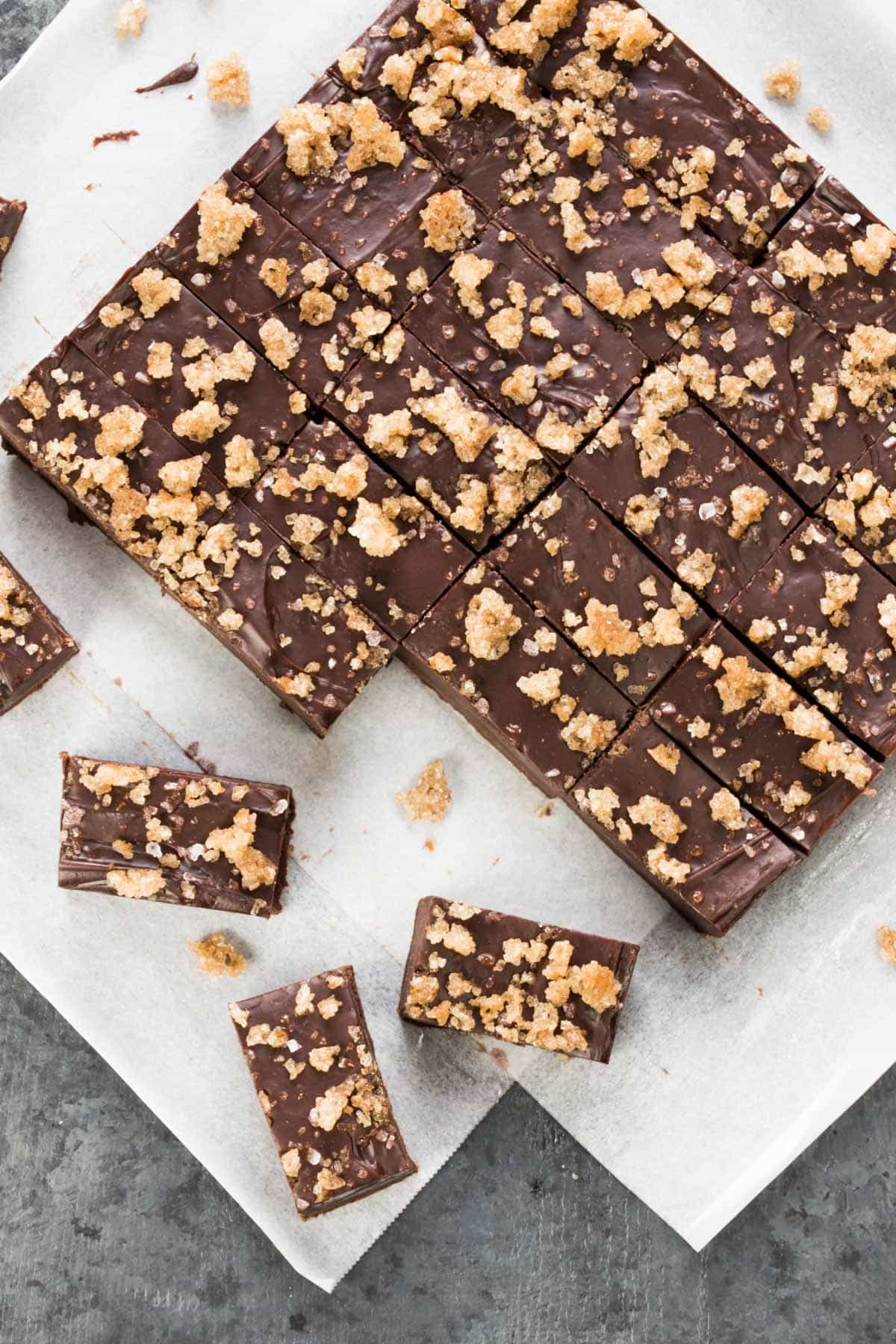 Yield: 24-48
Dark Chocolate Bourbon Fudge
This Dark Chocolate Bourbon Fudge recipe is the perfect treat for the bourbon lover in your life!
Prep Time
12 hours
15 minutes
Total Time
12 hours
25 minutes
Ingredients
Bourbon Sugar:
1 cup raw brown sugar
1 vanilla bean, split lengthwise
2 tablespoons bourbon
Fudge:
Nonstick spray
10 ounces bittersweet chocolate (I used a combination of 60-70%), coarsely chopped
4 ounces unsweetened chocolate, coarsely chopped
1 (14-ounce) can sweetened condensed milk
10 tablespoons unsalted butter, cut into pieces
2 tablespoons bourbon
1 tablespoon light corn syrup
1/4 teaspoon kosher salt
1 vanilla bean, split lengthwise
Flaky sea salt
Instructions
To make the bourbon sugar:
Preheat oven to 150 degrees or as low as your oven will go. Line a baking sheet with parchment paper and set aside.
Place sugar in a small bowl and scrape vanilla seeds from vanilla bean into bowl. Stir in bourbon until well mixed.
Spread mixture on baking sheet and place in oven with door barely cracked open by a wooden spoon for 8 hours.
Cool, crumble and place in an airtight container if not using right away.
To make the fudge:
Line an 8x8 pan with parchment paper, allowing edges to lap over all four sides of pan. Spray lightly with cooking spray. Set aside.
Pour a small amount of water into a saucepan and bring to a simmer. Place chocolates in a heatproof bowl over the simmering water (making sure it doesn't touch the water) and stir until melted. Remove from heat and dump water out of saucepan.
Return saucepan to medium low heat on stove and add condensed milk, butter, bourbon, corn syrup and salt. Scrape vanilla seeds out of bean and stir into pan along with vanilla pod. Stir until butter is melted and mixture is combined but barely hot. Remove vanilla pod from milk mixture.
Stir in 1/4 of milk mixture into chocolate with a rubber spatula. Repeat with another 1/4 of milk mixture. (This is where the elbow grease comes in, and the mixture will start to look grainy and broken, but it WILL come together.) Pour in remaining milk mixture and stir vigorously until the chocolate looks shiny and smooth (2-3 minutes).
Pour fudge into prepared pan and smooth top. Sprinkle with bourbon sugar and flaky sea salt. Allow to cool completely, then cover tightly and refrigerate for at least 4 hours.
Use parchment overhang to pull fudge from the pan and slice into pieces.
Nutrition Information:
Yield:
48
Serving Size:
1
Amount Per Serving:
Calories:

95
Total Fat:

7g
Saturated Fat:

4g
Trans Fat:

0g
Unsaturated Fat:

2g
Cholesterol:

7mg
Sodium:

28mg
Carbohydrates:

7g
Fiber:

1g
Sugar:

5g
Protein:

1g