Packed full of flavor, these make-ahead Curried Pork Empanadas are always devoured when we serve them at parties.
These mini Curried Pork Empanadas may not be traditional from a filling perspective, they are spot on in the flavor department – utterly delicious! They are a delicious, hot, make-ahead appetizer for your next party.
There are numerous recipes for empanadas that use refrigerated pie dough. That's a great shortcut when time is tight, but this version of Curried Pork Empanadas uses homemade dough, and that little bit of extra effort is totally worth it.
What are empanadas?
Empanadas are widely found in many Hispanic cultures. The preparation technique and fillings may vary, but they are all essentially meat pies at heart. This version makes mini empanadas with a curried pork filling and is baked, not fried (slightly healthier, right?).
Can you make these Curried Pork Empanadas ahead of time?
Yes, they can! Although the recipe looks lengthy and a bit overwhelming, the directions are very straightforward. Trust me; these are totally worth a bit of putzing. If you need a hot make-ahead appetizer, these mini Curried Pork Empanadas are perfect for a number of reasons:
The dough and the filling can be made a few days ahead,

The empanadas can be assembled a few hours ahead,

AND they can even be baked earlier in the day and reheated before guests arrive.
Will the crust get tough if you bake these empanadas ahead of time?
I feared the same thing but I shouldn't have worried. The butter and cream cheese combination ensures the crust stays super tender and flaky, even after reheating. Score one for the host!
You can even freeze these Curried Pork Empanadas!
Simply place the empanadas in a single layer on a cookie sheet and freeze for a few hours. Once frozen, place empanadas in a freezer safe bag or container. You can them bake them straight from frozen state and add a few extra minutes to the baking time.
What do you eat empanadas with?
Authentic Argentinean empanadas are not traditionally served with dipping sauce, but we're a family of dippers at heart, so I had to offer at least a few choices for those fellow dippers out there.
I opted for a sweet mango chutney and ginger-soy glaze (both purchased at the grocery store), and they were great complements to the empanadas.

Craving more hot, make-ahead appetizers? Check out some of these tasty nibbles:
Recommended Equipment

Yield: Makes 30 empanadas
Curried Pork Empanadas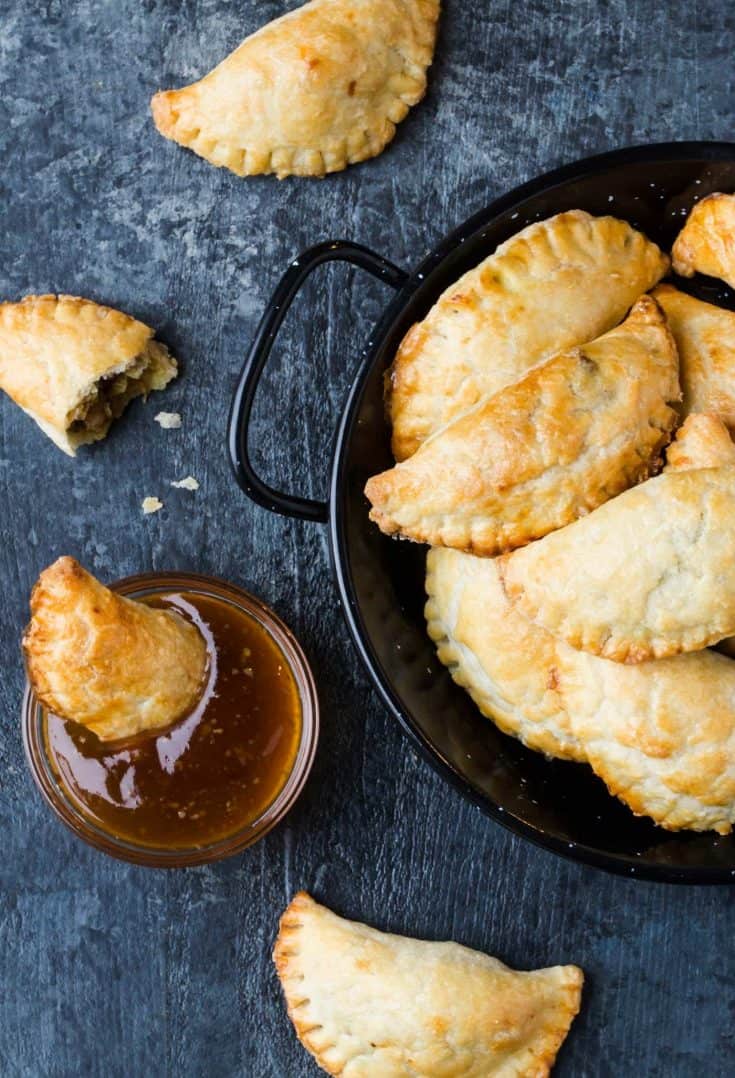 Add some flavor to your appetizer spread with this recipe for homemade Curried Pork Empanadas. Serve with a dipping sauce and watch them disappear!
Prep Time
1 hour
10 minutes
Total Time
3 hours
30 minutes
Ingredients
Pastry:
8 ounces cream cheese, room temperature
8 tablespoons unsalted butter, room temperature
1/4 teaspoon salt
1 1/2 cups all-purpose flour
1 egg, beaten, for pastry egg wash
Filling:
Salt
1/4 pound ground pork
1 tablespoon olive oil
1/2 cup finely chopped onions
1 clove garlic, minced
4 shiitake mushrooms, finely chopped (optional but recommended!)
3/4 teaspoon curry powder
1/2 teaspoon ground ginger
1 tablespoon dry sherry
1/4 teaspoon soy sauce
2 teaspoons sugar
1/2 teaspoon cornstarch
1/4 cup golden raisins, chopped
Instructions
To make the pastry:
Add cream cheese, butter and 1/4 teaspoon salt to a medium bowl. Use an electric mixer to mix until combined. Gradually add the flour and mix until just incorporated. Form two rounds of dough, dust with flour and wrap in plastic wrap. Refrigerate at least one hour.
To make the filling:
Heat a skillet over medium high heat. Sprinkle 1/4 teaspoon of salt in the bottom of the pan and add small pieces of the ground pork to the skillet. Don't stir the pork, just let it brown. When one side is browned, carefully turn the pork pieces over and brown on the other side. Remove from skillet when browned on both sides.
Add olive oil to the pan and return it to medium heat. Add the onions and saute until the onions are translucent. Add the garlic and mushrooms and cook for 2 minutes. Mix the curry and ginger into the onion mixture. Return the pork to the pan and add the sherry, soy sauce, sugar, cornstarch and raisins. Mix well. If the pork pieces are too big, break them up with a spatula. Refrigerate meat mixture if not making empanadas right away.
To make the empanadas:
Preheat the oven to 375 degrees. Remove one of the rounds of dough and let it set for 5 minutes to soften. Sprinkle some flour on your rolling surface and roll out the dough so it is about 1/8 inch thick. Cut circles (mine were 3 inches) from dough and place them on a baking sheet lined with a silicone baking mat or parchment.
Using a pastry brush, lightly brush the inside edge of the dough circles with the egg wash. Drop a teaspoon of the pork mixture inside the dough circles, being careful to keep it away from the edges of the dough. (Stray pieces of pork don't allow the empanadas to seal properly and they pop open when baking.) Fold the dough circles in half and seal the edges. If you want to fancy them up, you can twist the edges together with your hands (like a pie crust) or use the tines of a fork to flute the edges. Brush the outside of the empanadas with egg wash and bake for 15 - 20 minutes or until golden brown.
Repeat with remaining dough round. Serve warm with dipping sauces, if desired.
Notes
Chill the unbaked empanadas for 10 minutes after you fill and seal the pastry rounds but before you add the egg wash and optional tine marks with the fork. If the dough is too warm/soft, the tine marks will not remain very visible after baking.
Recipe barely adapted from Simply Recipes.
Nutrition Information:
Yield:
10
Serving Size:
3
Amount Per Serving:
Calories:

344
Total Fat:

24g
Saturated Fat:

13g
Trans Fat:

0g
Unsaturated Fat:

9g
Cholesterol:

99mg
Sodium:

253mg
Carbohydrates:

25g
Fiber:

1g
Sugar:

6g
Protein:

9g