Filled with flavors from the garden,  this Crostini with Whipped Feta and Tomatoes is the appetizer that every summer gathering needs.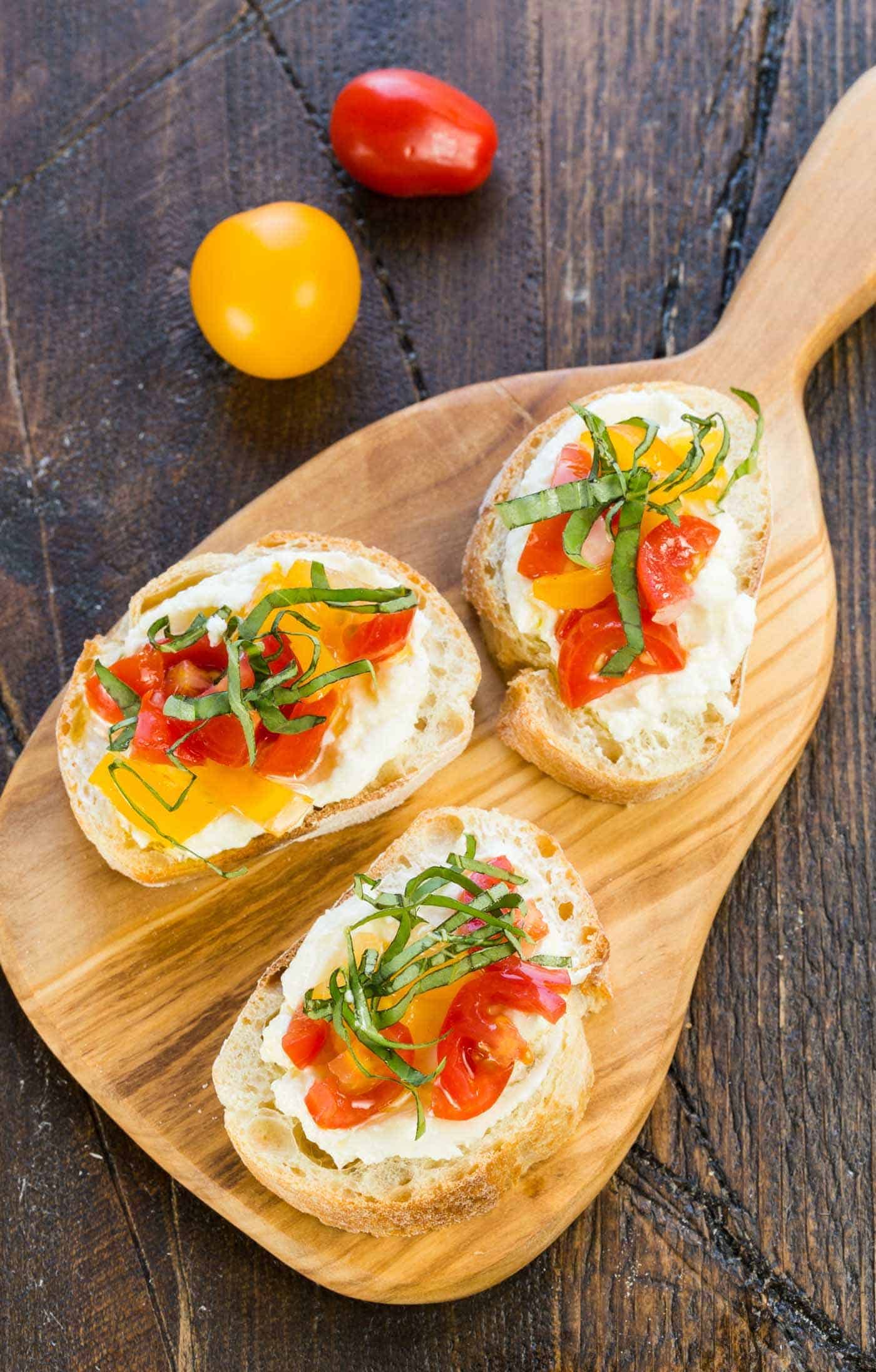 Bruschetta is one of my favorite summer appetizers. Bright and fresh tomatoes, basil, oil and thick crunchy bread. Can it be any better? Maybe….if you add some whipped feta to it. Yup, you read that right, whipped feta. This recipe for Crostini with Whipped Feta and Tomatoes is a little something special. Whipping the feta with lemon juice and the olive oil makes it really smooth and creamy – a perfect spread to enhance this combination of flavors. And let's be honest; it looks like an impressive appetizer that is fresh, flavorful and tasty but not super intensive in prep.
Take this Crostini with Whipped Feta and Tomatoes to a party of any kind, and you'll have new best friends. It can be dressed up for a dinner party or fits right in at a barbecue. Gotta love apps that are your go-to no matter what the occasion. Add this recipe to your rotation, and you'll have one less thing to think about and still have tasty, satisfying snacks to share. So put these on a platter and sit back, relax and catch up with friends you haven't seen in awhile.
Good food, good friends and a cocktail? Sounds like a perfect summer evening to me.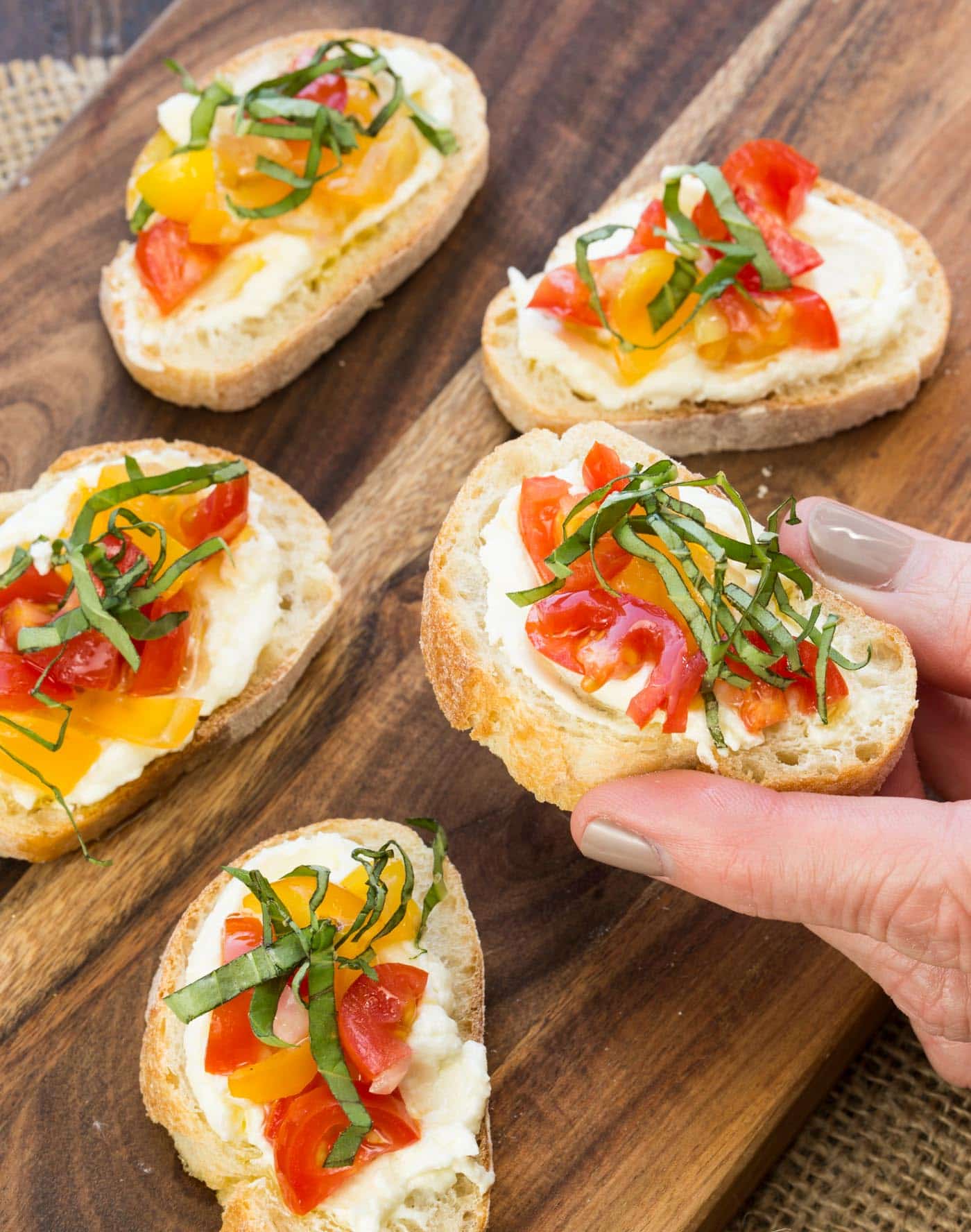 Are you on Pinterest? Follow us there for more party appetizer ideas!
Follow Garnish with Lemon's board Easy Appetizer Recipes for Parties on Pinterest.

Here are links to some other great appetizers served on crostini:
Balsamic Roasted Strawberries with Goat Cheese – Garnish with Lemon
Sun-dried Tomato and Kalamata Olive Bruschetta – Garnish with Lemon
Crostini with Peaches, Blue Cheese, and Honey – Bev Cooks
Bruschetta with Fresh Pea Shoot Mint Pesto and Fresh Mozzarella – Relishing It
Cherry Coconut Crostini – Reluctant Entertainer
Steak Crostini with Onion Confit and Horseradish Cream – Savory Simple
Yield: 6-8
Crostini with Whipped Feta and Tomatoes
Whipped feta makes this bruschetta something special.
Ingredients
1 baguette
Olive oil for brushing on bread
Whipped Feta:
6 ounces crumbled feta
2 ounces cream cheese, softened
1/3 cup olive oil
juice of one lemon
salt and freshly ground black pepper to taste
Tomato Topping:
2 shallots, minced
2 cloves garlic, minced
2 tablespoons white wine vinegar
1/3 cup olive oil
1/2 tsp salt
1/2 tsp pepper
10 ounces grape tomatoes, quartered
10 ounces yellow sunburst cherry tomatoes, quartered
3 tablespoons julienned fresh basil leaves, plus extra for serving
Instructions
Crostini:
Preheat oven to 400.
Slice the baguette in thick diagonal slices (about 1/2 inch thick).
Brush the top with olive oil and place on cookie sheet. Heat in oven until bread is lightly toasted about 7-8 minutes.
Feta spread:
Place the feta and cream cheese in the bowl of a food processor and pulse until mixed. Add the olive oil, the lemon juice, and process until smooth.
Add salt and pepper to taste and stir.
Tomato topping:
In a medium bowl mix shallots, garlic and vinegar. Let rest for 5 minutes.
Whisk in the olive oil, salt and pepper. Gently stir in the tomatoes and let flavors develop for 10 minutes. Stir in basil.
Assembly:
Spread each slice of bread with a thick layer of whipped feta.
Use a slotted spoon to place the tomatoes on top.
Sprinkle with extra basil and serve.
Nutrition Information:
Yield:
8
Serving Size:
1
Amount Per Serving:
Calories:

397
Total Fat:

28g
Saturated Fat:

8g
Trans Fat:

0g
Unsaturated Fat:

19g
Cholesterol:

26mg
Sodium:

667mg
Carbohydrates:

29g
Fiber:

2g
Sugar:

6g
Protein:

9g