Fall flavors abound in this appetizer recipe for Crostini with Savory Tomato, Bacon and Apple Jam!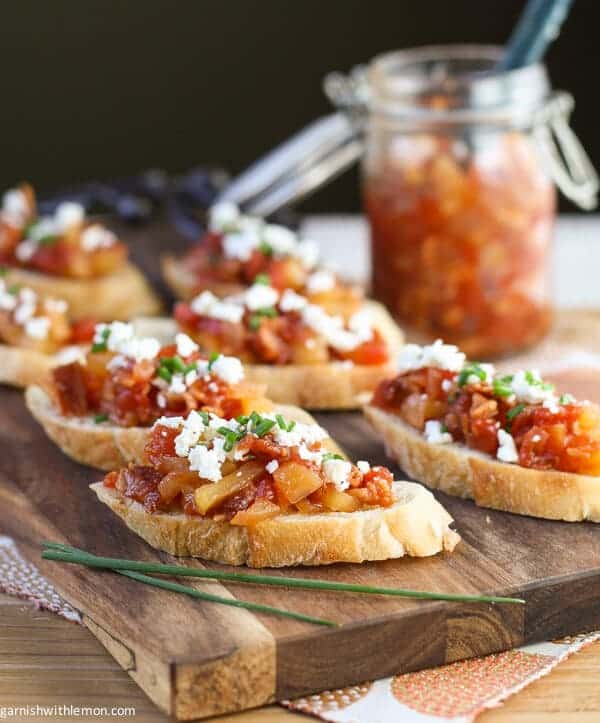 This Crostini with Savory Tomato, Bacon & Apple Jam is one of those recipes that I tore out of a magazine several years ago and always vowed to make one day. (I'd wager that you probably have a similar stack of "must try someday" recipes lying around your house, too.) I try to pare down the pile a few times a year before it gets completely out of hand, but this recipe has made the cut every single time I "declutter" my kitchen. I just need to take that as a sign, right? MAKE THE CROSTINI!
So that's what I did. And now I'm kicking myself for not making it sooner.
These are fabulous fall flavors, folks. The tart apples, smoky bacon, savory onion and juicy tomatoes all mellow out together with some sugar and vinegar to make a tangy topping for toasted crostini. Add a bit of salty feta and a sprinkle of fresh cut chives, and you have an appetizer that is not only pretty to look at but pretty hard to stop eating, too! 
There is a running joke in our family about how I rarely make the same thing twice. Mostly because I have a stack of yet untested recipes always at the ready. These Crostini with Savory Tomato, Bacon & Apple Jam? They may have been a long time coming, but they are definitely here to stay. 
Tip: Keep this recipe for Crostini with Savory Tomato, Bacon & Apple Jam in mind the next time you're entertaining as the jam can easily be made in advance and refrigerated until you're ready to assemble the crostini. I would totally dig the jam on some grilled meat or seafood, too.



Yield: 30
Crostini with Savory Tomato, Bacon & Apple Jam
Prep Time 25 minutes

Cook Time 17 minutes

Total Time 42 minutes
Ingredients
1/2 pound applewood smoked bacon, cooked, drained and crumbled into pieces
1 (28-ounce) can petite diced tomatoes, drained
1 cup sugar
1 tart cooking apple (such as Granny Smith), cored, peeled and diced
1 small sweet onion, diced
3 tablespoons apple cider vinegar
11/2 teaspoons salt
1/4 teaspoon ground black pepper
1 French baguette, cut into thin slices and toasted (around 30 pieces)
4-6 ounces feta cheese, crumbled
Chopped fresh chives
Instructions
Place the bacon, tomatoes, sugar, apple, onion, vinegar, salt and pepper in a large pot or saucepan. Bring to a boil using medium heat and cook for 12-15 minutes, stirring often. The jam will be done when the apples are soft and the majority of the liquid has been reduced. Allow to cool for 5-10 minutes.
Place toasted bread slices on a serving tray. Evenly divide jam, feta cheese and chives among crostini. Serve immediately.