Crispy Smashed Potatoes are a tasty addition to any summer BBQ.
My family has been great about embracing new grains, but potatoes are always a winner in my house. In fact, one of their favorite side dishes is the Mediterranean Quinoa Salad, but when I'm trying something new, potatoes always get a smile. Enter Crispy Smashed Potatoes. Sure, these take just a little bit of prep, but the work is so simple and can be done hours ahead of time, so that bit is really a non-issue. Greta loves to help me make these potatoes. After all, who wouldn't enjoy smashing food with their hands (and not get in trouble for it)?
Crispy Smashed Potatoes are just as tasty as they sound. It's like a twice baked potato met a roasted potato met a baked potato. (Wrap your head around that one for a minute!) The simplicity of these potatoes is really appealing, and you can jazz them up however you want. Boil and smash the potatoes early in the day, then season and roast at dinnertime. I seasoned mine with salt, pepper and olive oil for this post, but the sky is the limit for seasoning options. Want something more complex?  Try feta cheese and oregano, Cheese lover? Sprinkle some Parmesan cheese on top. Is your herb garden in full bloom? Clip what herb strikes your fancy and add some garlic. Any way you season them, it's Crispy Smashed Potatoes for the win!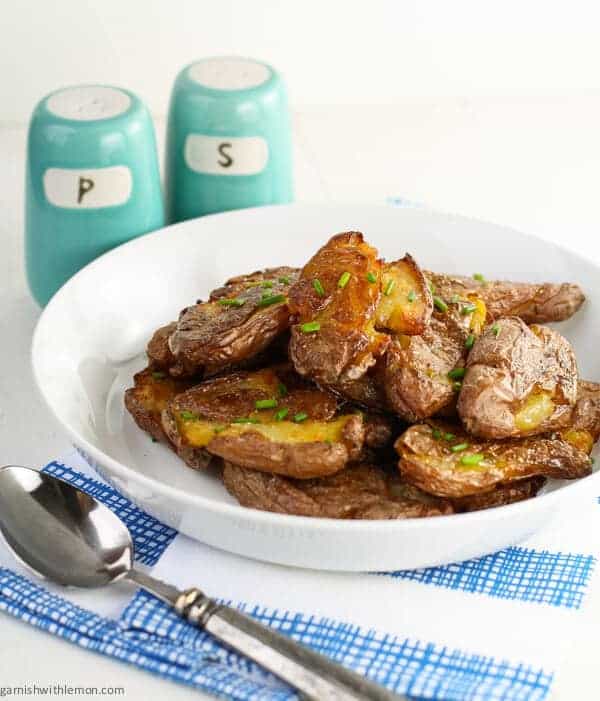 5
adjust servings
Ingredients
12-15

fingerling potatoes

Kosher salt

Pepper

1/3-1/2

cup olive oil

Chives for garnish
Instructions
In a large pot of water, place the fingerling potatoes and bring to a boil. Turn heat down to simmer and cook until then can be pierced easily with a fork. (Total time should take about 30 minutes. Be careful to not overcook them.) Drain and set aside.
Place a double layer of paper towels on the counter and set the drained potatoes on top to cool.
Using a clean dishtowel or paper towel, gently smash the potatoes with the heel of your hand and place on baking sheet. (The potatoes can be prepared to this point up to 8 hours ahead of time. Let cool completely before refrigerating)
Preheat oven to 450 degrees.
Season potatoes with salt and pepper and drizzle olive oil, making sure that a bit of oil gets under each potato so they are entirely coated.
Roast for 30-40 minutes, flipping once with a spatula half way through. Roast until edges are crispy and brown. Serve immediately.
Did you make this recipe? We'd love to see it! Snap a pic of your creation and tag it #GarnishWithLemon. We might even feature your photo on social media!