Crispy Smashed Potatoes are a tasty addition to any summer BBQ.
BBQ season has arrived in full force and our deck is open and (kind of) ready for guests to come over.
Yes, the paint is peeling and we need to replace some boards. We will get to that eventually, but that doesn't stop us from having friends over. Once warm weather arrives in Minnesota, we are never sure how long it will be here so we jump on any opportunity to be outside.
So to kick the season off I was looking for an easy side dish that goes with pretty much anything from the grill. Enter Crispy Smashed Potatoes. Sure, these take just a little bit of prep, but the work is so simple and can be done hours ahead of time, so that bit is really a non-issue.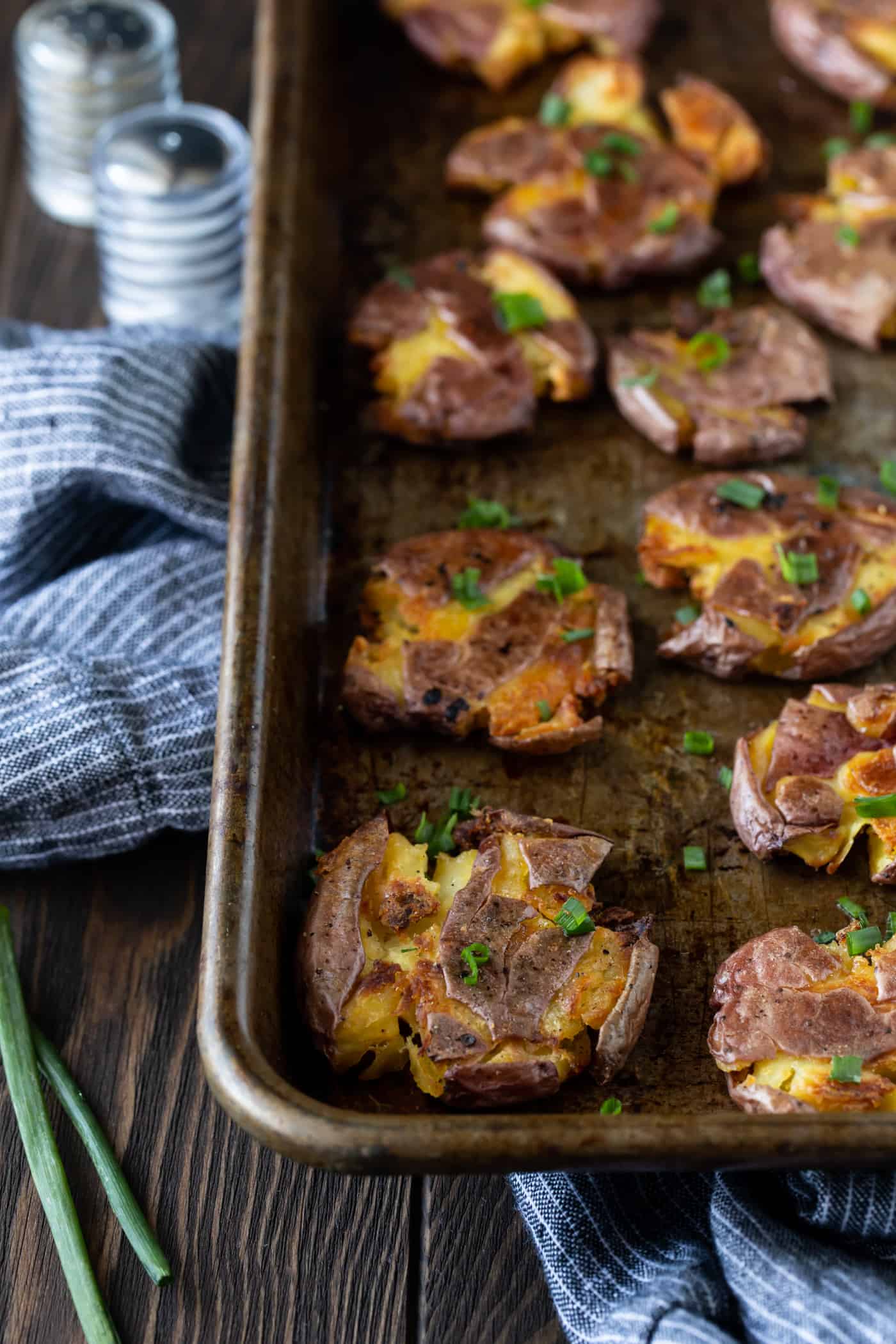 What makes this smashed potato recipe different from roasted potatoes?
Crispy Smashed Potatoes are just as tasty as they sound. It's like a twice baked potato met a roasted potato met a baked potato. (Wrap your head around that one for a minute!)
The simplicity of these potatoes is really appealing, and you can jazz them up however you want. Boil and smash the potatoes early in the day, then season and roast at dinnertime.
What seasonings can I add to this smashed potato recipe?
I seasoned mine with salt, pepper and olive oil, but the sky is the limit for seasoning options.
Want something more complex? Try feta cheese and oregano, Cheese lover? Sprinkle some Parmesan cheese on top. Is your herb garden in full bloom? Clip what herb strikes your fancy and add some garlic.
Any way you season them, it's Crispy Smashed Potatoes for the win!
I'll let you know when we finally fix those boards and restain the deck, but I can guarantee that our friends will be too busy eating these Crispy Smashed Potatoes to notice. After all, good friends don't care about minor details like that, it's all about being together.
So here's to summer, bbqs and time with friends on our imperfect deck. Cheers!
Looking for more easy bbq sides? Here are some of our other favorites:
Mexican Grilled Corn - Garnish with Lemon®
Spinach Pasta Salad - Barefeet in the Kitchen
Classic Macaroni Salad - Garnish with Lemon®
Classic Italian Pasta Salad - Wishes and Dishes
Pesto Pasta Salad with Peas - Garnish with Lemon®
Yield: Makes 6 servings
Crispy Smashed Potatoes
These Crispy Smashed Potatoes are guaranteed to be a hit at your next BBQ! They go great with anything from the grill and are easy to prep ahead of time!
Total Time
1 hour
15 minutes
Ingredients
1 1/2 pounds small red potatoes
Kosher salt
Pepper
1/3-1/2 cup olive oil
Chives for garnish
Instructions
In a large pot of water, place the fingerling potatoes and bring to a boil. Turn heat down to simmer and cook until then can be pierced easily with a fork. (Total time should take about 30 minutes. Be careful to not overcook them.) Drain and set the drained potatoes on a double layer of paper towels to cool.
Using a clean dishtowel or paper towel, gently smash the potatoes with the bottom of a glass and place on baking sheet. (The potatoes can be prepared to this point up to 8 hours ahead of time. Let cool completely before refrigerating)
Preheat oven to 450 degrees.
Season potatoes with salt and pepper and drizzle olive oil, making sure that a bit of oil gets under each potato so they are entirely coated. Roast for 30-40 minutes, flipping once with a spatula half way through. Roast until edges are crispy and brown. Serve immediately.
Nutrition Information:
Yield:
6
Serving Size:
4 ounces
Amount Per Serving:
Calories:

366
Total Fat:

10g
Saturated Fat:

4g
Trans Fat:

0g
Unsaturated Fat:

6g
Cholesterol:

0mg
Sodium:

111mg
Carbohydrates:

22g
Fiber:

2g
Sugar:

2g
Protein:

3g