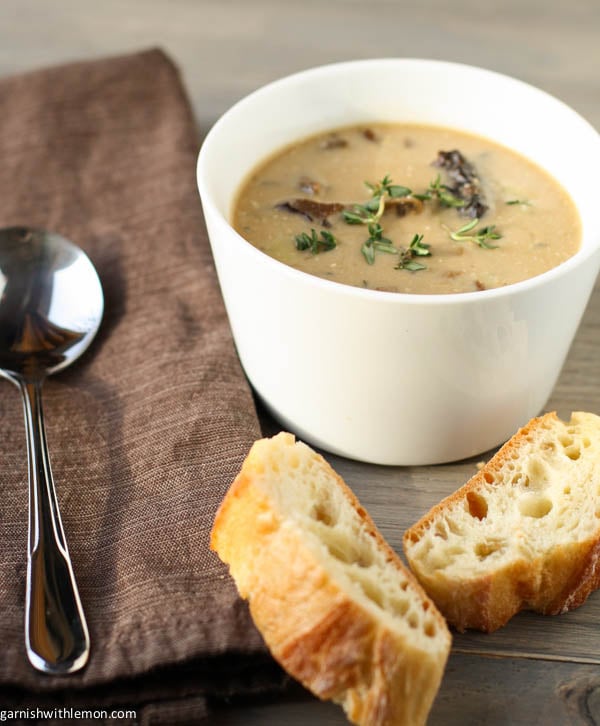 My family is pretty traditional when it comes to holiday meals. Some families change their Christmas Eve meal each year, but not us. We don't touch it. Partly because it's tradition and partly because we just love it. Kind of funny since we are pretty adventurous eaters any other time, but you don't mess with the meals on a holiday. Ever.  
It all started when my parents were kids. They grew up with holiday meals that included fruit soup and Swedish sausage, and they continued that tradition with us. I didn't love that meal at the time, but now I appreciate the roots and habits that my parents were establishing. As we grew up, we convinced my parents that we should include our own traditional food items in our holiday meals. The menu has evolved a little over the years, but is now pretty solid.  This Creamy Porcini Soup is the starter. The soup has just enough cream to make it rich, but is light enough to be the first course. It is filled with the great meaty texture of porcini and portobello mushrooms, seasoned with thyme and garlic. And you can make it ahead of time - perfect for busy holiday meal prep. Absolutely delicious and heart warming. The way holiday meals should be. Who knows, maybe someday my kids will want to change things up, too. But for now, this is it.
Yield: 8
Creamy Porcini Soup
A creamy porcini soup seasoned with thyme and garlic.
Total Time
1 hour
15 minutes
Ingredients
2 ounces dried porcini mushrooms, chopped
1 pound portabello mushrooms, chopped
1 large onion, diced
4 cloves fresh garlic, minced
1/2 cup butter
8 cups chicken broth
1 cup heavy whipping cream
2 teaspoons fresh thyme
salt and pepper to taste
Instructions
Heat two cups of the chicken broth to boiling and add the dried mushrooms. Let stand for 30 to 40 minutes. Remove the mushrooms, reserving the liquid. Pour the liquid through a coffee filter and set aside. Rinse the mushrooms well and drain.
In a large pot melt the butter. Add the onions and then the garlic. Saute just until soft. Add the mushrooms and saute until vegetables are soft.
Add three tablespoons of flour and cook for one minute. Add the broth slowly until all is added. Add the reserved broth and the porcini mushrooms.
Add salt, pepper and thyme to taste. Cook for twenty minutes.
Can be refrigerated at this time. When ready to serve add the cream and heat until hot. Serve with parmesan crostini and fresh parsley.
Nutrition Information:
Yield:
8
Serving Size:
1
Amount Per Serving:
Calories:

247
Total Fat:

23g
Saturated Fat:

14g
Trans Fat:

1g
Unsaturated Fat:

7g
Cholesterol:

69mg
Sodium:

1070mg
Carbohydrates:

7g
Fiber:

2g
Sugar:

4g
Protein:

5g