Fall whiskey cocktails don't get much more seasonal than these easy Cranberry Whiskey Sours - a tasty, make-ahead batch cocktail that is perfect for Thanksgiving or any holiday party!
I'm always envious of my neighbors who pull off such beautiful fall displays on their front porches. Hay bales, woven corn stalks, mums, pumpkins and gourds…they look amazing.
My front step is graced with my straggly, sad-looking summer flowers that really need to be put out of their misery.
So while my seasonal decorating skills may not rate very high, my seasonal cocktail skills are totally on point, and these Cranberry Whiskey Sours are just begging for you to share them with family and friends this fall.
These Cranberry Whiskey Sours were inspired by another of our most popular batch cocktail recipes, Meyer Lemon Whiskey Sours. It's not quite meyer lemon season yet (wait for January), but it's definitely cranberry time, so stock up on a few bags while you're at the store.
What's in this easy whiskey sour recipe?
You are only four ingredients away from this fall whiskey cocktail:
Cranberry simple syrup
Fresh orange juice
Fresh lemon juice
Whiskey
Because cranberries are naturally tart themselves, the typical lemon and lime juice "sour" of a traditional whiskey sour has been replaced with an ample amount of freshly squeezed orange juice as well as a bit of lemon juice.
The smoother flavor of the orange juice is the perfect complement to the tart cranberries. A healthy pour of fall's favorite tipple, whiskey, is the finishing touch to these rosy-hued Cranberry Whiskey Sours.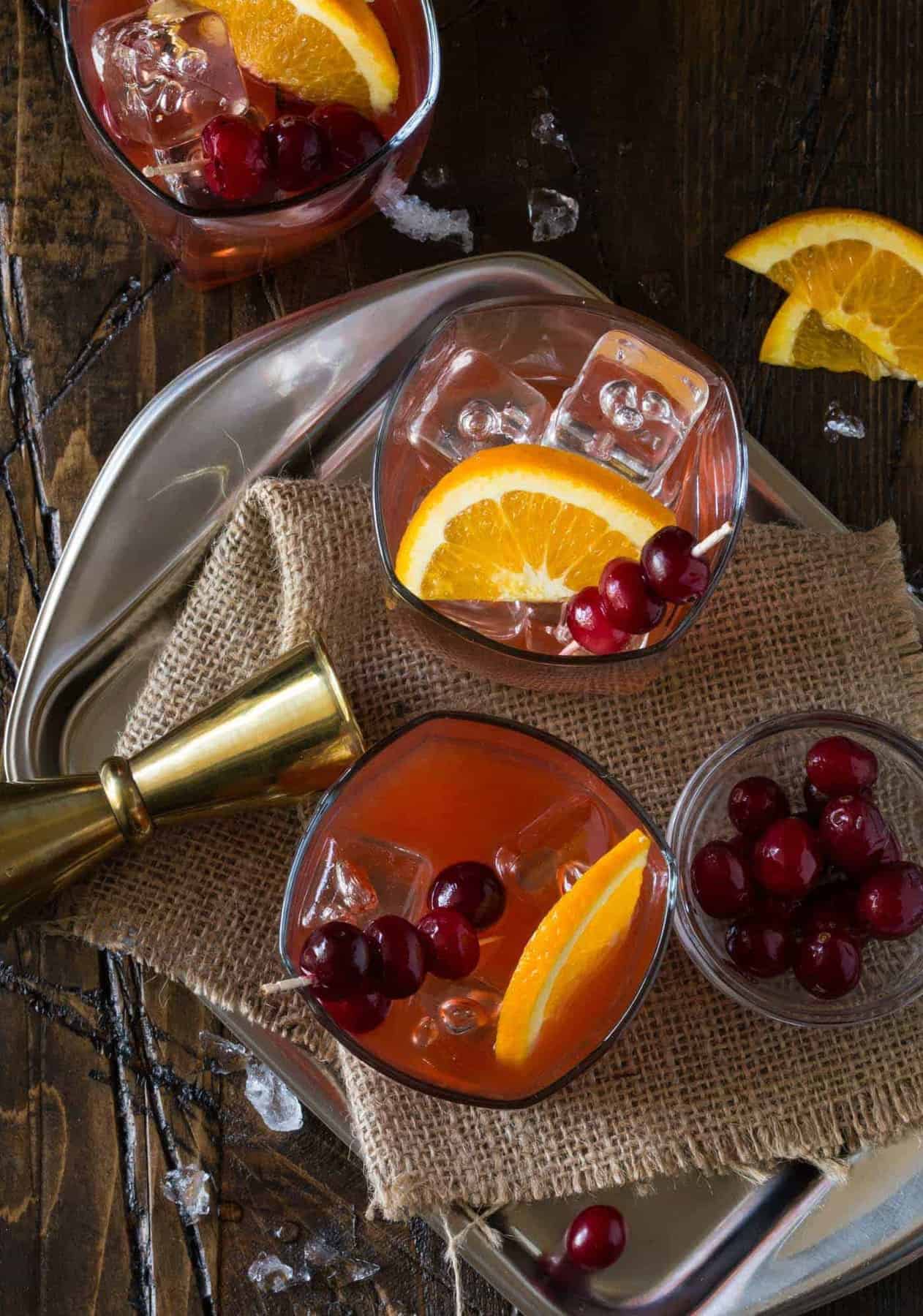 How to make infused simple syrup:
Simple syrup is easy and inexpensive to make at home. After making it yourself, you might even wonder why anyone would buy the overpriced bottle at the store in the first place!
Step 1: Place equal amounts of sugar and water in a saucepan.
Step 2: Bring the mixture to a low boil over medium heat and cook until sugar is completely dissolved.
Step 3: Remove the pan from heat and allow syrup to cool before placing in an airtight container in the refrigerator for up to one month.
See how easy it is? You can easily add additional layers of flavor to your simple syrup by infusing it with herbs (like the thyme in these Bourbon Apple Cider Cocktails) or cranberries, in this case.

To make cranberry-infused simple syrup:
Add the cranberries to the same pan as the syrup ingredients and bring to a boil.
Once the sugar is dissolved, remove the pan from the heat and allow the cranberries to steep in the hot syrup for at least 15-20 minutes.
Strain through a fine mesh strainer and refrigerate.
Tip: Cranberries freeze beautifully and the frozen berries can seamlessly be used to make the infused simple syrup for this whiskey cocktail.
How long does an infused simple syrup last?
I've found that infused syrups don't stay fresh as long as regular simple syrup. The taste slowly starts to deteriorate after about 2 weeks so try to use your stash before then.
What's the best whiskey for a whiskey sour?
Since this cocktail is a blend of fruit juices, simple syrup and whiskey, definitely don't break the bank on your whiskey purchase. Save that bottle of 20- or 30-year whiskey for sipping on the rocks.
That said, don't buy the cheapest whiskey out there, either, as the flavor of your cocktails will suffer as a result. Go for a mid-priced brand that you'll use in other cocktails (I highly recommend these Bourbon Elderflower Cocktails to start).
A Cranberry Whiskey Sour recipe without egg
If you go to a bar and ask for a classic whiskey sour cocktail, you'll likely receive a glass filled with whiskey, lemon juice and sugar shaken with some egg white for creaminess and an attractive foamy head.
Bartenders have added egg whites to cocktails for nearly 100 years. There is some controversy surrounding the topic. Some people claim the egg white adds texture and silkiness to the drink. Others claim it hides inferior ingredients.
Then there is the whole salmonella debate, which you can avoid if you use pasteurized eggs. Egg whites have never been part of my whiskey sour recipes. In my opinion, they are just as tasty without them.
If you're dead set on a cocktail with a foamy head, give your arm a workout and shake the heck out of it in the cocktail shaker. Or feel free to whip up this cranberry whiskey sour with egg white if that floats your boat.
How to garnish a cranberry whiskey sour cocktail
A maraschino cherry is the garnish of choice for a traditional whiskey sour. But we spice things up in our cranberry version with fresh cranberries and orange slices to reflect the season and ingredients in this recipe.
Whiskey Sour Pitcher Cocktails
You can certainly make just one of these beauties after a long day, but since you're going through the trouble of making the cranberry-infused simple syrup, we prefer to serve them batch style when we have guests over.
Stir all the ingredients together in a pitcher and chill until party time. Thread a few cranberries and orange wedges on cocktail picks in advance for glass garnishes to keep your bartending duties to a minimum come party time.
Looking for more cocktail inspiration? You can find all of our cocktail recipes HERE!
Yield: Makes 10 cocktails
Cranberry Whiskey Sours
Love whiskey sours? Our easy Cranberry Whiskey Sours recipe puts a seasonal spin on a classic cocktail. Fresh orange juice and fresh cranberries give this drink a decidedly fall flavor that is perfect for the holidays.
Ingredients
2 cups sugar
2 cups water
2 cups fresh cranberries
3 1/3 cups whiskey
2 1/2 cups freshly squeezed orange juice
1 1/4 cups freshly squeezed lemon juice
Instructions
To make the cranberry simple syrup:
Place sugar, water, and cranberries in a medium saucepan. Heat over medium heat until mixture starts to boil and sugar is completely dissolved, stirring occasionally.
Remove from heat and steep for 15-20 minutes. Strain through a fine mesh strainer and cool completely before storing in the refrigerator.
To make the cocktails:
Place cranberry simple syrup, whiskey and juices in a pitcher. Stir to combine. Pour into ice-filled lowball glasses and garnish with cranberries and orange slices, if desired.
Notes
The cranberry simple syrup makes about 2 1/2 cups of syrup and will keep for up to two weeks in the fridge. 
Only want to make a single cocktail? Simply divide the ingredients by 10.
Recommended Products
As an Amazon Associate and member of other affiliate programs, I earn from qualifying purchases.
Nutrition Information:
Yield:
10
Serving Size:
8 ounces
Amount Per Serving:
Calories:

332
Total Fat:

0g
Saturated Fat:

0g
Trans Fat:

0g
Unsaturated Fat:

0g
Cholesterol:

0mg
Sodium:

11mg
Carbohydrates:

51g
Fiber:

1g
Sugar:

47g
Protein:

1g
A classic whiskey sour gets a seasonal upgrade in this 4-ingredient Cranberry Whiskey Sours recipe. Easy to make ahead of time, it's the perfect fall whiskey cocktail for Thanksgiving or any holiday party!