What fun! We're posting 2 different cranberry relish recipes today. Check them out and let us know if you pick one to grace your Thanksgiving table!



1. Cranberry Sauce with Dried Cherries and Cassis 
I love that this sauce is a little different than many of the relishes out there which typically rely on a cranberry and orange combination. The finished product is a sweet but definitely savory side dish. The richness from the creme de cassis reduces in the pan and melds perfectly with the sweetness of the cherries. Add tang from the shallots and cranberries, and you have the perfect companion for turkey. I am especially excited to slather this on leftovers in sandwiches. Make this sauce a few weeks ahead of time, pop it in the freezer, and you'll have one less thing to make the week of Thanksgiving. What's not to love?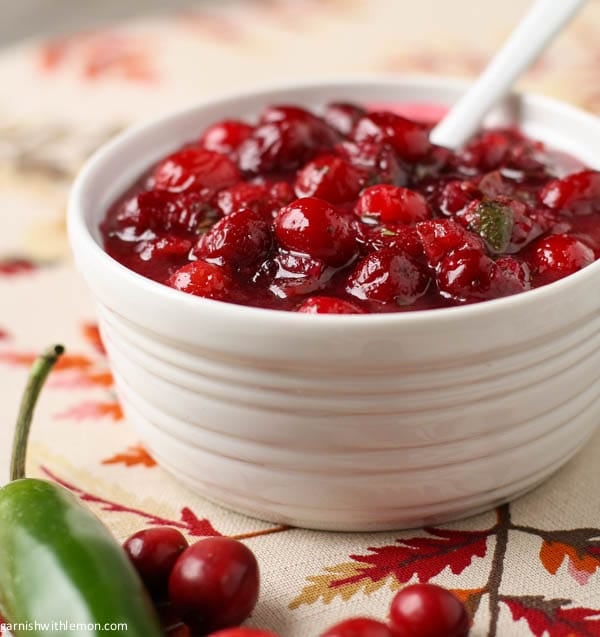 2. Cranberry Serrano Relish
This cranberry sauce from Bobby Flay is bright and smooth with a subtle heat. It is full of complex flavors and will add a new twist to your turkey day meal without overpowering it. The flavors of the red onion, serrano pepper and cranberries really develop and complement one another after a few days. Such a fun find and the earlier this is crossed off the to-do list, the better. This year, there will be something for everyone at Thanksgiving, savory or spicy.
Yield: 12
Cranberry Sauce with Dried Cherries and Cassis Cranberry Serrano Relish
A bright and smooth cranberry relish with a subtle heat.
Ingredients
1 tablespoon canola oil
1/2 cup finely chopped shallots
2/3 cup dried tart cherries
1/2 cup creme de cassis (black currant-flavored liqueur)
2/3 cup sugar
12 ounces fresh cranberries
1 1/2 teaspoons grated fresh lemon rind
1 tablespoon canola oil
1 small red onion, diced
1 (2-inch) piece of ginger root, peeled and grated
1 serrano pepper, seeded and diced
1 cup water
1/2 cup sugar
1 (12-ounce) bag of cranberries (about 3 cups)
zest of 1 lime
2 tablespoons honey
1/4 cup chopped cilantro
salt and pepper to taste
Instructions
Heat a saucepan over medium heat. Add canola oil and shallots. Saute for 3-4 minutes until the shallots are tender.
Increase heat to medium-high and add cherries, creme de cassis, sugar and cranberries. Bring mixture to a boil. Reduce heat and simmer for 8-10 minutes or until cranberries begin to pop.
Remove sauce from heat and stir in rind.
Add canola oil to a medium saucepan and cook the red onion until soft. Stir in the ginger and serrano pepper; cook 30 seconds.
Add 1 cup water and 1/2 cup sugar to the mixture and cook until sugar dissolves. Add half of the bag of cranberries (1 1/2 cups) and cook until the berries pop and the sauce thickens (about 10 minutes). Add the rest of the cranberries; cook 1 minute.
Remove the pan from heat and add the honey, lime zest and season to taste with salt and pepper. Let cranberry relish cool slightly and add the chopped cilantro.
Nutrition Information:
Yield:
12
Serving Size:
1
Amount Per Serving:
Calories:

161
Total Fat:

2g
Saturated Fat:

0g
Trans Fat:

0g
Unsaturated Fat:

2g
Cholesterol:

0mg
Sodium:

28mg
Carbohydrates:

34g
Fiber:

2g
Sugar:

29g
Protein:

1g