No holiday gathering is complete without a signature cocktail. A float of fresh cranberries makes the perfect garnish for this easy, seasonal Cranberry Vodka Gimlet cocktail.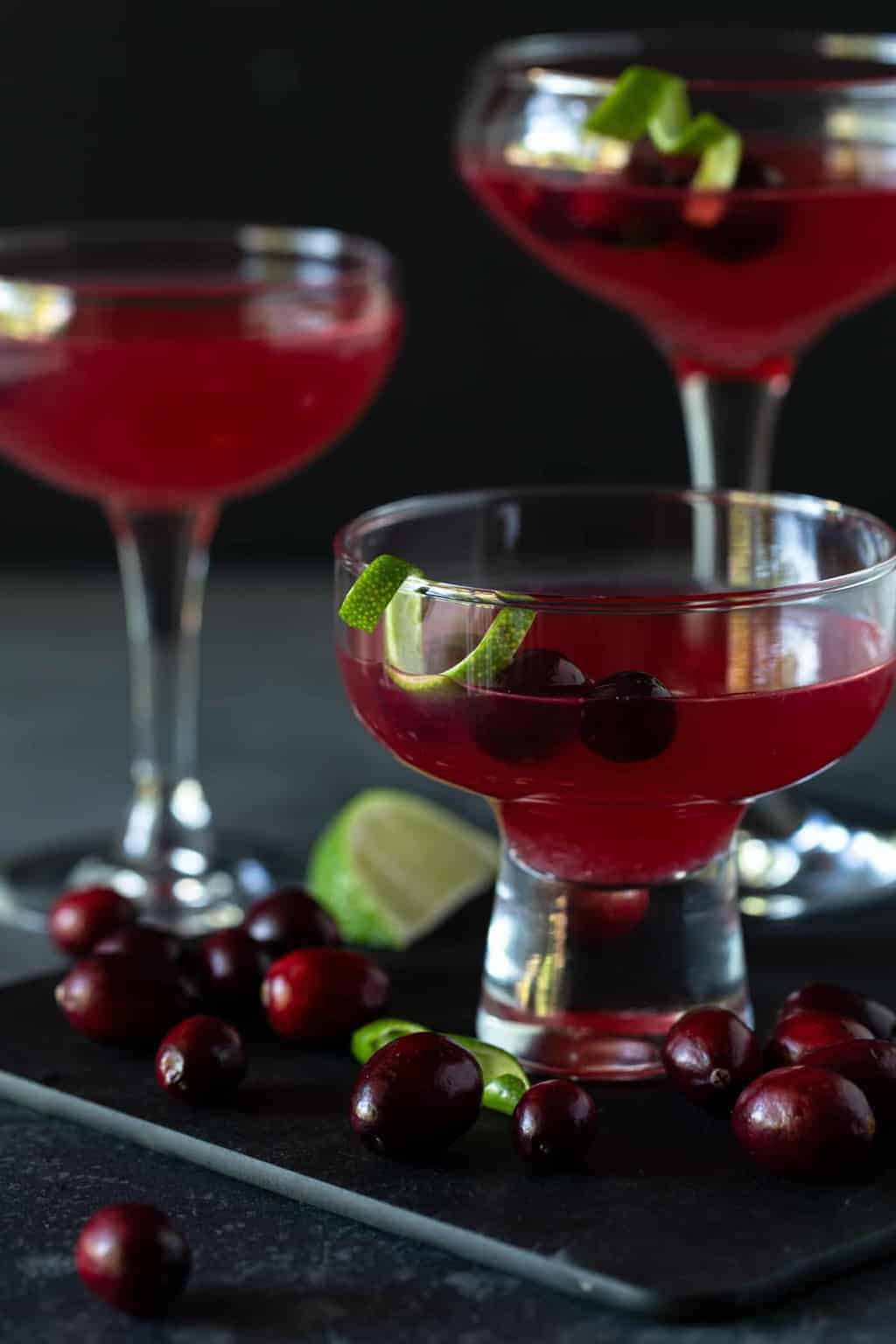 Sure, you can make a cranberry cocktail year round, but the arrival of fresh cranberries in grocery stores can only mean one thing: the holidays are just around the corner.
Need a seasonal cocktail to welcome the upcoming holidays? Look no further than this Cranberry Vodka Gimlet recipe.
It's little bit sweet, a little bit tart and has just a hint of pucker, perfect for fresh cranberry season and all of your holiday entertaining needs.
What is a gimlet cocktail?
A traditional gimlet is a cocktail usually made with gin and Rose's Lime Cordial, a sweetened lime juice.
History mentions that gimlet cocktails originated with British sailors in the 19th century. The ship doctor encouraged his shipmates to add lime juice to their gin because it was thought to prevent scurvy.

So what's in a cranberry gimlet?
Though this recipe strays from the traditional, it still follows the same pattern as a gimlet - liquor plus lime juice - along with a few extra ingredients:
Citrus vodka (instead of gin)
Fresh lime juice
Unsweetened cranberry juice
Simple syrup
Unsweetened cranberry juice vs. cranberry juice cocktail
You'll notice that this recipe calls for unsweetened cranberry juice and ask yourself if it's really necessary to seek it out.
Unsweetened cranberry juice means no additional sugars have been added to the juice where the sweetened varieties often combine additional fruit juices and sugars to mellow the naturally tart flavor of the cranberries (think apple, pear and even grape juice concentrates).
I definitely prefer the richer flavor that the unsweetened juice gives this drink, but you certainly can make this vodka gimlet with sweetened cranberry juice cocktail. Just know the results won't be quite the same. I also suggest you dial back the simple syrup if you're using sweetened juice.
How to make simple syrup:
Simple syrup is easy and inexpensive to make at home. After making it yourself, you might even wonder why anyone would buy the overpriced bottle at the store in the first place!
Step 1: Place equal amounts of sugar and water in a saucepan.
Step 2: Bring the mixture to a low boil over medium heat and cook until sugar is completely dissolved.
Step 3: Remove the pan from heat and allow syrup to cool before placing in an airtight container in the refrigerator for up to one month.

If you like a vodka cranberry cocktail, you're going to love this cranberry vodka gimlet!
One of the most recognizable and popular cocktails is a vodka cranberry. Why? Because it's super easy to make (simply mix your preferred proportions of vodka and sweetened cranberry juice). Sometimes you just want a reliable, simple cocktail after a long day.
This Cranberry Vodka Gimlet takes a minute or two longer to make than a vodka cranberry but it's totally worth that extra 60 seconds of time. The citrus gin is a perfect partner for the tart cranberry and lime juices while the touch of simple syrup rounds out the harsh edges and keeps every sip smooth.
How to make a Cranberry Vodka Gimlet
There is no rocket science or fancy smoking contraptions needed for this cocktail. The method is pretty straightforward: add ingredients to an ice-filled shaker and shake the heck out of it.
A gimlet is definitely one of those cocktails that needs to be shaken and not stirred. There are a couple of reasons for this:
1. A gimlet is served straight up and not over ice. You need to amply cool the ingredients by shaking them with ice for at least 30 seconds so they will remain chilled while you sip.
2. Cocktails with citrus juice in them should almost always be shaken because juice and alcohol have different densities. They won't mix easily unless well-shaken.

What kind of glass do I serve a gimlet in?
There are no hard and fast rules here but generally most gimlets are served like a martini in either a coupe or martini glass.
Any glass with a broad, shallow bowl will work and accommodate the more petite size of this drink nicely. Visit a high-end craft cocktail bar sometime and you'll see lots of fun variations of vintage coupe glasses.
Gimlet garnishes
If you happen to have some fresh cranberries on hand, definitely float them in this vodka gimlet. It's hardly any effort but yields a very festive effect. Small lime wedges and/or twists also work well here. Feeling fancy? Add both!

Looking for more cranberry cocktails for your holiday parties? Check our some of our favorites below:
Want more cocktail inspiration? You can find all of our cocktail recipes HERE!
Are you a gimlet fan? You HAVE to try our Cucumber Vodka Gimlet! It's super refreshing any time of year!
Yield: Makes 1 cocktail
Cranberry Vodka Gimlet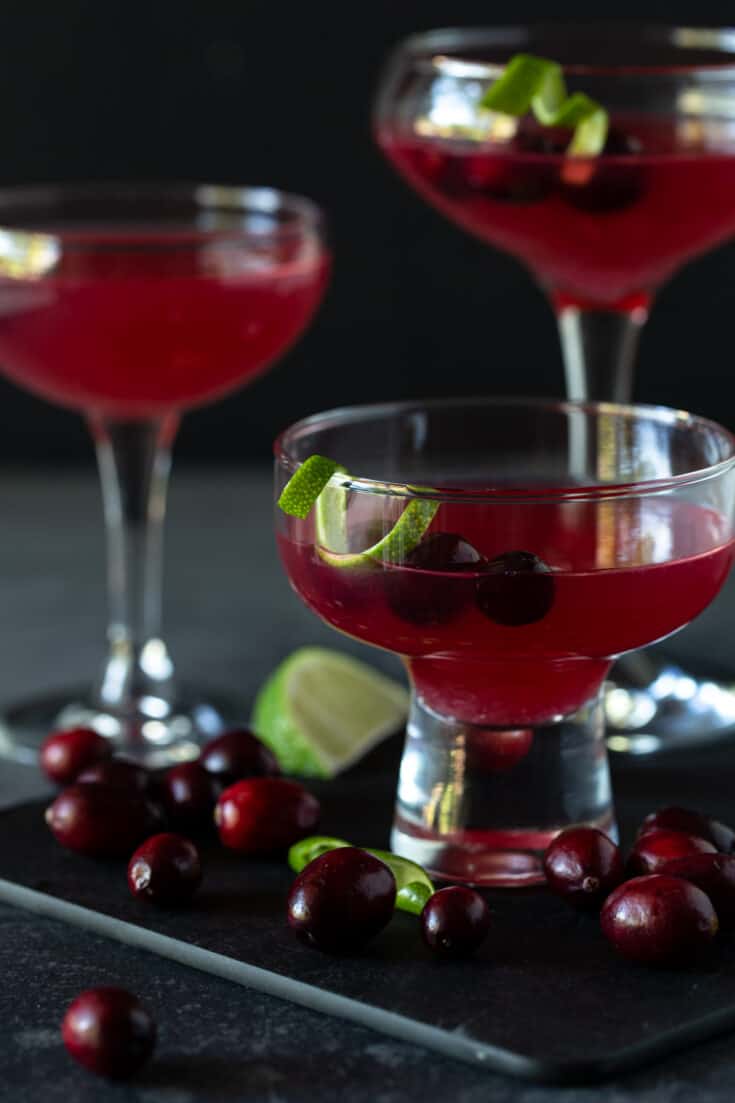 No holiday party is complete without a signature cocktail, and these easy, 4-ingredient Cranberry Vodka Gimlets are a festive touch to any holiday happy hour.
Ingredients
2 ounces citrus vodka
3/4 ounce unsweetened cranberry juice
3/4 ounce fresh lime juice
3/4 ounce simple syrup
Fresh cranberries and lime wedges, optional
Instructions
Place all ingredients in a cocktail shaker filled with ice. Shake thoroughly and strain into a coupe or martini glass. Garnish with lime wedges or twists and float fresh cranberries in glass, if desired.
Recommended Products
As an Amazon Associate and member of other affiliate programs, I earn from qualifying purchases.
Nutrition Information:
Yield:
1
Serving Size:
1 cocktail
Amount Per Serving:
Calories:

254
Total Fat:

0g
Saturated Fat:

0g
Trans Fat:

0g
Unsaturated Fat:

0g
Cholesterol:

0mg
Sodium:

5mg
Carbohydrates:

35g
Fiber:

6g
Sugar:

19g
Protein:

1g
Love a good vodka cranberry cocktail but want something a little different for your holiday parties? Look no further than these easy, crowd-pleasing Cranberry Vodka Gimlets! This 4-ingredient recipe is festive and can easily be batched and made in advance.