A float of fresh cranberries makes the perfect garnish for this seasonal Cranberry Gimlet cocktail. 

Looking for a seasonal cocktail to welcome the upcoming holidays? Look no further than this Cranberry Gimlet.  It's little bit sweet, a little bit tart and has just a hint of pucker, perfect for fresh cranberry season and all of your entertaining needs. 
Fresh cranberries have started popping up at the grocery store, and I'm excited to start my annual baking with them (this savory chutney and these sweet bars are some of my favorites!). But aside from an occasional cranberry juice mixed with vodka, cranberries haven't made much of an appearance in any of our cocktail creations until now. 
A gimlet of any sort is a pretty straightforward drink: your liquor of choice (usually vodka or gin) and lime juice. This Cranberry Gimlet has a bit of a twist, adding cranberry to the lime juice, citrus vodka and just a bit of sweet agave syrup to balance the flavors. Float a few fresh cranberries for an eye catching garnish. 
Happy hour never looked better. 
Tip: I tested this recipe using unsweetened cranberry juice because I really enjoy its pucker. If your store only has the sweetened variety, I'd suggest omitting the agave syrup to keep the sweet/tart ratio in balance. You can always add it back in if you prefer a sweeter drink.
Recommended Equipment
Yield: 1
Cranberry Gimlet
Ingredients
2 ounces citrus gin
3/4 ounce unsweetened cranberry juice
3/4 ounce fresh lime juice
1/2 ounce agave syrup
Fresh cranberries, optional
Instructions
Place all ingredients in a cocktail shaker filled with ice. Shake thoroughly and strain into a martini glass. Float fresh cranberries in class (optional).
We have even more seasonal cocktail recipes for you to enjoy this fall: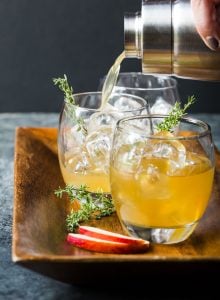 Bourbon Apple Cider Cocktails
Kahlúa French Vanilla Cooler