Need a fresh take on guacamole that will quickly go on your must-make list? We've got you covered with this Corn and Bacon Guacamole recipe!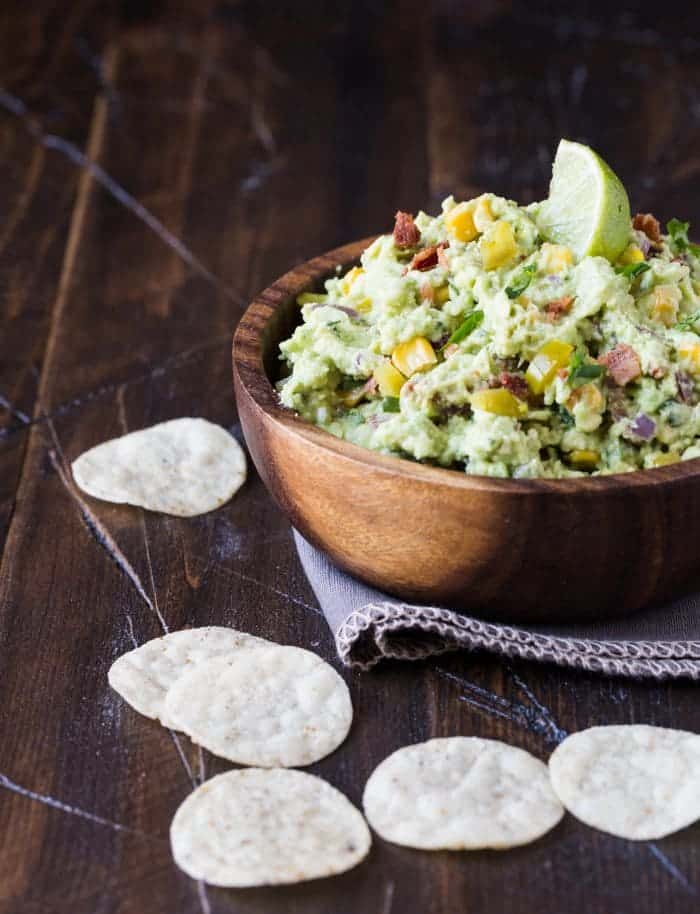 Yup, you read that right, there is bacon in this guac. Not sure what took me so long to put it there, but man, is it good! Add to that some smoky charred corn, and happy hour is looking pretty tasty in this house.
I'm always looking for new appetizers for casual gatherings, and Corn and Bacon Guacamole is a super easy and tasty way to entertain. The salty bacon and the charred corn blend perfectly with the heat of the pickled jalapeno. Squeeze a little lime juice and sprinkle some cilantro and all you need is a bowl of chips (or a spoon) to make this girl pretty happy.
There isn't a long ingredient list with this guacamole recipe and prepping ahead of time makes party day a breeze. Here's how it works: The day before the party I grill the corn while the bacon is baking in the oven. (I never fry bacon anymore, ever.) While those two are sizzling away, I diced the onions and the jalapenos. Pop everything in the fridge, and it's ready for party day. Efficient party prep is my favorite kind.
Time Saving Tip: Did you know if you microwave mashed avocado for 25 seconds before you mix in the rest of the guacamole ingredients, the avocado won't turn brown? My parents brought that tidbit back from a cooking class they took in Mexico, and I have used it ever since.
Anything that makes eating Corn and Bacon Guacamole easier is a win in my book.
RECOMMENDED EQUIPMENT
Yield: 2
Corn and Bacon Guacamole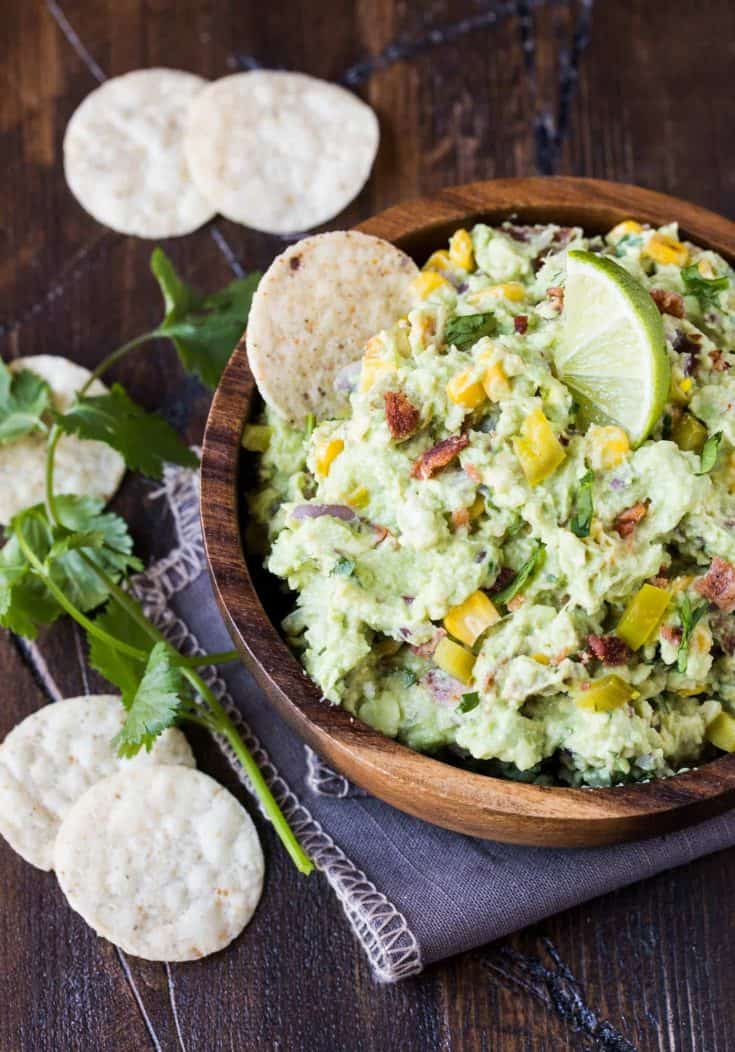 Ingredients
2 ripe avocados, mashed
2 ears corn, grilled and cut off cob
4 pieces of bacon, cooked crisp and crumbled
1/4 cup diced red onion
1/4 cup cilantro, chopped
3 tablespoons pickled jalapenos, chopped (more or less to taste)
juice of 1/2 lime (or more to taste)
Salt
Instructions
Mix avocado, corn, bacon, red onion, cilantro and jalapeno in bowl. Squeeze lime juice over the top and stir to combine. Salt to taste and adjust lime juice and jalapeno if necessary. Serve with chips.
Notes
I grill the corn, bake the bacon, diced the onions and jalapenos the day before I'm serving and store in individual containers in refrigerator to make assembly easy.
You can also use 1 cup of frozen corn that is pan seared in place of 2 ears of grilled corn.

More Tex-Mex  Favorites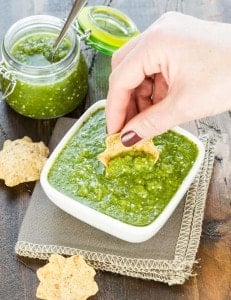 Tomatillo Salsa