Every time I make these Coconut Macaroons, people ask me for the recipe. One bite and you will, too!
My love affair with coconut began in college. I'd always enjoyed coconut prior to that, but during a study abroad class in Greece I fell head over heels for these coconut sticks you could buy from street vendors. I'm embarrassed to admit how many I ate during my stay, but how often was I ever going to be in Greece? They were likely little more than shredded coconut, sugar and perhaps condensed milk, but I still think of them fondly. No other coconut recipe has been able to top that memory…until now. These Coconut Macaroons are – hands down – the BEST I have ever tasted. I know, I know, big claim to make, but I think you'll agree with me once you try them.

These macaroons are different from many recipes out there. For starters, they use unsweetened, desiccated coconut. This is not the sweetened variety that you find in the baking aisle; it's in the dry variety over in the bulk food bins. Another big difference is most macaroon recipes use condensed milk. Not here. You use just a touch of cream cheese to keep them moist instead. Finally you pop a whole vanilla bean in the bowl and let all the yummy flecks of pure vanilla infuse the coconut mixture. When baked, the outside retains a bit of crunch and chew while the inside stays moist and soft.
No, this is not your average coconut macaroon. It's coconut bliss. 
Tip:
 Using my
small cookie scoop
made working with the sticky coconut mixture a breeze. It makes these perfectly rounded macaroons, and I don't have to struggle with sticky fingers trying to get the dough onto the baking sheet!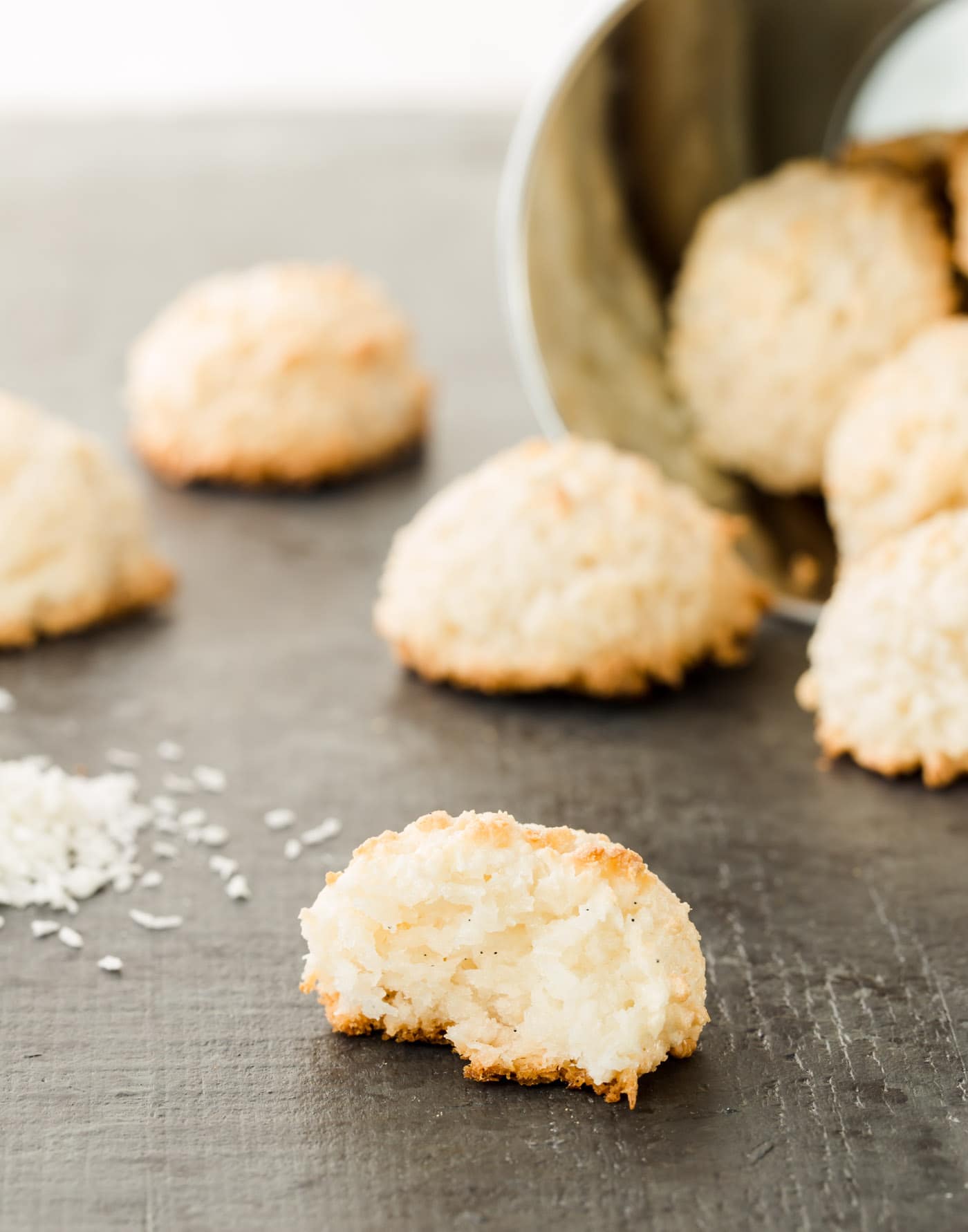 Yield: 48
Coconut Macaroons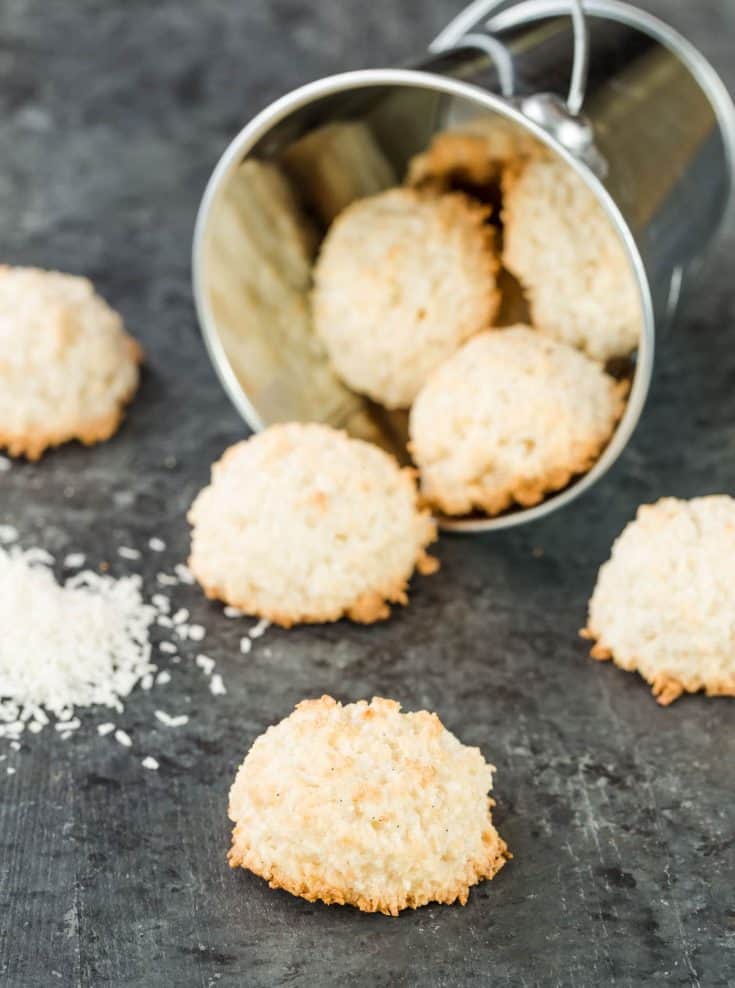 Ingredients
6 2/3 cups unsweetened, desiccated coconut, found in the bulk foods section
1 1/4 cups water
4 cups sugar
1/2 cup light corn syrup
1 teaspoon salt
3 egg whites
1 ounce cream cheese, room temperature
Vanilla bean, cut in half lengthwise
Instructions
Preheat oven to 350 degrees.
Using either a stand mixer (preferred) or hand mixer, place coconut in a large mixing bowl. In medium saucepan over medium high heat, bring water, sugar, corn syrup and salt to a boil, stirring occasionally. Remove pan from heat and pour hot liquid over coconut in the mixing bowl. Mix on medium speed until cool, about 5 minutes.
Add egg whites, cream cheese and vanilla bean to the mixing bowl and mix for 5 more minutes. Remove vanilla bean and discard. Cover the bowl and refrigerate dough for at least 30 minutes.
Scoop dough onto baking pan lined with parchment paper. Cookies should be about 1 1/2 inches round. Bake for 13-15 minutes or until lightly browned. Remove from oven and cool on the pan. Store in a single layer in an airtight container.