These Coconut Banana Bread Mini Muffins with Lime Glaze are the perfect bite-sized sweet to add to your brunch buffet!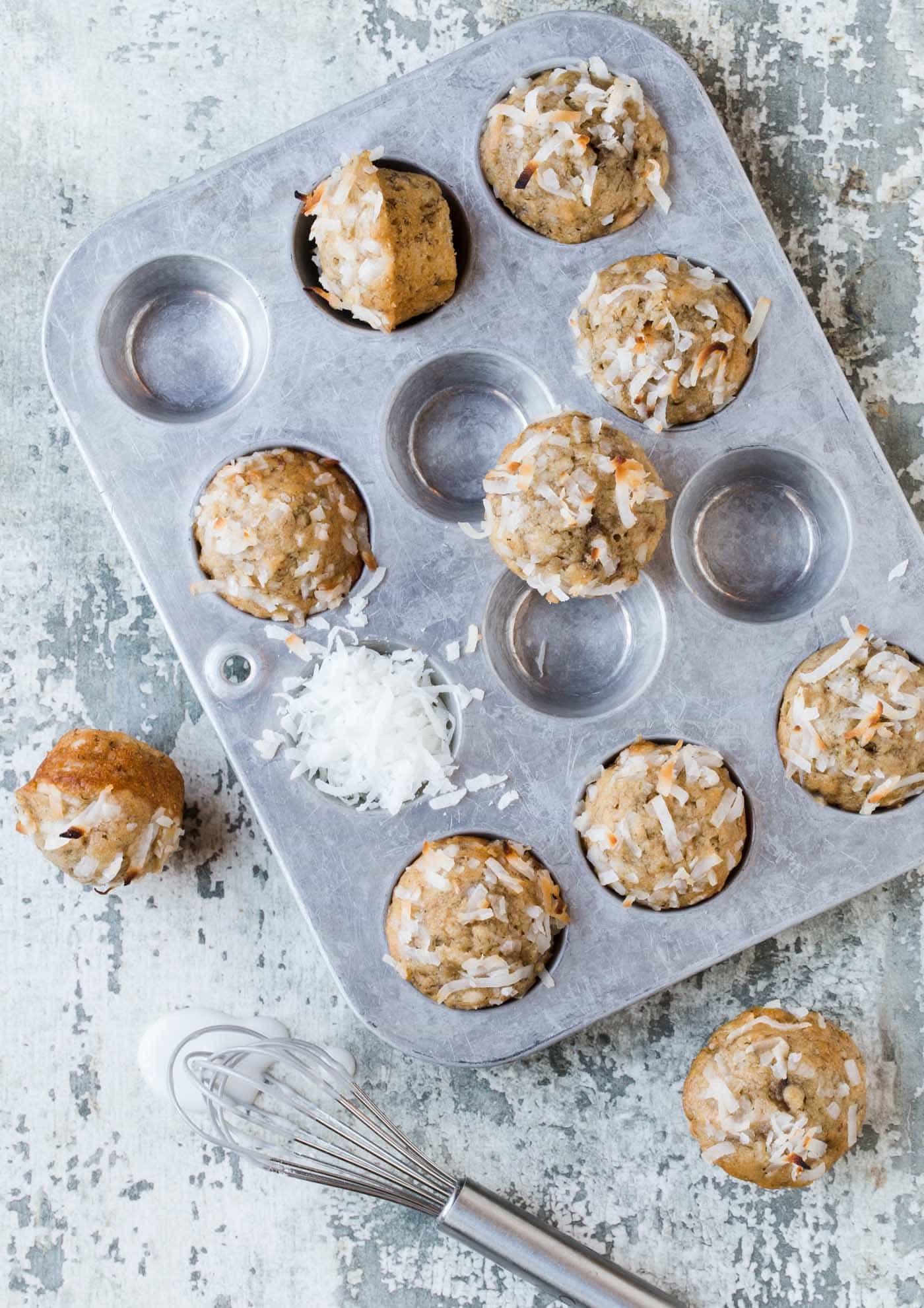 As much as I love brunch, sometimes I get a little overwhelmed by the choices. Do I fill my belly with savory entrees like this Fireman's Overnight Breakfast Casserole or this Sausage and Pepper Jack Egg Bake? Or should I go all in on the sweet treats with these Easy Cherry Cream Cheese Danish or a big slice of Grandma's Sour Cream Coffee Cake? And how do I save room for a brunch cocktail like this Mexican Mimosa? That's why I love serving these Coconut Banana Bread Mini Muffins with Lime Glaze on my brunch menu. They are the perfect bite-sized sweet to satisfy my sweet tooth while still leaving room for all of the other goodies on the spread.
Banana bread is always a crowd-pleaser, but this recipe for Coconut Banana Bread Mini Muffins with Lime Glaze takes a traditional favorite and gives it a tropical twist with the addition of sweet flaked coconut and a tart lime glaze. The moist, sweet coconut adds a lovely texture, and the lime glaze gives these muffins just the right amount of sweet-tart tang. These fresh flavors practically scream spring and would be a delicious addition to your Easter brunch buffet.
Tip: You can also make this recipe for Coconut Banana Bread Mini Muffins in a loaf pan or as regular sized muffins, if you prefer. Just extend the baking time to ensure they are cooked through.
Short on time? These Coconut Banana Bread Mini Muffins freeze beautifully. Simply defrost and drizzle with lime glaze right before serving. (Anything that can be made ahead and saves me time the day of the party automatically rises to the top of my recipe short list.)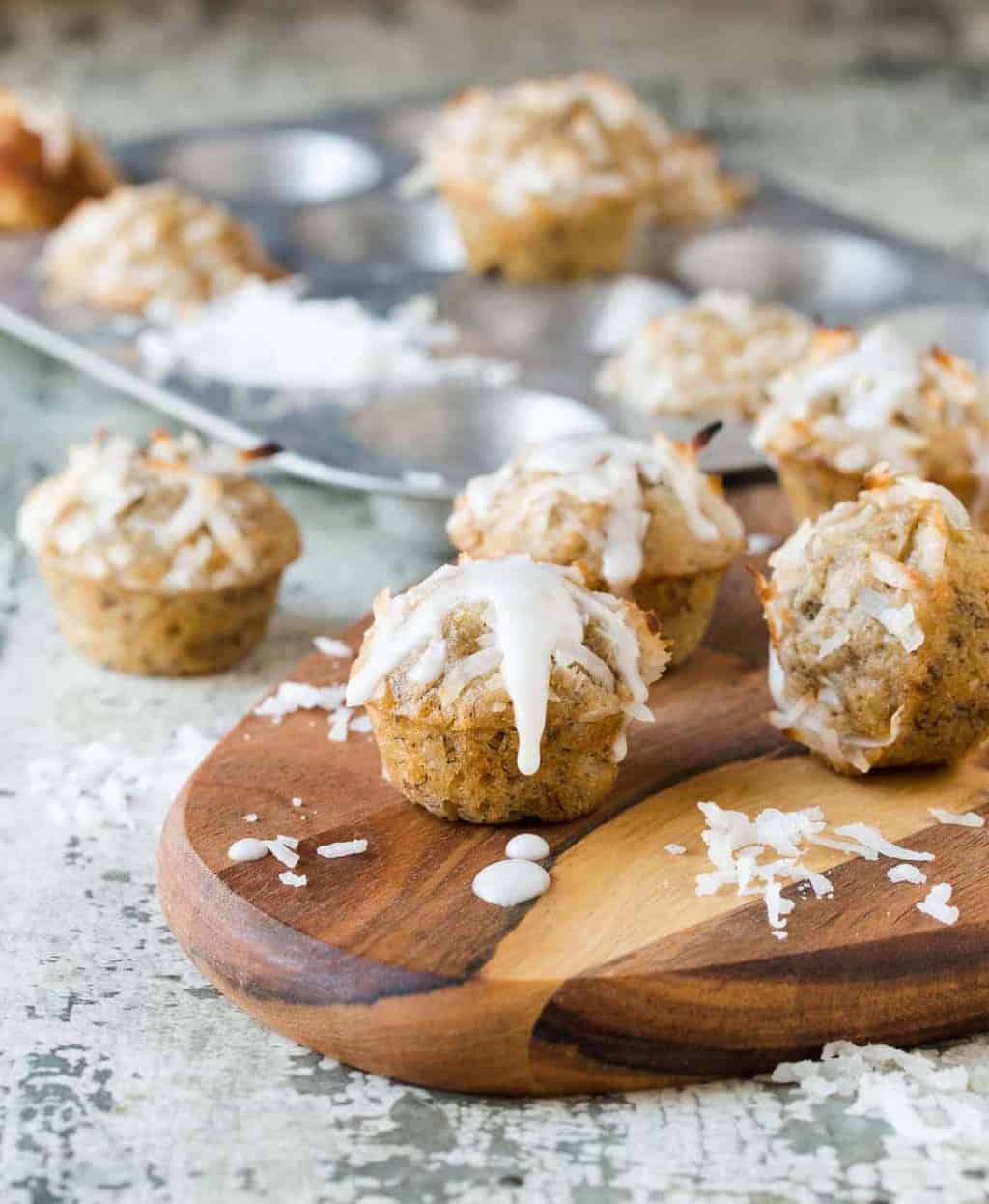 Recommended Equipment
Yield: 40-48
Coconut Banana Bread Mini Muffins with Lime Glaze
Ingredients
Muffins:
Cooking spray
2 cups all-purpose flour
3/4 teaspoon baking soda
1/2 teaspoon salt
1/2 teaspoon cinnamon
1 cup granulated sugar
1/4 cup coconut oil
2 large eggs
1 1/2 cups mashed ripe banana
1/4 cup Greek yogurt (I used vanilla flavored)
1 teaspoon vanilla extract
1/2 cup plus 3 tablespoons flaked sweetened coconut, divided
Lime Glaze:
1/2 cup powdered sugar
2 tablespoons fresh lime juice, divided
Instructions
To make the mini muffins:
Preheat oven to 350 degrees. Lightly spray mini muffin pans with cooking spray. Set aside.
Whisk together flour, baking soda, salt and cinnamon in a small bowl. Set aside.
Add sugar and coconut oil to a large bowl and mix on medium speed until thoroughly combined. Add eggs, one at a time, mixing well after each addition. Place banana, Greek yogurt and vanilla in bowl with sugar mixture and mix until blended. Gradually add flour mixture until just moist. Stir in 1/2 cup coconut. Evenly divide batter using small scoop among mini muffin pan(s) and sprinkle batter with remaining 3 tablespoons coconut. Bake for 10-13 minutes or until a toothpick inserted in the center comes out clean. Remove from pan and allow to cool on rack.
To make the lime glaze:
Combine powdered sugar and 1 1/2 tablespoons lime juice in a small bowl. If mixture is too thick, add extra lime juice until desired consistency is reached. Gently drizzle over cooled muffins.


Notes
I only have two mini muffin pans, so I have to bake one batch, respray the pans, and then refill them with the remaining batter.