Bubbles make any party festive! This 4-ingredient Classic Champagne Cocktail recipe can be ready in minutes and is guaranteed to make any occasion special.
Too often champagne or sparkling wine only makes an appearance on New Year's Eve. But this Classic Champagne Cocktail is simple, easy to make and always party-ready.
Jump to:
Ingredients
If you're a history buff, you can trace the origins of the Classic Champagne Cocktail to England in the 1800s. The original iteration of the drink included a smidge of cognac, but as the recipe has evolved over the years, the addition of cognac has often faded from the ingredient list.
Today most simple Champagne cocktails contain four ingredients:
Sparkling wine
Sugar cube (You can use brown or white sugar cubes)
Bitters
Strip of lemon or orange peel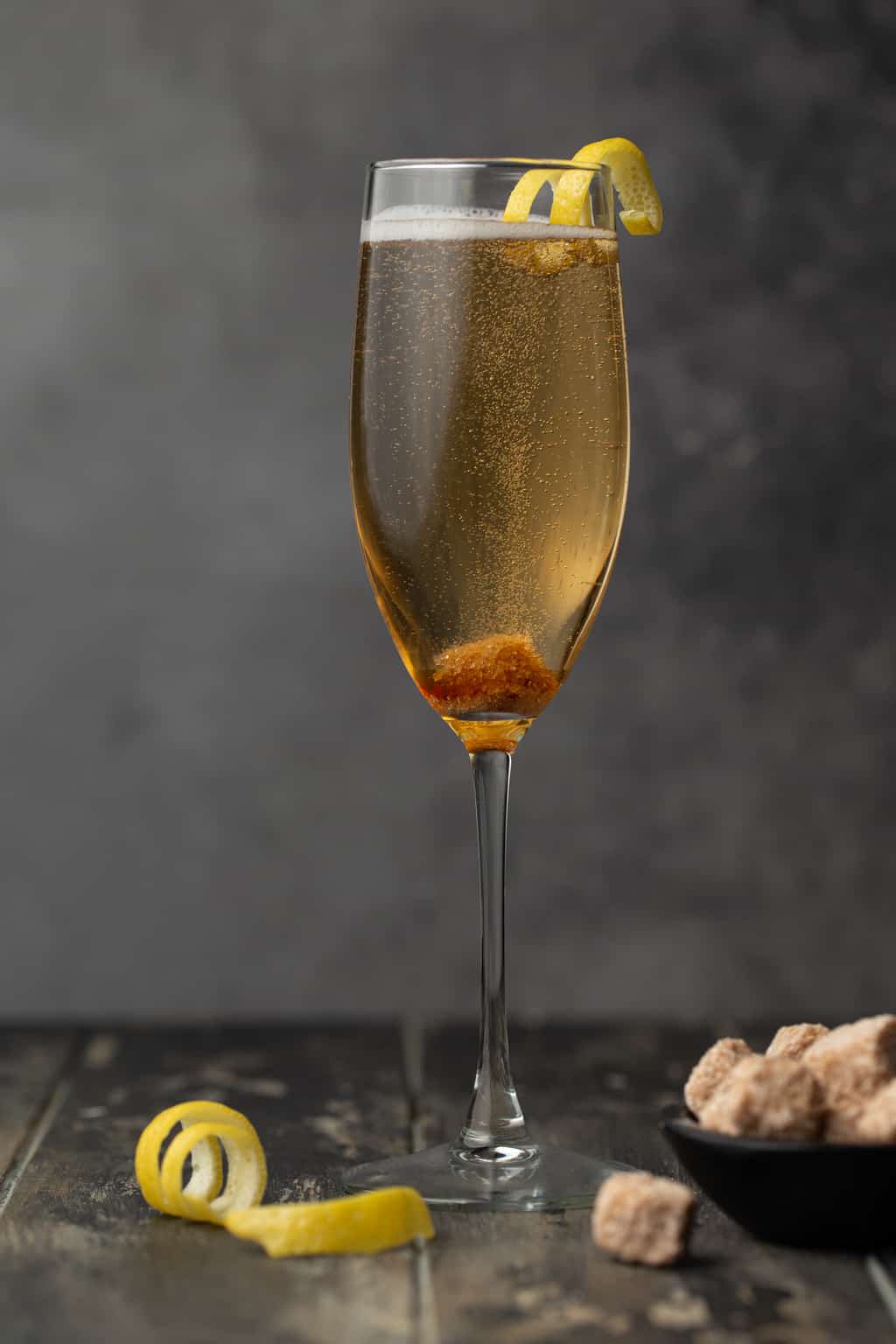 Types of sparkling wine
Quality sparkling wines are produced all over the world. The most popular varieties tend to originate in France, Spain, Italy and the United States. And they all have different names depending on where they are produced:
The United States produces a majority of its sparkling wines in California and Washington,
Spain's sparkling wine is known as Cava,
You'll find Italy's sparkling wine labeled as Prosecco,
And sparkling wine is only called Champagne if it's produced in the Champagne region of France. If it's made in other part of France, it's called Crémant.
Just like wine, you can find dry and sweet sparkling wines and everything in between. Most sparkling wine cocktails are best with dry bubbles because they often add sweet ingredients, like the bitters-laced sugar cube in this Classic Champagne Cocktail.
Not sure how to tell if a bottle of bubbly is dry or sweet? Look for these classifications on the bottles. They go in order from driest (extra brut) to sweetest (doux):
Extra Brut (driest)
Brut
Extra Dry Sec
Demi-Sec
Doux (sweetest)
A reasonably-priced brut (dry) sparkling wine makes this cocktail shine, so skip the sweeter versions of bubbles out there, especially since you are adding a sugar cube to this drink.
Instructions
As far as cocktails go, this one is pretty straightforward:
Add 5-6 drops of bitters to a sugar cube and place the cube in your flute.
Slowly pour sparkling wine into flute. You'll have to stop and allow the foam to subside before completely filling glass.
Garnish with lemon twist.
Tips
Even though making this drink is pretty straightforward, you'll want to check out these tips for making the BEST champagne cocktails:
Make sure your sparkling wine is well-chilled. Sparkling wine tastes best when it is cold.
Use chilled flutes, if possible, to keep your cocktails cool for a bit longer.
You do add sugar to this drink, but that doesn't make up for bad wine, so don't cheap out on your wine purchase. A trusted liquor store will be able to point you in the direction of a $15-20 bottle of brut sparkling wine that will work well with this cocktail. One of my faves is Gloria Ferrer Brut.
The easiest way to combine the sugar cube and bitters is to place a sugar cube on a spoon, sprinkle the bitters over the cube and then use the spoon to slide the cube into the flute. A bar spoon works really well for this because of its long handle.
Alternately, you can also pop the cube straight into the flute and shake the bitters over the top of it. This method results in a little messier presentation because the bitters tend to spray all over the sides of the flute when you try to shake them out of the bottle.
Pour small amounts of wine into the glass at a time, or you will end up with a foamy mess all over the counter. After the foam has subsided, continue pouring small amounts until the glass is full.
Garnish with a strip of lemon zest or other citrus fruit for a bit of brightness. (Tip: This peeler is my new favorite. Super sharp, easy to handle, and the blade can be replaced, too.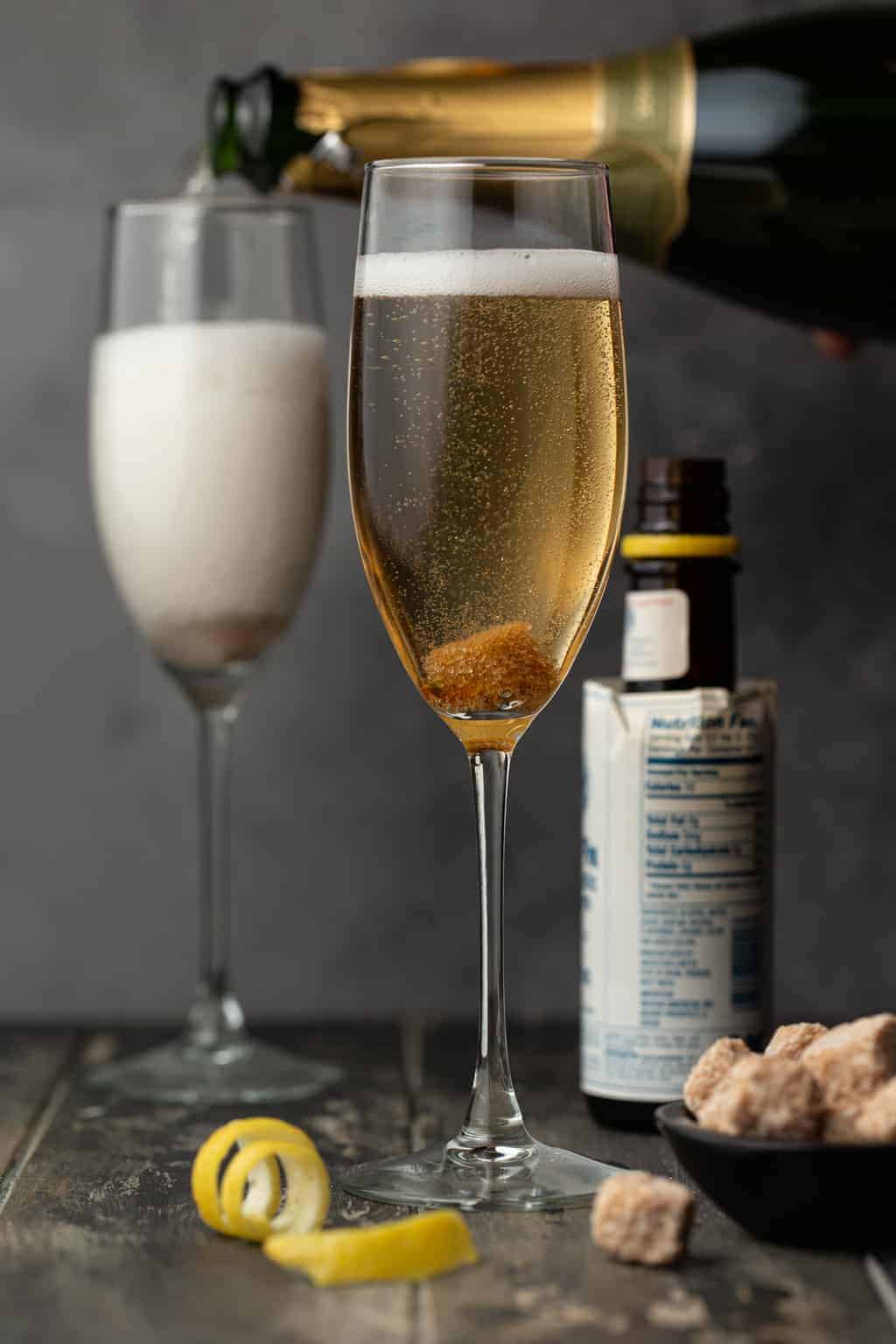 FAQs
What type of glass is best for this drink?

Some wine experts claim that champagne flutes actually do a disservice to the wine because they are skinny and don't allow you to swirl the wine to expose it to air and bring out its best flavors. They claim one of the best glasses for achieving the optimal flavor from your sparkling wine is actually a tulip-shaped wine glass.

But on average, most people only drink sparkling wine a handful of times every year, so any moderately priced bottle of sparkling wine works perfectly well in traditional champagne flutes.

I like using flutes for this champagne cocktail for the exact reason that wine experts don't like it: because they ARE skinny and they don't expose the wine to as much air. The result is the bubbles and carbonation last longer. Add a sugar cube to the drink and you get extra bubble action as it reacts with the sparkling wine.

While you can certainly use stemless champagne flutes, I prefer ones with at least a little bit of stem. Since there is no ice in the cocktail, you want your drink to stay chilled as long as possible. Holding the glass by the stem versus the flute directly ensures you are not transferring body heat to the glass.
How do you make a citrus twist?

I actually had to google how to make a citrus twist a few times before I found a method I like, but this one seems to work the most consistently:

1. Cut a thin slice of lemon (or orange).
2. Carve out the interior fruit, leaving the rind and a just a bit of the pith intact.
3. Make a small cut in the rind so it is no longer a circle and you have one long piece of rind. At this point you can trim the size of the rind to make a smaller twist or leave it long for a larger twist.
4. Tightly twirl the rind around your finger, a pen or even a chopstick and hold together for a few seconds to help the rind retain its shape.
More Prosecco cocktails
The variety of cocktails made with sparkling wine means you can enjoy bubbles at nearly any occasion from morning until night. Here are some of our favorites.
Mimosas rule the brunch circuit, and setting up a DIY Mimosa Bar is an ideal way for guests to help themselves to late morning libations.
If you feel like serving a signature brunch cocktail, you can't go wrong with either a Mexican Mimosa, a Cranberry Mimosa or a Sparkling Pomegranate Mimosa. Looking for something a little more unique? Our Ginger Grapefruit Prosecco Cocktail is always a crowd-pleaser.
If you're a bourbon lover, you have to try these Bourbon Aperol Cocktails that are finished with just a splash of bubbles to keep them from being too heavy.
Rum fans will love these Pomegranate Prosecco Cocktails and their drop dead gorgeous color.
And even the classics get a flavor boost from elderflower liqueur in these bubbly French 75 cocktails.
Find all of our Prosecco & champagne cocktail recipes in our archives!
Recipe
Classic Champagne Cocktail
Bubbles make every occasion special, and this easy, 4-ingredient Classic Champagne Cocktail is party-ready.
Ingredients
6

sugar cubes

brown or white

36

drops of Angostura bitters

divided

1

750 ml bottle Brut Champagne or sparkling wine, well-chilled

Strips of lemon or orange peel

optional
Instructions
Soak each sugar cube with 5-6 drops of bitters. Drop into champagne flutes.

Slowly pour Champagne into flutes, pausing to let the foam subside. Continue filling until full.

Garnish with citrus, if desired.
Notes
Make sure your wine is well-chilled before serving since there is no ice in this cocktail to keep it cool.
Nutrition
Serving:
8
ounces
Calories:
156
kcal
Carbohydrates:
8
g
Sodium:
8
mg
Fiber:
1
g
Sugar:
5
g
Nutrition info not guaranteed to be accurate.
It's easy to add a dash of festivity to any party with these easy, 4-ingredient Classic Champagne Cocktails! This recipe can be made in just a few minutes and will instantly make any occasion special.