Shake up your salsa routine with this crunchy and refreshing Chunky Avocado Jicama Salsa recipe!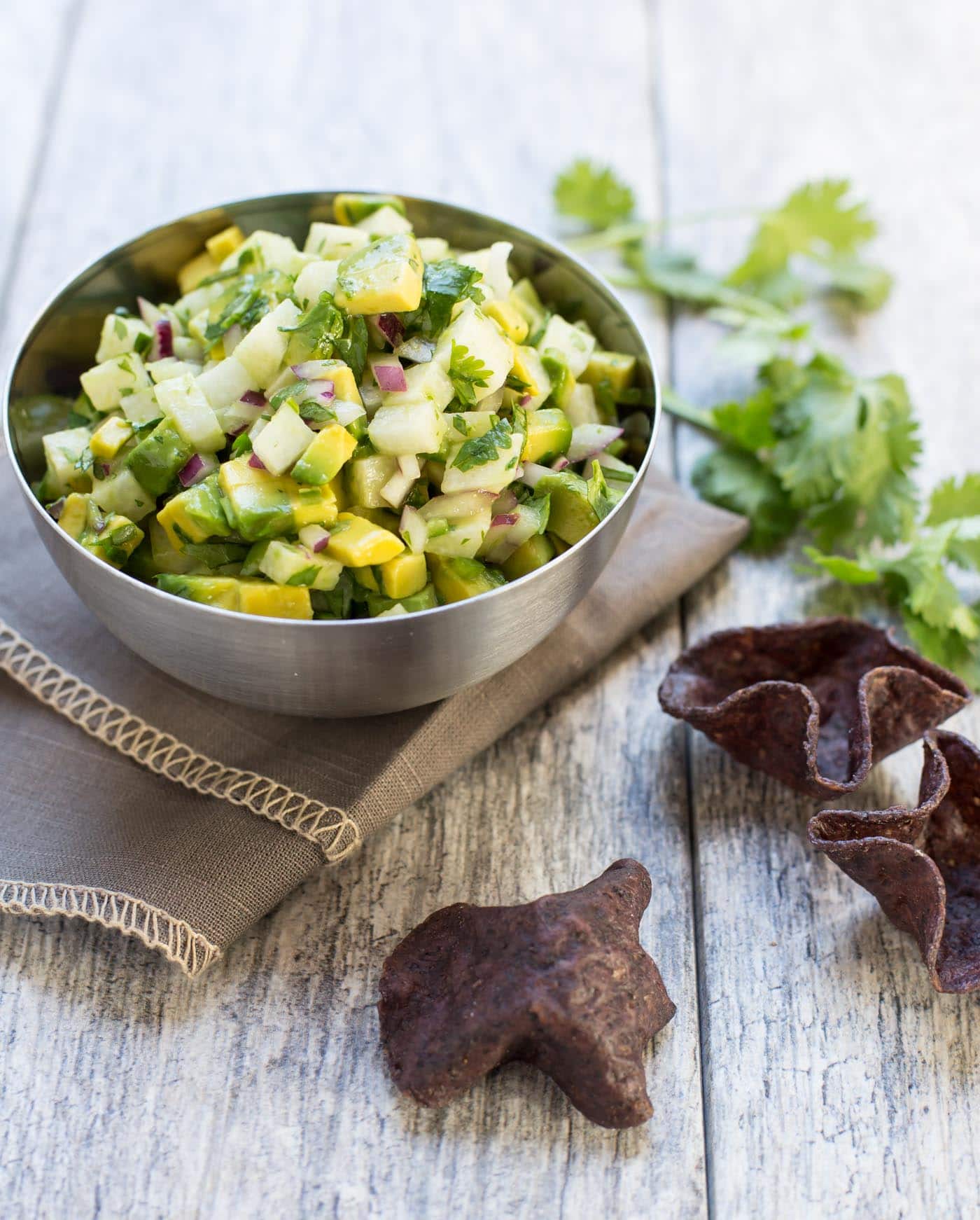 My mother-in-law gave me a copy of the Hay Day Country Market Cookbook years ago. I think it might even have been before or shortly after we were married (we're talking a loooong time here, people), but I love that I still find interesting recipes to try every time I pick it up. That's the sign of a good cookbook, in my opinion. This Chunky Avocado Jicama Salsa caught my eye during our most recent heatwave, and it did not disappoint. Cool and refreshing, this salsa is my new snacking crush.
I love jicama for its juicy crunch and mildly sweet flavor, but I've never ventured to use it much past veggies and dip. Thank goodness I stepped outside my box because this Chunky Avocado Jicama Salsa is tailor-made for salty tortilla chips and homemade margaritas.
A couple of tips to keep in mind when making this salsa recipe:
Grab those firmer avocados you always find at the store when you need perfectly ripe ones. (Not rock hard, mind you, but definitely not guacamole material.) They are perfect for this recipe. A firmer but still ripe avocado will retain its shape better when chopped and stirred in with the jicama.
You can definitely make this earlier in the day before serving. Simple press a piece of plastic wrap right onto the surface of the salsa and pop in the fridge. The plastic wrap helps keep the avocado from browning.
I used serrano peppers in this recipe, but you can use jalapeños if you prefer less heat.
Tip
: Jicama has a tough, thick skin. Skip the vegetable peeler for this one and use a sharp knife to cut off the skin instead. Much easier and less time consuming. This
smaller sized chef's knife
is a workhorse in my kitchen.
Recommended equipment:
Yield: 4 cups
Chunky Avocado Jicama Salsa
Ingredients
2 cups peeled, diced jicama
1/2 cup diced red onion
1 teaspoon minced garlic
1-2 serrano chile peppers, seeded and minced
1/3 cup fresh lime juice
2 tablespoons fresh orange juice
1/3 cup chopped cilantro
2 firm ripe avocados, peeled, pitted and diced
Salt to taste
Instructions
Combine the first 7 ingredients (jicama through cilantro) in a bowl and gently stir to combine. Stir in the avocado. Add salt to taste.
Notes
Serve immediately or allow to chill for a few hours before serving (with plastic wrap pressed onto the surface of the salsa).
Nutrition Information:
Serving Size:
810
Amount Per Serving:
Calories:

107
Total Fat:

8g
Carbohydrates:

10g
Protein:

2g