Sometimes you need to go big or go home and this Chocolate Pie is the perfect way to do just that.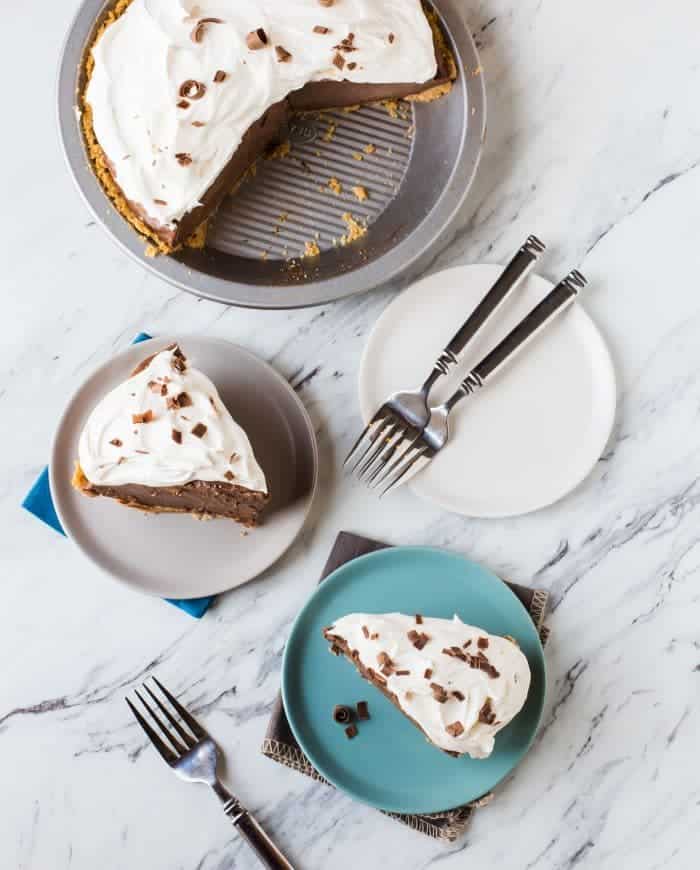 The trend these days is to eat healthy, real food full of whole grains and low in saturated fat. Sometimes healthy eating can taste so good, you don't even notice the substitutions.  But there are times when low fat and healthy just doesn't cut it, and this Chocolate Pie is one of those times. Once you try it, I think you'll agree with me. 
This is one rich, creamy, dreamy Chocolate Pie that takes me right back to my childhood. When I was growing up, my mom made us pies all of the time. We enjoyed a new dessert every night. (I wish I knew how lucky I was at the time.) 
I had no idea that you could buy cake mixes in boxes, and I certainly had never had a store-bought pie. That was just how our family rolled. No judgments on anyone who does things differently; homemade was just what we knew because my mom loves to cook. Luckily her passion was passed on to me.  
This Chocolate Pie has always been a family favorite. My mom made this frequently when we were growing up and now, it's one of our Thanksgiving desserts. How fabulous is that? And you know what makes it ever better?  It's a vanilla wafer crumb crust, so you don't have to roll out a pie crust. Such a great contrast with the chocolate cream filling, and oh, so delicious.
Yeah, this pie says, go big or go home. And it is worth every.single.bite.
Make-ahead Tip: This pie freezes well, however, wait to top with the whipped topping until you are ready to serve it!
Recommended Equipment
This decadent chocolate pie topped with whipped cream will take you right back to your childhood! It is just like the special dessert your mom used to make!
Total Time
6 hours
35 minutes
Ingredients
2½ cups vanilla wafer crumbs
6 tablespoons melted butter
¼ cup sugar
3½ ounces bittersweet chocolate chips
2 ounces semi sweet chocolate chips
4 ounces unsweetened chocolate, chopped
1 cup sugar
1/2 cup corn starch
3/4 teaspoon salt
6 large egg yolks
4 1/2 cups whole milk (or 2%)
3 tablespoons butter
1 1/2 teaspoons vanilla
1½ cups whipped cream for topping
Instructions
Preheat the oven to 350 degrees.
Mix the first three ingredients together. Press into a ten-inch pie plate. Bake for 8 minutes. Cool and set aside.
In a microwave safe bowl, heat chocolates and butter until just melted. Reserve.
In a heavy sauce pan, whisk together sugar, corn starch, salt and egg yolks until combined. Add milk gradually whisking all the while. Bring the milk mixture to a boil over medium heat (takes 7-10 minutes) and stir until boiling. Once boiling, boil for 1-2 minutes, until thick-like pudding. Stir in melted chocolate and butter mixture and vanilla. Cover surface and cool.
Pour cooled filling into the cooled crust and chill at least 6 hours. Cover with whipped cream before serving.
Nutrition Information:
Yield:
8
Serving Size:
1
Amount Per Serving:
Calories:

780
Total Fat:

46g
Saturated Fat:

25g
Trans Fat:

1g
Unsaturated Fat:

18g
Cholesterol:

220mg
Sodium:

542mg
Carbohydrates:

79g
Fiber:

5g
Sugar:

51g
Protein:

15g