Need a dessert for the big game? Look no further! These chewy Chocolate Peanut Butter Oatmeal Bars have a double dose of peanut butter and are party ready in 30 minutes!
I have a confession to make: I throw desserts out.
Can you believe it? You may already know that I truly dislike leftovers of any kind, and, unfortunately, I have passed this trait on to my children. Now they won't even eat leftover dessert. That, my friends, takes not eating leftovers to a whole new level!
Last week I made a pan of bars that sounded amazing on paper. They had 4 layers of goodness – brownies, caramel, nougat, and ganache. Seems like a slam dunk dessert, right? Well, apparently not as I still have ¾ of that pan sitting in my fridge. Not only were they underwhelming, but they were rather putzy to make. Clearly my ROI here was not good. So I regrouped and tried something else. Now these Chocolate Peanut Butter Oatmeal Bars that took 30 minutes from oven to table? Devoured. Every last crumb.
In my family, the best desserts are often the simple ones, especially when they have chocolate and peanut butter. These chewy Chocolate Peanut Butter Oatmeal Bars have an oatmeal and peanut butter base with a chocolate and peanut butter frosting – best combo ever!
Can a dessert get any better? Only when you probably have all the ingredients in your pantry right now. These bars couldn't be easier to make. Just measure, stir and bake. Add some chocolate chips when they come out of the oven and drizzle some peanut butter frosting on top. Voila! Perfection on a plate.
And a dessert that is gone before I have to throw it out? An endorsement in and of itself!
Chocolate Peanut Butter Oatmeal Bars
32
adjust servings
Ingredients
1/2

cup butter, softened

1/2

cup granulated sugar

1/2

cup packed brown sugar

1

egg

1/3

cup peanut butter

1/2

teaspoon baking soda

1

teaspoon vanilla

1/2

teaspoon salt

1

cup flour

1

cup oats

1 1/2

cups semisweet chocolate chips

1/3

cup powdered sugar

3

tablespoons peanut butter

2-3

tablespoons milk
Instructions
Preheat oven to 350 degrees.
In a medium bowl, beat butter with an electric mixture until fluffy (1 minute). Add sugars and beat until thoroughly incorporated. Add the egg and mix well. Add the peanut butter, baking soda, vanilla and salt. Mix well. Stir in flour and oats.
Spread mixture into a greased 13 x 9 x 2 baking pan. Bake for 15-18 minutes, or until edges are light brown.
Remove from oven and sprinkle top with 1 1/2 cups chocolate chips. Wait 5 minutes for them to soften and smooth the top with a spreader.
In a small bowl, stir together powdered sugar and peanut butter. Add milk one tablespoon at a time to get to desired consistency. Drizzle across the top.
Cool, cut into squares and serve.
Did you make this recipe? We'd love to see it! Snap a pic of your creation and tag it #GarnishWithLemon. We might even feature your photo on social media!
 More Chocolate and Peanut Butter goodies!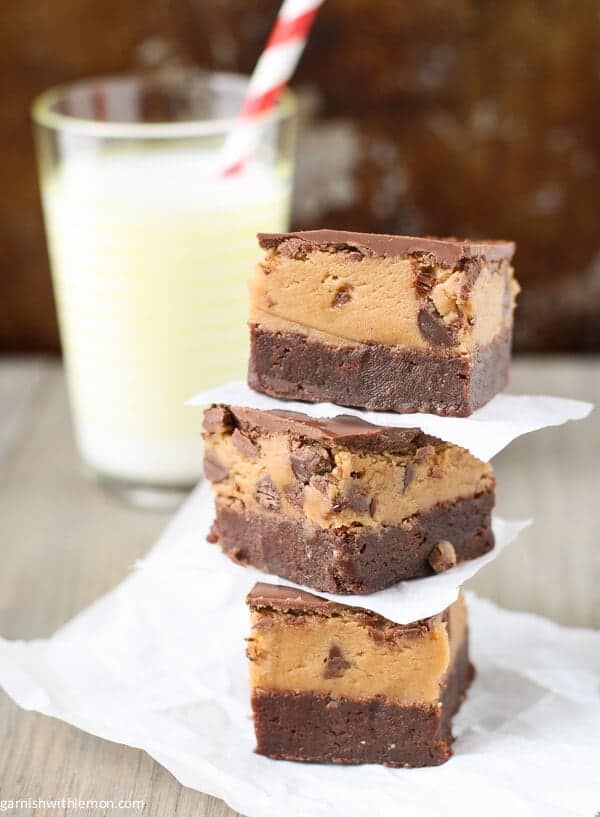 Peanut Butter Cookie Dough Brownies
Chocolate Caramel Peanut Stacks