You can never go wrong when you pair chocolate and Irish cream. We combine them both in one spectacular dessert with this Chocolate Mud Pie Bars Recipe.
Everyone loves layers, especially when they include chocolate. After all, what's better than chocolate brownie topped with whipped cream topping? Add a chocolate graham cracker crust and some Kerrygold® Superior Irish Cream Liqueur to the mix, and you have a chocolate dessert nirvana. Summer entertaining doesn't get any more delicious than this Chocolate Mud Pie Bars Recipe.

What is mud pie?
Mud pie? Sounds like a terrible name, right? Who wants to eat mud? The term "mud pie" comes from the rich, dark layers of chocolate crust and chewy brownie in this recipe. But the rich chocolate wasn't enough for us, so we took it a step further and added a splash of Kerrygold® Superior Irish Cream to enhance the chocolate taste even more. You're welcome.
Why make pie bars instead of a pie?
In a nutshell, it's easier. Easier to get your layers even. Easier to get out of the pan, and, most importantly, easier to serve. After all, show me how to always get the first piece of pie out and have it look pretty, and I'm all ears. With these chocolate mud pie bars you don't need to worry. Every piece looks perfect and tastes even better.
Team cold brownie or warm brownie?
Do you like your brownies warm from the oven or chilled in the fridge? Which camp do you fall in? I tend to side with those who prefer them cold (plus they are easier to slice) but would never turn a warm one down either. However you prefer to serve them, you can't go wrong with these layers of chocolate goodness.
What are you waiting for? Make a batch today and pop them in the freezer for your next party. Simply defrost before serving and dessert is done. Chocolate, Irish Cream and Whipped Cream. Enough said.
You can thank me later.
Dessert bars are always a hit with a crowd. Bring some of these favorites to a party and watch them disappear.
Gooey Baked S'mores Bars – Garnish with Lemon®
Triple Chocolate Coconut Brownies – A Farmgirl's Dabbles
Blueberry Crumble Bars – Garnish with Lemon®
Creamy Margarita Pretzel Bars – Saving Dessert
Snickerdoodle Bars – Garnish with Lemon®
Disclaimer: This post was sponsored by Kerrygold. We only share products with you that we love and use all the time. Thanks for supporting the companies that make Garnish with Lemon possible.
Yield: 16
Chocolate Mud Pie bars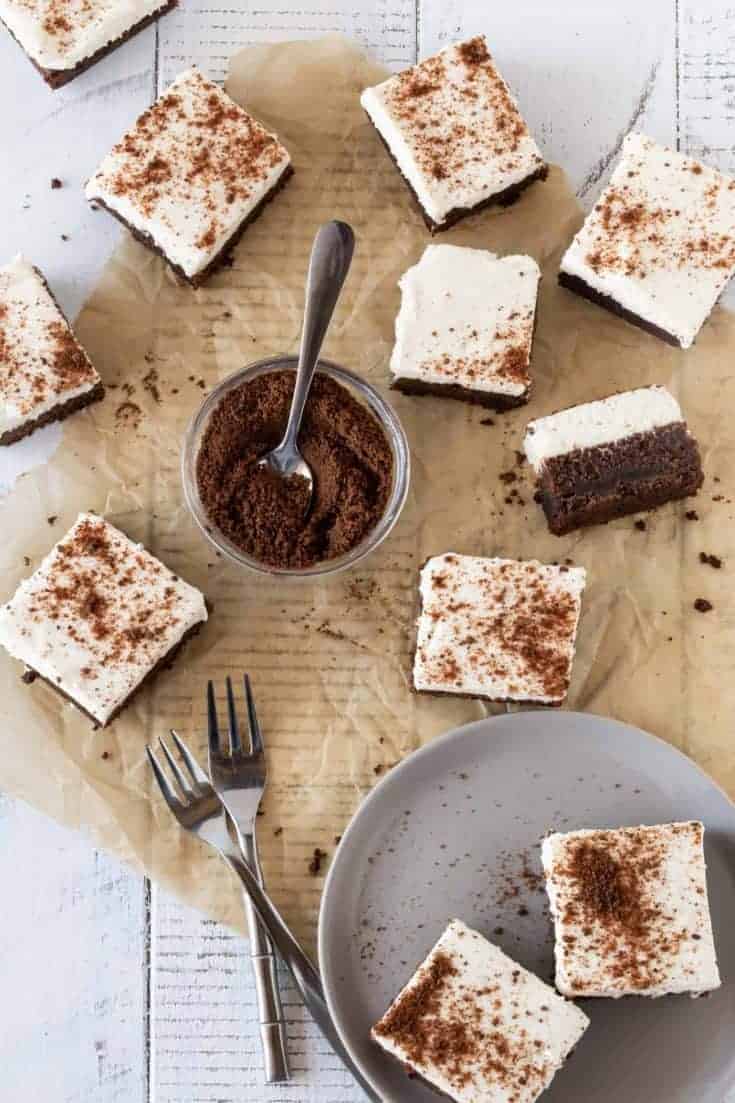 These decadent bars are filled with layers of chocolate and Irish Cream frosting are the perfect sweet ending to a meal.
Ingredients
2 cups chocolate graham cracker crumbs (reserve 1 tablespoon for dusting)
6 tablespoons melted butter
8 tablespoons unsalted butter, softened
2 ounces unsweetened chocolate
2 tablespoons flour
1/4 teaspoon salt
1 1/4 cups sugar
2 tablespoons light corn syrup
3 tablespoons Kerrygold® Superior Irish Cream Liqueur
3 large eggs
4 ounces cream cheese, softened
1/2 cup powdered sugar
1 tablespoon Kerrygold® Superior Irish Cream Liqueur
1 cup heavy whipping cream
Instructions
Preheat the oven to 375˚ and line an 8x8 square baking pan with parchment and set aside.
To make the crust:
Combine chocolate graham cracker crumbs and melted butter in a small bowl. Pour into prepared pan and press into pan. Bake in preheated oven for 6 minutes.
To Make the Filling: 
In a medium saucepan, place 8 tablespoons butter and 2 ounces unsweetened chocolate. Heat over low heat and stir until melted. Remove from heat. Stir in flour, salt, sugar, Kerrygold® Superior Irish Cream Liqueur, and corn syrup. Add eggs one at a time stirring well after each addition.
Pour into prepared crust and bake for 25-30 minutes or until tester comes out clean.
To make the topping:
Place softened cream cheese and powdered sugar in bowl and beat smooth. Add Kerrygold® Superior Irish Cream and stir to combine.
In another bowl beat whipping cream until firm peaks form. Add cream cheese mixture and beat until combined.
Spread over brownie layer and dust with remaining cookie crumbs.
Refrigerate until serving.
Nutrition Information:
Yield:
12
Serving Size:
1
Amount Per Serving:
Calories:

584
Total Fat:

33g
Saturated Fat:

18g
Trans Fat:

0g
Unsaturated Fat:

12g
Cholesterol:

115mg
Sodium:

367mg
Carbohydrates:

63g
Fiber:

2g
Sugar:

47g
Protein:

6g