Everyone loves cheese and bacon! You will wow your guests with this Smoky Chipotle Bacon Cheese Ball!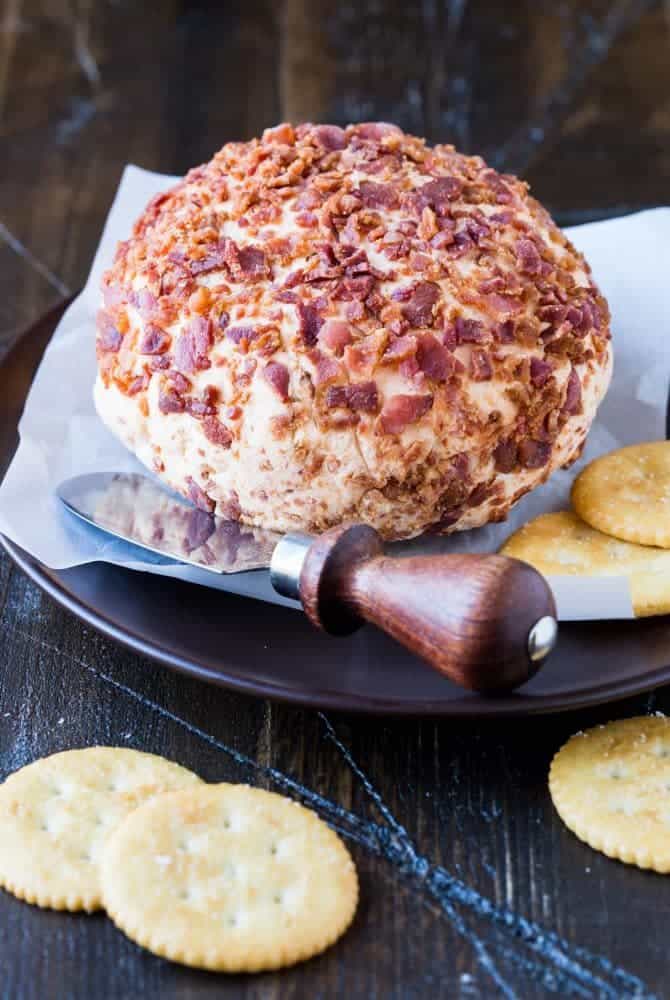 Last month, I had the pleasure to be invited on a trip with the American Dairy Association Mideast and the Ohio Dairy Farmers to discover more about dairy farming. Um, did someone say cheese? I'm in! I had an amazing time, met 8 other incredibly talented bloggers, learned more than I ever expected about how milk makes it from cow to glass and ate my fill of nearly every dairy product I could get my hands on! Here are some of the highlights of my experience:
We started our first morning at the crack of dawn with a visit to Richman Dairy Farms, a small family farm with 80 cows, run by the Indoe family. It was fascinating to learn about the milking process. And I even milked a cow! Yup, her name was Jill (see her pic below), and we were fast friends. Isn't she pretty?
The second farm we visited, Andreas Dairy Farms, was equally impressive but for different reasons. The sheer size of this farm was amazing, and it was impeccably run. They have 33 full-time employees and milk about 1300 cows 3 times a day. Contrary to many misconceptions, the cows on both farms are always kept comfortable, have plenty of fresh water and nutritional feed available. Seriously, if you ever get a chance to visit a dairy farm, do it! It is amazing to see where our milk comes from. And the pride the farmers take in their work is heartwarming. Everyone should be so passionate about their careers.
The eight bloggers overlooking the beautiful Ohio countryside: Willow- Will Cook For Friends; Tanya- Lemons for Lulu; Jocelyn- Inside BruCrew Life; Lindsay-The Lean Green Bean; Karly- Buns in My Oven; me; Aimee- Shugary Sweets; Christina- Dessert for Two; and Erin- The Law Student's Wife
Next stop: Pearl Valley Cheese. Hello, heaven! I learned that Ohio is the largest Swiss cheese producer in the United States (who knew?), so I couldn't wait to taste their cheese. Did you know the holes in Swiss cheese are called eyes, and the size of these holes determines the grade of the cheese? You haven't had good Swiss cheese until you have had Pearl Valley Swiss cheese. Trust me.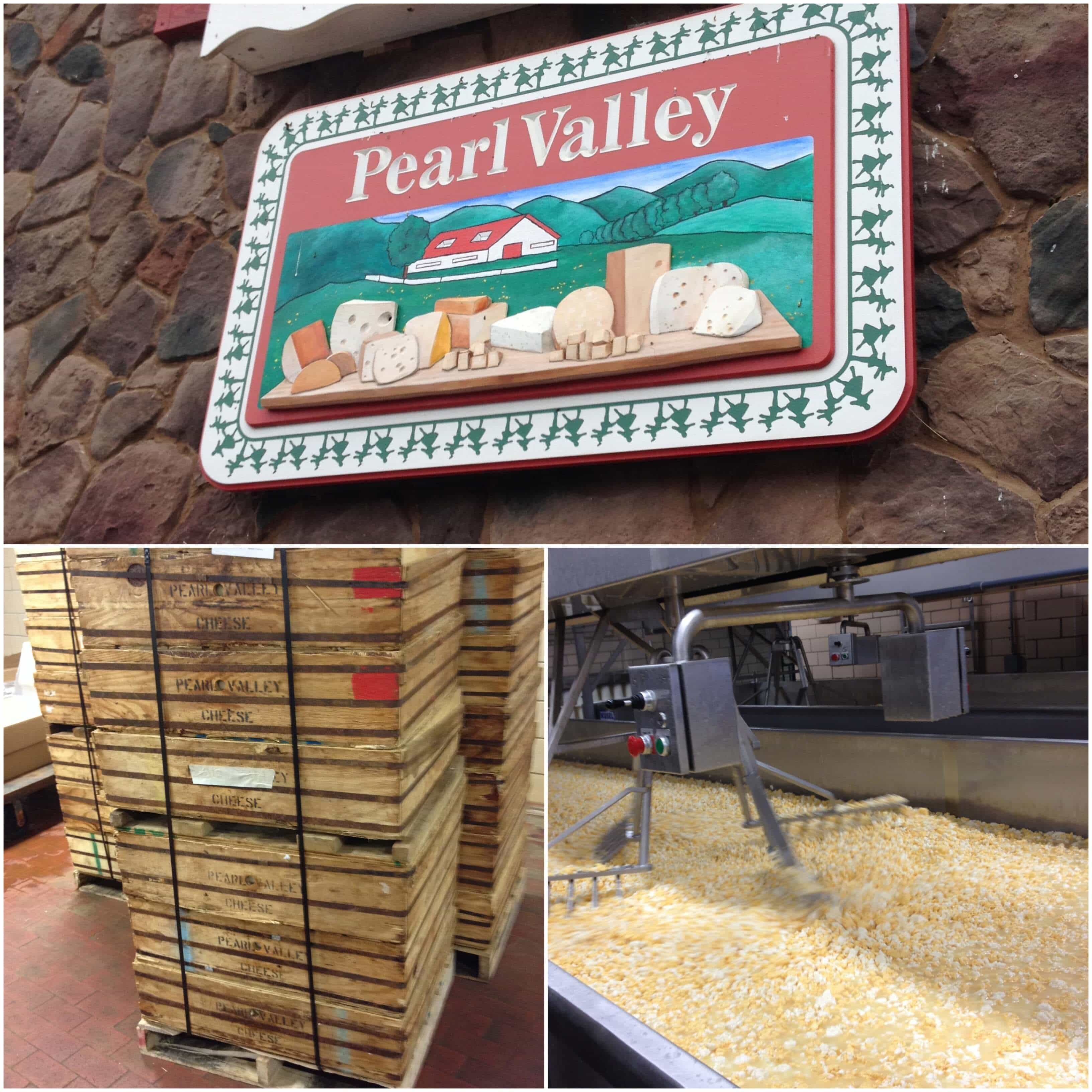 After a quick shower, we were back on the road to meet Browns Offensive Tackle Joe Thomas and his lovely wife Annie for dinner at the Cleveland Browns Stadium. Joe Thomas works closely with the Fuel Up to Play 60 program, which is sponsored by the NFL and the National Dairy Council. This program encourages kids to choose nutrient-rich foods and get 60 minutes of physical activity each day. Our loyal readers know that I'm a big football fan, so imagine my surprise (and delight!) when we each received a Browns football autographed by Joe Thomas. Needless to say, my 8 year old is one happy little boy! It was a blast to get to know Joe and Annie at dinner. They truly do a lot of good for the Cleveland community.
On the last morning of our adventure, we ate breakfast at a Cleveland elementary school. As a former teacher, I felt right at home. There are 48,000 kids who eat breakfast and/or lunch every day in the Cleveland Public Schools, and they go through 41,725 – 1/2 pints of milk. That's a whole lot of milk. It takes 401 dairy cows each day to provide milk just for the school district! Another great way the Cleveland Public Schools are educating kids about healthy choices in food is through the fresh fruit and vegetable program that is available in 63 schools. Twice a week, a fresh fruit or vegetable snack is served to all students in K-8 buildings. How cool is that? The kids get exposed to things like sugar snap peas and enjoy fresh pineapple for snacks instead of chips or cookies. Definitely a winner in my book. Such an impressive school!
And through the whole trip we were lucky enough to have a Karen Bakies, a registered dietician, with us to answer all of our crazy questions about dairy nutrition. Did you know that the chocolate milk served in schools is significantly lower in sugar than is used to be? Any kind of milk – chocolate, strawberry or plain – is better for your kids than juice. Hmmmm, maybe I need to relax my policy on chocolate milk with my kids at their school…
To celebrate my trip (and my love of cheese), I'm sharing this Chipotle Bacon Cheese Ball that is perfect for holiday entertaining. The best thing about cheese balls? You can make them ahead of time, pop them in the freezer and pull them out when guests stop by for a visit. I've even got you covered if you don't eat the whole cheese ball at one sitting. Just reshape it into a smaller ball, and you have what looks like a fresh appetizer the next time someone stops by. Love that!
Thanks ADA Mideast for such an Extraordin-Dairy Adventure!
Yield: 8-10
Chipotle Bacon Cheese Ball
Ingredients
1 (8-ounce) block cream cheese
1 1/2 cups shredded Monterey Jack cheese
1 cup shredded Sharp Cheddar cheese
1/2 teaspoon cumin
pinch of salt
1 chipotle pepper in adobe sauce, chopped
1 tablespoon lemon juice
4 slices of bacon, cooked and crumbled
Instructions
Place cheeses in food processor and blend until smooth. Add cumin, salt, chipotle pepper and lemon juice. Pulse until blended. Chill for 30 minutes and form into a ball. Refrigerate overnight to let flavors develop.
Roll cheeseball in bacon crumbles before serving.
Nutrition Information:
Yield:
8 servings
Serving Size:
1/4 cup
Amount Per Serving:
Calories:

245
Total Fat:

20g
Saturated Fat:

11g
Trans Fat:

0g
Unsaturated Fat:

7g
Cholesterol:

57mg
Sodium:

507mg
Carbohydrates:

3g
Fiber:

0g
Sugar:

1g
Protein:

15g