Stumped for a new way to serve green beans? These Chinese Stir-Fried Green Beans are a savory twist on an old favorite. 
I remember going to the "farmer's market" as a kid in Nebraska. 
Once a week during the last half of summer, a handful of farmers would line up their pickup trucks in the local mall parking lot and sell sweet corn from the back of their trucks. Occasionally there would be other produce, mostly tomatoes, peppers, maybe some homemade canned pickles or a freshly baked good like a roll or pie. 
If you wanted some of our famous "Norfolk melons", you'd have to drive a few miles out of town to where the farmer parked his truck on the side of the road. It was truly the definition of "farm to table".  
Today I live in a large suburb of the Twin Cities, and we have a fantastic farmer's market at the community center just about a mile from my house with a dizzying array of local goods available for sale. But it's definitely more than just a place to buy fresh produce. There are food trucks, lawn games, kiddie crafts and live music at the bandshell. They even have themed weeks with attractions such as classic car shows. My kids love to go because there is so much to see and do. I love the quality and variety of produce available, everything from exotic Asian vegetables (that I have to ask the vendor how to use) to the standard summer classics like potatoes, onions and green beans. 
The freshly picked yellow wax and green beans caught my eye a few weeks ago, but I knew I needed to find a way to spice them up to get the family excited about them. These savory Chinese Stir-Fried Green Beans were the perfect balance of "new but not too new" that the whole family could get behind.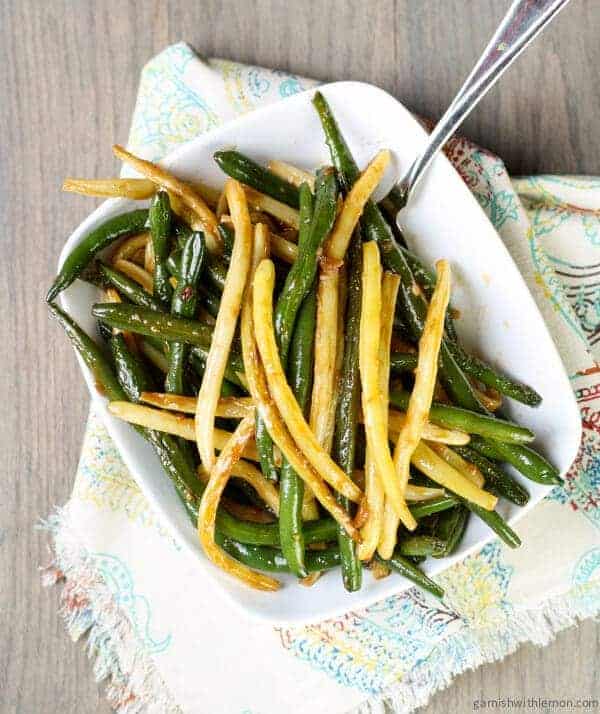 Classic Asian ingredients like chili paste, garlic, soy sauce and hoisin sauce combine to create an aromatic blend of flavor and spice in this dish. The recipe itself is pretty straightforward and lends itself adaptation. I'm pretty convinced that adding some fresh ginger to the mix would be tasty, too, so I'll experiment and let you know what I find. 
I know I feel lucky to have such uninhibited access to fresh fruits and vegetables at our local farmer's market. Pure Leaf Iced Tea wants to help make access to real, wholesome foods available to everyone, too. With a commitment to real tea brewed from real tea leaves, Pure Leaf is taking their passion for realness and is partnering with the nonprofit group, Wholesome Wave, to provide underserved communities with fresh produce through local farmer's markets. 
How can you help? Get social. With an initial donation of $100,000, Pure Leaf has agreed to donate an additional $1, up to $50,000, for every social engagement from fans on Pure Leaf's Facebook or Tumblr pages, and use of the #LoveofLeaves hashtag on Instagram and Twitter. You can also help by snapping a fresh photo at your local farmers market and sharing it on Twitter or Instagram with #LoveofLeaves and your location tagged. Then visit www.TheLoveofLeaves.com to see your photo on the map. You might even get a special surprise! This total donation of $150,000 will provide 100,000 pounds of locally grown fresh fruits and vegetables for communities nationwide. 
Follow the progress of the "Share the Love of Leaves" campaign on Pure Leaf's Tumblr page, where you can also find recipe ideas, household tips, DIY projects and daily inspiration. For even more information on Pure Leaf, check them out on Twitter, Instagram and Pinterest. 
Disclosure: This post was sponsored by Pure Leaf Iced Tea. All opinions are my own. Thanks for supporting the companies that allow us to develop unique content for you.
Yield: 4-6
Chinese Stir-Fried Green Beans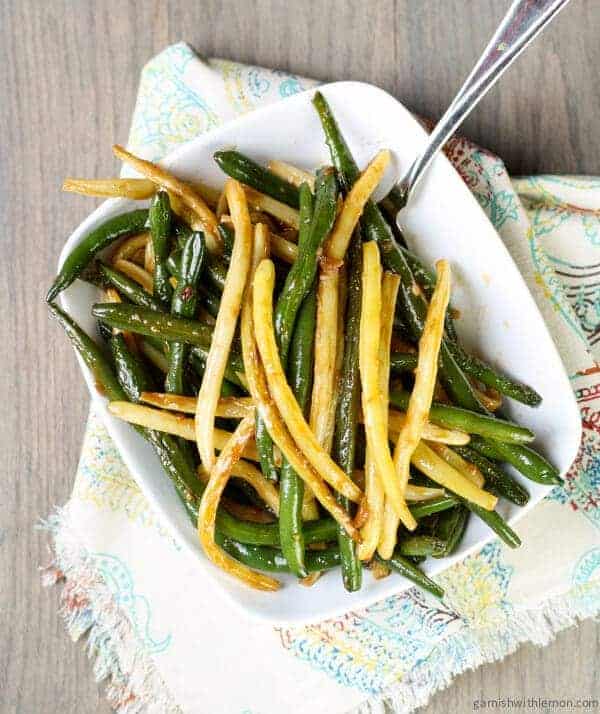 Just say no to boring green beans with these easy Chinese Stir-Fried Green Beans.
Ingredients
1 tablespoon canola oil
1 pound fresh green beans, washed, trimmed and blanched and dried
1 clove garlic, minced
1 – 2 teaspoons chili paste (such as Sambol Oelek), depending on how much spice you want
1 tablespoon soy sauce
1 tablespoon hoisin sauce
2 tablespoons water or chicken broth
1 teaspoon cornstarch mixed with 1 teaspoon water to make a slurry
Instructions
Heat wok or skillet over high heat until very hot.
Reduce heat to medium high and add oil, beans and garlic, cooking for one minute. Stir in the chili paste, soy sauce, hoisin sauce and water or broth.
Cover and cook for another minute.
Add the cornstarch slurry to the pan and stir well.
Continue cooking until the liquid is thickened and evenly coats beans.
Serve immediately.
Notes
Blanch the green beans by dumping them in boiling water for two minutes. Immediately plunge the beans into ice water to stop the cooking. Drain beans and allow to dry before stir frying.
Nutrition Information:
Yield:
6
Serving Size:
1
Amount Per Serving:
Calories:

62
Total Fat:

3g
Saturated Fat:

0g
Trans Fat:

0g
Unsaturated Fat:

2g
Cholesterol:

1mg
Sodium:

447mg
Carbohydrates:

9g
Fiber:

2g
Sugar:

4g
Protein:

2g