Wow your guests this holiday season with these warm Cheesy Onion Puff Pastry Bites.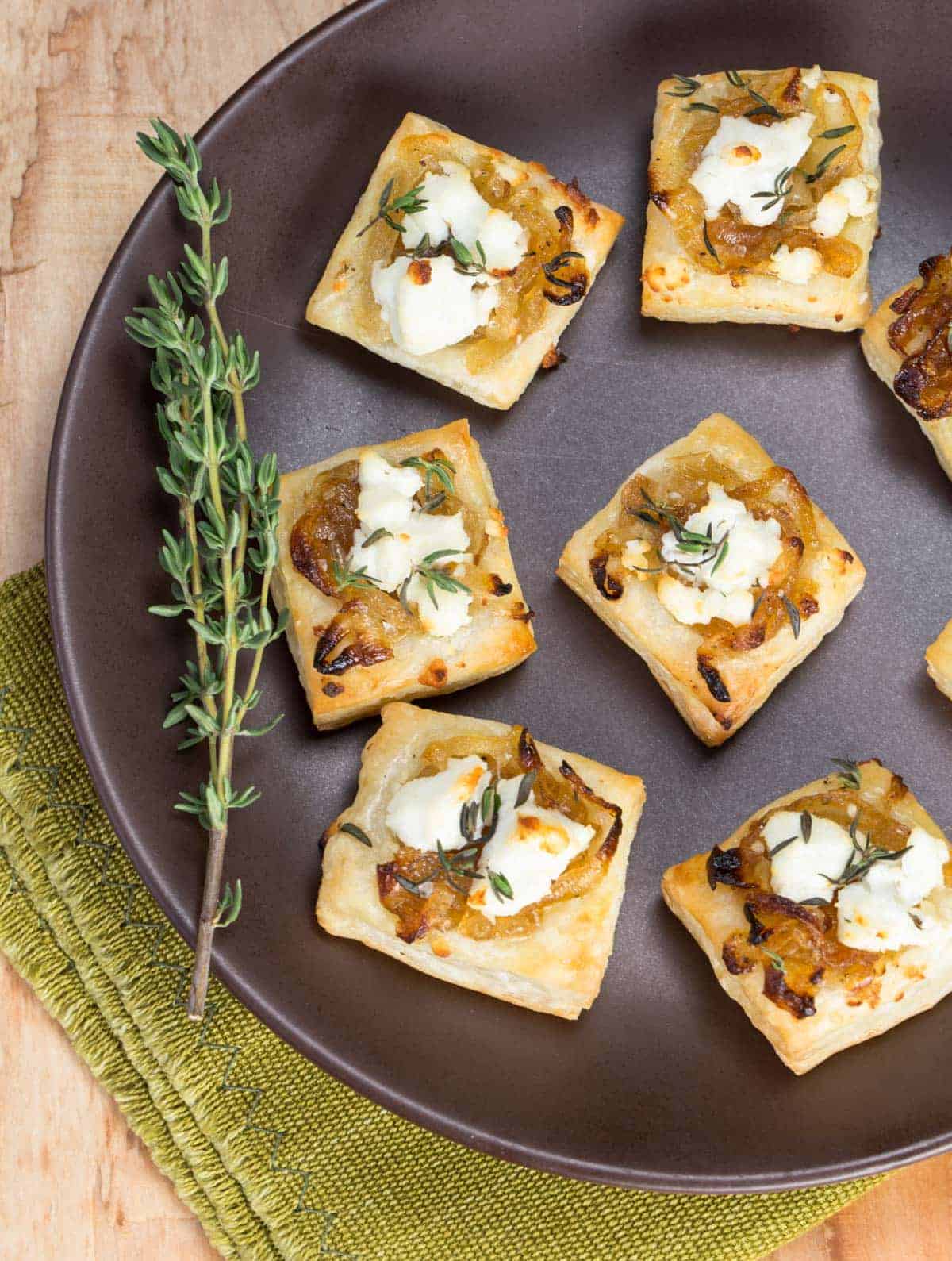 With the holiday season looming large and calendars quickly filling with get-togethers and parties, having a go-to appetizer in your back pocket for all of the upcoming events is key to reducing stress this time of year.
These Cheesy Onion Puff Pastry Bites are a delicious riff on our uber-popular Flatbread with Goat Cheese and Caramelized Onions. Simple ingredients, simple preparation, simply delicious.
I love offering hot appetizers when the weather turns colder, but finding inspiration beyond stuffed mushrooms and chicken wings can be challenging.
These Cheesy Onion Puff Pastry Bites sound intimidating, but they really couldn't be simpler. Sweet caramelized onions always pair beautifully with tangy goat cheese. And sprinkles of fresh thyme and coarse sea salt give each bite of crunchy puff pastry the perfect finishing touch. Plus you can prep them ahead of time.
Take that, holiday stress!
Tip: Making these in advance? Caramelize your onions the day before and keep them in the fridge. Assemble the bites a few hours before guests arrive and tightly seal them before refrigerating. Bake as directed.
Yield: 40 appetizers
Cheesy Onion Puff Pastry Bites
These easy puff pastry bites are a holiday favorite!
Total Time
1 hour
14 minutes
Ingredients
Caramelized Onions:
2 teaspoons olive oil
2 teaspoons butter
2 onions, thinly sliced
1 teaspoon sugar
Puff Pastry Bites:
1 sheet frozen puff pastry, defrosted according to package directions
1 egg, beaten
3 ounces goat cheese
Coarse sea salt
Fresh thyme leaves
Instructions
To make the caramelized onions:
Add butter and oil to a large skillet over medium low heat. Once butter is melted, add onions and stir to coat. Cook for 20 minutes, stirring occasionally.
Sprinkle with sugar and continue to cook for at least 30 more minutes, stirring occasionally, until onions are caramelized. Remove from heat and set aside.
To make the puff pastry bites:
Preheat the oven to 400 degrees.
Line a baking sheet with parchment paper. Unfold the puff pastry on the parchment so it is flat, pressing together any holes in the seams.
Using a dull knife, cut the puff pastry into 1 1/2 inch by 1 1/2 inch squares. Separate the squares on the parchment. Lightly brush the squares with the beaten egg and use a fork to prick each square a few times.
Place a heaping 1/2 teaspoon of onion on each square. Divide goat cheese equally among squares. Sprinkle with coarse sea salt.
Bake for 12-14 minutes or until golden brown.
Sprinkle with thyme leaves before serving. Serve warm.
Notes
You might have leftover caramelized onions depending on the size of your onions. Freeze them, toss them in soups or make a mini flatbread with the onions and goat cheese.