Don't heat up the kitchen! This easy, Cheesy Grilled Bruschetta Chicken recipe is just what your backyard bbq needs.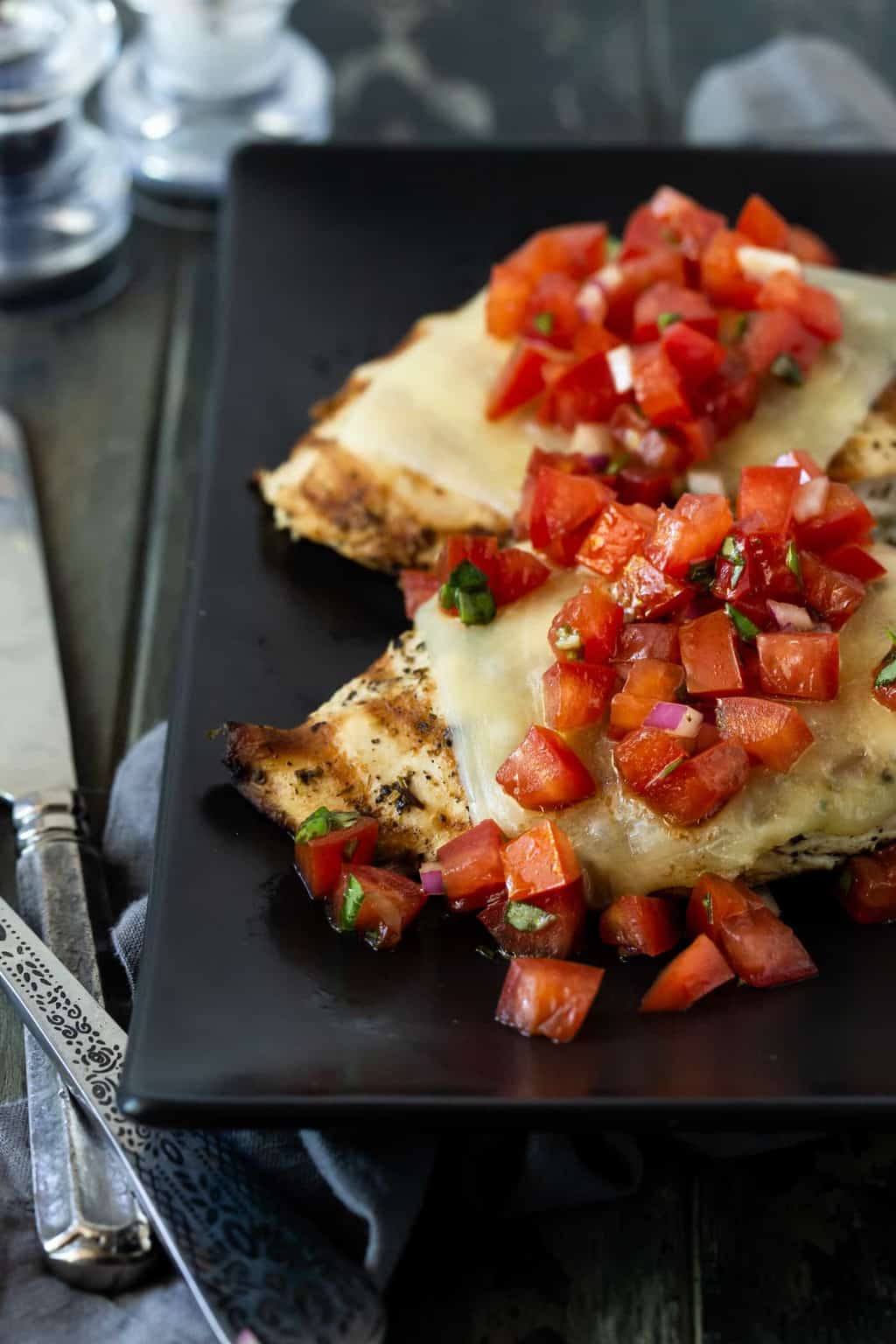 We love to grill in the summer. Our grill recipes include everything from snacks like these Grilled Peppers with Goat Cheese to side dishes like these Herbed Grilled Potatoes in Foil.
Heck, we even grill dessert (helloooooo, Grilled Cherry Crisp)!
So this Cheesy Grilled Bruschetta Chicken recipe was a natural addition to our summer grilling lineup. Fresh-from-the-garden tomatoes, fragrant basil, gooey mozzarella cheese, zesty marinated chicken and a rich balsamic drizzle ensures this is no ordinary chicken dinner.
Jump to:
What is bruschetta?
Bruschetta has Italian roots and essentially means toasted bread that is rubbed with garlic and drizzled with a bit of olive oil and sea salt. It's topped with any number of items like the tomatoes and basil in this recipe to beans, meats and cheeses.
Our Grilled Bruschetta Chicken recipe basically swaps the bread for chicken and adds a slice of melty mozzarella cheese. Ideal dinner idea for lower-carb eaters!
Instructions
One of the hallmarks of perfectly grilled chicken is a tender, juicy bird. This Grilled Chicken Bruschetta recipe calls for boneless, skinless chicken breasts, which are notorious for drying out if not properly prepared and grilled.
1. Choose evenly sized chicken breasts
Start by choosing chicken breasts that are of equal size. The breasts you can buy prepackaged at the grocery store are often huge (8+ ounces!), so you might have to cut down the chicken into more realistic serving sizes.
Also, if your chicken is super thick one end and thin on the other, try pounding it between two sheets of plastic wrap to get a more even thickness. Your chicken will cook more evenly if it's all the same size to begin with.
The full-service meat counter at my grocery store often carries perfect 6-ounce portions of chicken breasts, so I check there first before moving on to the prepackaged chicken.
2. Marinate your chicken
Marinating the chicken breasts is another crucial component of tender, juicy chicken. Not only does it add flavor to the meat, but a marinade with a higher oil content ensures the chicken does not stick to the grill and acts a bit like insulation to keep the chicken from drying out too quickly.
3. Cook at the right temperature
Of course, proper cooking temperature is also key to ensuring juicy chicken. Try to maintain the heat of your grill at about 400-425 degrees while cooking. This means keep the peeking to a minimum. Every time you open the grill, you drop the temperature and your chicken loses its cooking momentum.
Add the chicken to the grill and cook for 5-7 minutes. Flip the chicken and let it cook for another 5 minutes or until the thermometer reads 155 -165 degrees.
Note: I purposefully pull my chicken off at 155 degrees. I realize that many guidelines advocate removing the chicken once it hits 165 degrees for food safety reasons.
In my experience, the chicken keeps cooking for a few more minutes when you pull it off the grill. The temperature of the chicken actually goes up about another 10 degrees while it rests (especially if you cover it with foil to let the juices redistribute). Please choose a finished cooking temperature that works for you.
Melting the mozzarella takes just another minute on the grill. When your chicken is nearly done, add a slice of cheese to each piece of chicken. Close the grill and let the cheese melt for about a minute.
Tomato Topping
I prefer to use Roma tomatoes when making this bruschetta topping. They are simple to seed (slice in half and scoop out the seeds using a serrated grapefruit spoon) and usually have a firmer flesh which makes them easier to chop.
The rest of the bruschetta topping recipe is more forgiving so use the recommended amounts below as a starting point. Big garlic fan? Add another clove or two. Can't get enough fresh basil? Toss in another handful. Love the tang of balsamic vinegar? Be generous in your pour.
Taste and adjust as you go. Just make sure your tomato bruschetta topping is amply salted. Salt and tomatoes are a match made in heaven.
You can also use this bruschetta recipe as an appetizer, too. Simply toast pieces of baguette, rub with garlic, drizzle with oil and top with the tomato mixture for a simple, traditional bruschetta appetizer.
Why this recipe works
What I love about this Cheesy Grilled Bruschetta Chicken recipe is you can prep nearly everything in advance which makes it ideal for entertaining - or even a tasty weeknight meal with family.
About an hour ahead of time, pop the chicken in the marinade. Then make the bruschetta topping. It can hang out at room temperature.
All that's left to do at meal time is grill the chicken, which I prefer to do with a lowball of Elderflower Gin & Tonic in hand because, summer, friends.
P.S. Is it raining cats and dogs outside? You can make this Bruschetta Chicken on the stovetop, too.
Simply follow the instructions for marinating the chicken and then sear both sides of the chicken breasts on the stovetop. Pop the pan in the oven to finish cooking and top with cheese for the last few minutes in the oven.
More easy grilled chicken recipes
More delicious Chicken Main Dish recipes:
Get all of our Main Dish recipes!
Recipe
Cheesy Grilled Bruschetta Chicken
No need to heat up the house for dinner with this tasty Cheesy Grilled Bruschetta Chicken recipe.
Ingredients
¼

cup

plus one tablespoon olive oil

divided

2

tablespoons

fresh lemon juice

½

teaspoon

salt

1 ½

teaspoons

dried Italian seasoning

4

6-ounce boneless, skinless chicken breasts

1 ½

cups

chopped fresh tomatoes

1

clove

garlic

minced

1

tablespoon

minced red onion

1

tablespoon

balsamic vinegar

3

tablespoons

chopped fresh basil

4

slices

Mozzarella cheese
Instructions
In a small bowl, whisk together ¼ cup olive oil with lemon juice, salt, pepper and Italian seasoning. Place chicken breasts in a large plastic bag or shallow baking dish and pour marinade over top. Marinate for at least 30 minutes or up to 1 hour.

Preheat grill to medium high heat.

Combine tomatoes, garlic, onion, balsamic vinegar, basil and remaining tablespoon of olive oil. Season to taste with salt and pepper. Set aside.

Remove chicken from marinade, shaking off excess. Grill 5-7 minutes per side or until cooked through. Place one slice of cheese on each chicken breast. Close grill to allow cheese to melt (about another minute).

Remove chicken from grill and divide bruschetta topping evenly among chicken breasts. Serve immediately.
Nutrition
Serving:
1
chicken breast
Calories:
333
kcal
Carbohydrates:
5
g
Protein:
44
g
Fat:
14
g
Saturated Fat:
5
g
Polyunsaturated Fat:
7
g
Cholesterol:
124
mg
Sodium:
535
mg
Fiber:
1
g
Sugar:
3
g
Nutrition info not guaranteed to be accurate.
Need an easy chicken dinner recipe? Look no further than this Cheesy Grilled Bruschetta Chicken. It's one grill recipe that never fails to please.