Nothing says party like a bag of chips and this warm Cheesy Chile Chicken Dip!
I have no problem admitting that I watch the Super Bowl primarily for the ads and the halftime entertainment. Very rarely do I have any investment in either participating team. But that doesn't mean I'll miss the opportunity to hang out with friends, eat myself silly and relax on the couch for a few hours. Others may choose their seats based on the best view of the TV and the game, but my game plan is all about the food. And come Super Bowl Sunday, you'll find me positioned squarely in front of this Cheesy Chile Chicken Dip.
When I first looked at this recipe, I was totally freaked out about the heat level: 3 kinds of fresh chiles AND Cholula Sauce? I nearly passed right by. But I'm a sucker for that ooey gooey cheese, so I powered through and actually found that the heat level is just right, meaning you know it's there, but it's not in your face. Pat would have loved more spice, but I find his need for heat to be a bit extreme (i.e. unnatural), so I also put out some jalapeño slices and extra hot sauce just for him.
I used a few shortcuts to get this warm cheesy goodness in my belly sooner, including rotisserie chicken and canned diced tomatoes. Another timesaver? The recipe can easily be prepped in advance, popped in the fridge and then baked right before guests arrive – perfect for entertaining.
Unless you're having a large crowd of guests, a 9 x 13 pan can seem like an awful lot of dip, even for a cheese lover like me. Though you need no other reason to make this dip besides the fact that it's just plain yummy, there IS another compelling excuse to whip up a batch – leftovers work well as filling for enchiladas or burritos. How can you argue with two meals for the price of one??!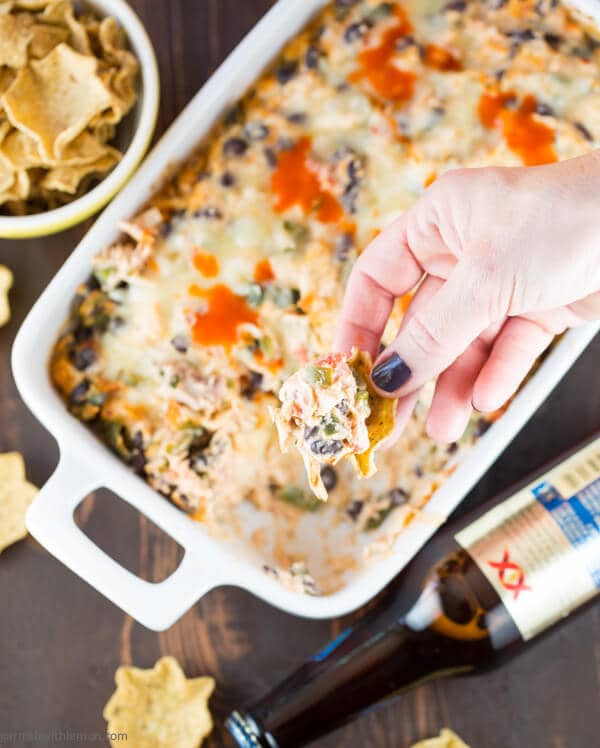 Yield: 10-12
Cheesy Chile Chicken Dip
Total Time
1 hour
20 minutes
Ingredients
1 tablespoon canola oil
2 Anaheim chiles, seeded and diced
2 poblano chiles, seeded and diced
1 serrano chile, finely diced (seeding optional)
1 medium onion, diced
3 teaspoons minced garlic
1 (14.5-ounce) can petite diced tomatoes with green chiles
Shredded meat from one rotisserie chicken (I used about 5 1/2 cups of chicken)
2 (15-ounce) cans black beans, drained and rinsed
2 cups shredded Monterey Jack cheese
8 ounces light cream cheese, diced
1/3 cup sour cream
1/4 cup hot sauce (I used Cholula), plus extra for serving
Salt and pepper
Tortilla chips
Instructions
Preheat the oven to 375 degrees.
Heat oil in a 3 1/2 quart dutch oven over medium heat. Add chiles, onion and garlic and cook until the peppers are softened, about 8-10 minutes. Stir in tomatoes and cook until the liquid is slightly reduced. Add the chicken, beans, one cup of the Monterey Jack cheese, cream cheese, sour cream and hot sauce to the pot. Stir well to combine. Season to taste with salt and pepper.
Place chicken mixture in a 9 x 13 baking dish and sprinkle with remaining cup of shredded cheese. Bake for 25-30 minutes, or until the edges are bubbling and the dip is heated through. Cover lightly with foil if the top is browning too quickly.
Serve warm with tortilla chips and additional hot sauce, if desired.
We have even more football food that is perfect for your Super Bowl party:
Slow Cooker Reuben Dip
Cherry Chipotle Barbecue Meatballs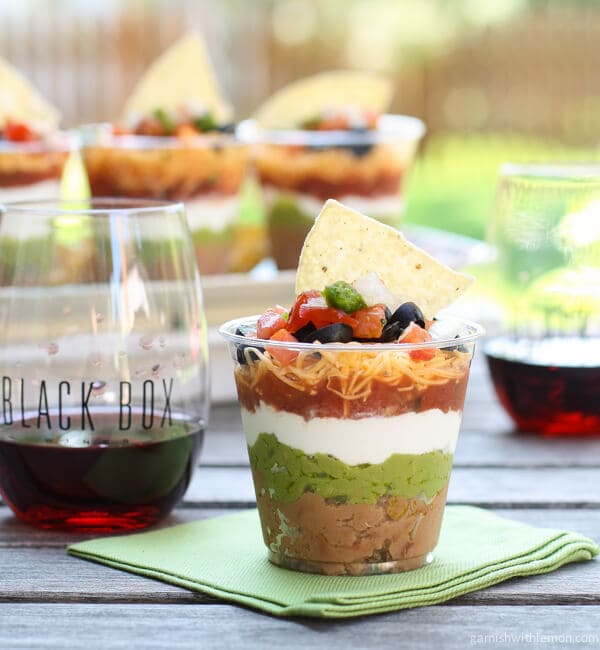 Individual Seven Layer Dips