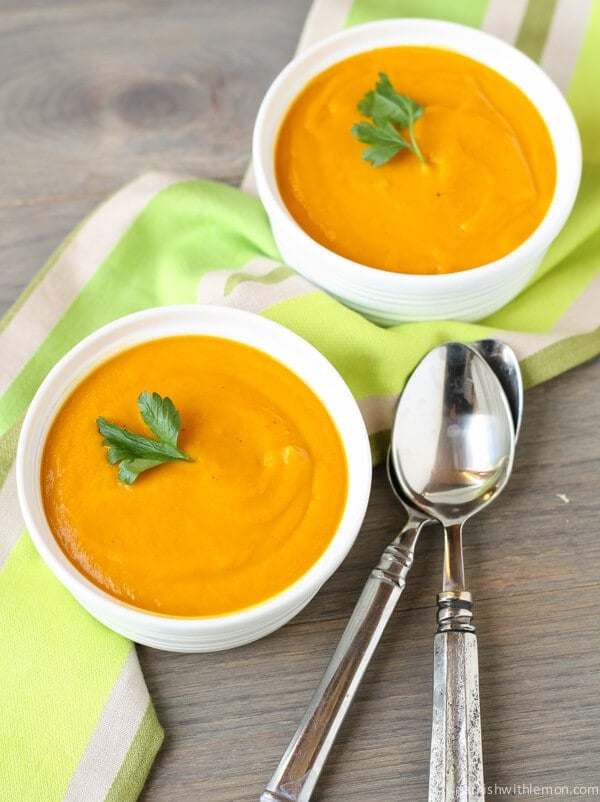 A few weeks ago, we enjoyed dinner on a picturesque restaurant patio in St. Paul. It was still warm as the sun went down and the twinkle lights came on – a gentle reminder that summer wasn't finished with us yet. The restaurant's menu showed hints of fall, though, including a carrot soup that I sampled as an appetizer. Holy cow, was I impressed! Even my veggie-averse son was nudging me for more spoonfuls. I don't think I'd ever even had carrot soup before this evening, but that quickly changed when I returned home to recreate my memorable dish. 
This Carrot Ginger Soup is such a simple, flavorful taste of fall. Sweet carrots and savory onions are sautéed with chunks of sweet potatoes, garlic and a hefty dose of fresh ginger. Stir in some vegetable broth, salt, pepper and cumin, simmer for 30 minutes, and then puree the soup until it's silky smooth. If you're looking to get out of your salad rut, this soup makes an excellent first course in lieu of the usual greens. It would also be super cute in little shot glasses on an appetizer buffet. But why wait for dinner? I enjoyed it straight up for lunch all last week. The texture is light but not broth-like, and the ginger and cumin give the soup a lovely, belly-rubbing warmth – a delicious salve for that nip of cool October air. 
Dish with us: what are you favorite recipes to make when summer slides into fall?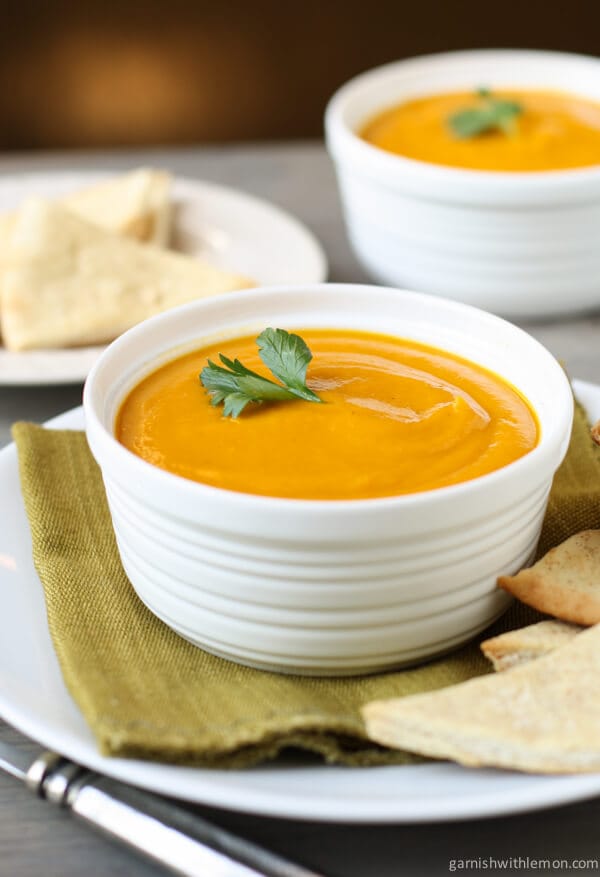 Yields 4-6
Carrot Ginger Soup
15 minPrep Time
45 minCook Time
1 hrTotal Time
Ingredients
2 tablespoons extra-virgin olive oil
1 cup chopped onion
2 1/2 cups peeled, chopped carrot (I used one large bunch of carrots)
1 cup peeled, chopped sweet potato (about 1 medium potato)
2 cloves of garlic, minced
2 tablespoons minced fresh ginger root
2 1/2 cups vegetable broth
1/2 teaspoon salt
1/4 teaspoon pepper
1 1/4 teaspoons ground cumin
Instructions
Heat a dutch oven over medium heat. Add oil, onion, carrots and sweet potatoes and gently saute for 5-10 minutes or until onion is translucent but not browned. Stir in garlic and ginger and saute for 1 minute. Pour in vegetable broth and stir in salt, pepper and cumin. Reduce heat to medium low, cover and simmer for 35-45 minutes or until carrots and sweet potatoes are fork tender.
Transfer mixture to blender in batches and puree. Taste for seasoning and adjust to your preference.
Notes
You can also use an immersion blender or food mill to puree the soup. If using a regular blender, be careful to only fill the blender jar half full of hot liquid and secure the lid with a dish towel before blending.
https://www.garnishwithlemon.com/carrot-ginger-soup/