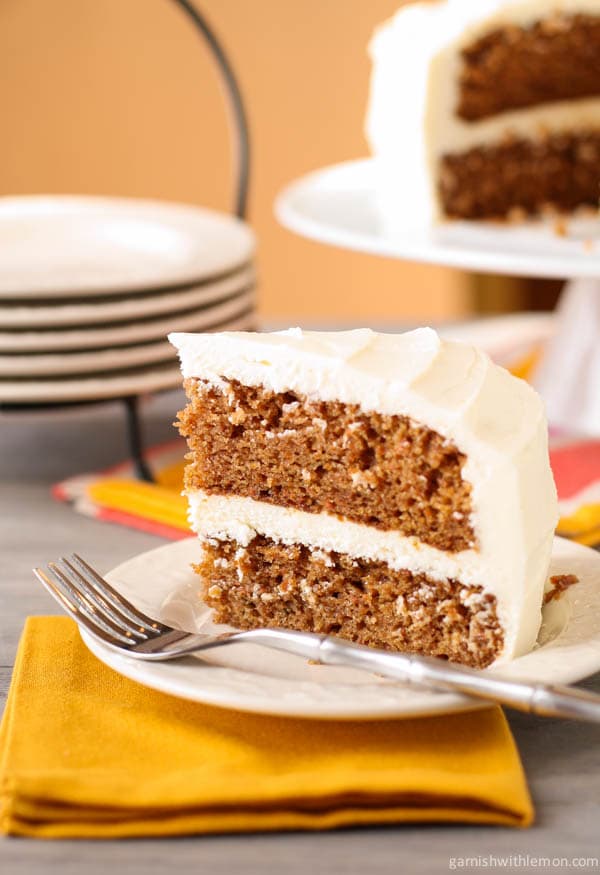 I know I am in the minority here, so please bear with me as I confess: I do not like nuts or coconut in my baked goods. I adore carrot cake but can never order it in a restaurant because it always has one - if not both of them - in it. Now before you start booing me and throwing things at your computer, know that you can add both of these foods to this recipe, and it will be perfect for you. But for me, I always have to adapt the recipe to get my carrot cake the way I want it: nut- and coconut-free. So this is for all of the people out there who like a smooth and flavorful carrot cake.
Carrot cake screams Easter to me. Maybe it's the whole bunny and carrot thing? Whether you do brunch or dinner, it fits in just right.  Sweet, but not heavy. Perfection.
This carrot cake recipe is adapted from Zoe Bakes, and man does she know how to do carrot cake. This carrot cake is moist and full of flavor and such a snap to mix up. No mixer needed, just the food processor to shred and chop the carrots. And the cream cheese frosting? To die for. You will find things to bake just so you can smear this frosting on them. It's that good. I have been hoping as I age and my palate matures that I would eventually like nuts in my baked goods, but it's a texture thing for me. Still not there. Is there anyone else out there who is with me?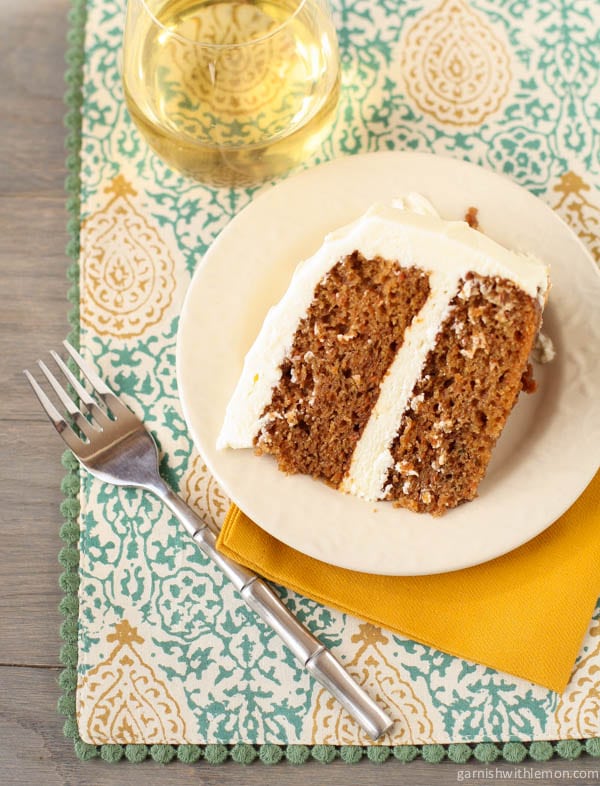 Yield: 8-10
Carrot Cake with Cream Cheese Frosting
A smooth and flavorful carrot cake with cream cheese frosting.
Ingredients
1 pound finely ground carrots
1 1/4 cups sugar
1 cup firmly packed dark brown sugar
1 1/4 cups canola oil
4 extra large eggs, room temperature
2 t vanilla
2 1/4 cups flour
1 1/2 t baking powder
1 t baking soda
2 t cinnamon
1/8 t cloves
1/8 t nutmeg
1/2 t salt
Frosting
20 oz softened cream cheese
6 oz butter softened
2 tsp vanilla
3 cups powdered sugar
Instructions
Preheat oven to 350. Grease and line 2- 9 inch round cake pans with parchment paper.
Grate carrots and then finely chop carrots in the bowl of a food processor and set aside.
Whisk together sugars, oil, eggs, and vanilla in a large bowl.
Add flour, baking powder, baking soda and spices and gently mix.
Stir in grated carrots.
Divide batter between cake pans and bake for 30 minutes or until toothpick comes out clean
Cool cakes completely in pans on wire rack before frosting.
To Make the Frosting
Beat cream cheese and butter until smooth.
Add vanilla and mix well. Add powdered sugar and mix until all sugar is incorporated. Thin with milk if necessary.
This will frost a 9 inch double layer cake generously.

Nutrition Information:
Yield:
16
Serving Size:
1
Amount Per Serving:
Calories:

631
Total Fat:

39g
Saturated Fat:

14g
Trans Fat:

0g
Unsaturated Fat:

23g
Cholesterol:

105mg
Sodium:

415mg
Carbohydrates:

66g
Fiber:

2g
Sugar:

49g
Protein:

6g