Have some apples to use up from the orchard? Make these Caramel Apple Rolls. They have apples, cinnamon and caramel in every bite!
Caramel Apple Rolls. Enough said, right?
I could stop right there, and everyone would be happy, especially at our apple-lovin' house. Except I need you to know how ridiculously easy these Caramel Apple Rolls are to make. Sure you need to wait for them to get nice and fluffy before you bake them, but it's worth every second. I used frozen sweet dough to cut the prep time and having to futz with yeast. So if waiting is the hardest part of these Caramel Apple Rolls, sign me up.
Are you drooling yet? If you're not, we need to talk about our friendship. Because these Caramel Apple Rolls are worth every single calorie consumed. Promise. Each bite is loaded with little bits of apple, cinnamon and caramel, which in my book translates to absolute perfection.
The kids loved these so much, they had them for dessert one night and breakfast the next day. I had to draw the line when they requested the caramel apple rolls again at lunch, mostly because I wanted some for myself. But let's not let them in on that secret.
Caramel-y apple-y goodness. The perfect breakfast (or anytime) treat.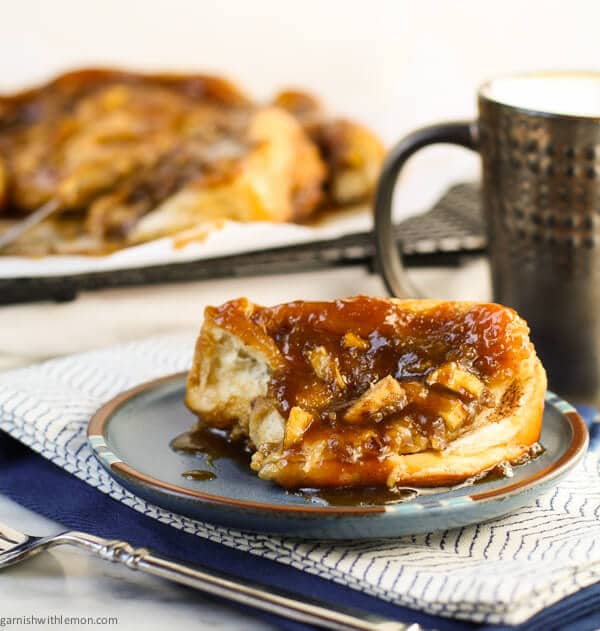 8
adjust servings
Ingredients
1

loaf frozen sweet bread dough, thawed

8

tablespoons butter, softened (divided)

1

cup brown sugar (divided)

1

teaspoon cinnamon

1

small Granny Smith apple, peeled and chopped

2

tablespoons milk

1

(3.6 ounce) box vanilla pudding (not instant)
Instructions
Thaw dough according to package instructions.
When thawed, roll out to a 12 x 16 rectangle. Spread 2 tablespoons of the softened butter on top of dough and then evenly sprinkle with 3 tablespoons of the brown sugar, 1 teaspoon cinnamon and apples.
Starting from the shorter side, roll the dough up jelly roll style being sure to get all of the apple pieces inside.
Once completely rolled, use a serrated knife to cut into 8 equal pieces. Place rolls in a well greased 9-inch round cake pan and set aside.
Melt the remaining 6 tablespoons of butter in a medium bowl in the microwave. Add the pudding mix, milk and 3/4 cup brown sugar to the melted butter and stir until smooth. Pour mixture over the top of the rolls and set in a warm spot. Let them rise until double in size (mine took about 2 hours).
Preheat the oven to 350 degrees. Bake rolls for 30 minutes.
Let the rolls cool in the pan for 10-15 minutes and then turn onto parchment paper. Serve warm.
Did you make this recipe? We'd love to see it! Snap a pic of your creation and tag it #GarnishWithLemon. We might even feature your photo on social media!