Get creative with your leftover Halloween Candy! It's hard to just eat one piece of this chewy, fudgy and peanut butter filled Candy Bar Brownie Pizza!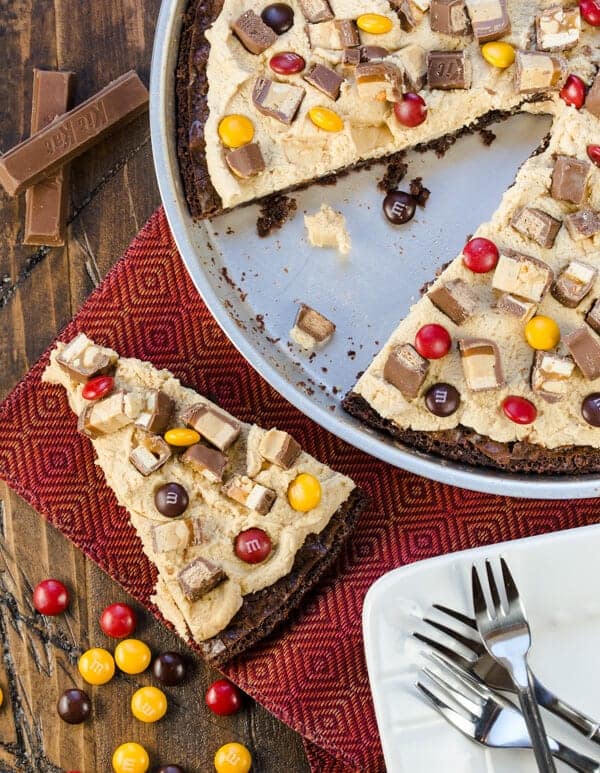 Every year I try and find new ways to use the leftover Halloween candy. I've made these One-Bowl Candy Bar Brownies and these Peanut Butter Rice Krispie Bars, but knew I needed to add a chocolate dessert to the mix. After a day or two of eating plain candy, the novelty wears off for my kids, and they are asking what we are having for dessert. Spoiled, right?  Not wanting to let all of the chocolate peanut butter goodness go to waste, I made them this Candy Bar Brownie Pizza, and they fell in love.
Chewy and chocolatey, this Candy Bar Brownie Pizza is the perfect way to transform your leftover Halloween Candy into a decadent dessert. The fluffy peanut butter frosting is a tasty backdrop for the candy bar pieces to nestle in. And a brownie crust? Need I say more? How can you go wrong with a brownie crust?
Tip:
I'm not usually one to buy a special pan for a dessert, but I fell in love with this
one
after it arrived and know it will be put to a lot of use in my kitchen!
The best thing about the candy bar brownie pizza? The sky is the limit on what you top it with. Fill it with your favorite candy bars, and you can be guaranteed it will disappear. And since we don't like to eat the same thing over and over again, I love the endless flavor combinations. Sometimes I'm even so bold as to bake the brownie crust, frost it and then let the kids top it on their own.
Who wants to wait until Halloween for this deliciousness? I may have to break into the stash and make it today. This brownie pizza is calling my name!
Tip
: I took the quick route here and used a boxed brownie mix, but feel free to sub in your favorite
brownie recipe
 if you like.  They cook faster in the round pan, so just be sure you shorten the baking time.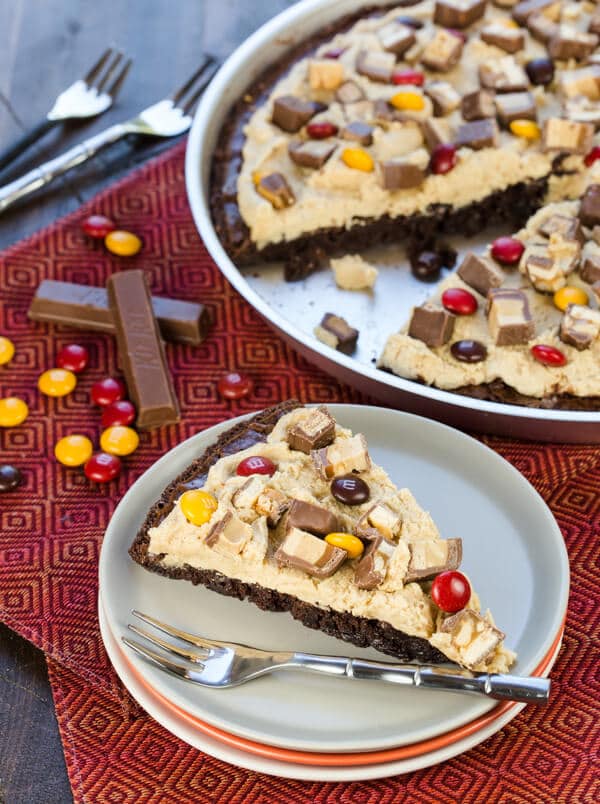 Yield: 8-10
Candy Bar Brownie Pizza
Ingredients
1 package brownie mix (I used Ghiradelli Chocolate Supreme)
2 1/2 cups chopped candy bars (I used Snickers, Twix, Kit Kats and M&Ms)
Peanut Butter Frosting
Peanut Butter Frosting
1/2 cup butter, softened
1 cup peanut butter
2 1/2 cups powdered sugar
3-4 tablespoons milk
Instructions


To make the Brownie Pizza:


Preheat the oven to 325 degrees and spray a 11 1/2 inch x 2 inch round cookie pan with baking spray.
Mix the brownies according to the package directions and spread evenly in cookie pan. Bake for 20 minutes or until toothpick comes out clean. Cool completely before frosting.
Frost with peanut butter frosting and top with chopped candy pieces. Refrigerate until ready to serve. Slice into wedges and serve.
To make the Peanut Butter Frosting:


Place butter and peanut butter in the bowl of a stand mixer and beat until light and fluffy. Add powdered sugar and 3 tablespoons of milk. Mix until well combined. Add additional milk 1 tablespoon at a time if needed to get to desired spreading consistency.